Farwa Ki ABC is going towards a direction very different from what most of us anticipated and the mix of serious and comic scenes is making the drama more interesting. The characters and their motivations are easy to understand which makes the whole drama watching experience worthwhile. Gogi unfortunately is not much of a gentleman – this is of course not news but watching Gogi trying to woo the teacher but not admitting it goes to show that perhaps even he was unaware of the fact that he is not really in love with Farwa. He thinks that taking pictures of Silky and saying things to her which a student should most certainly not say to his teacher is all "time pass"! Farwa might be immature and careless and she even went ahead and got married to her teacher but she is not the sort of girl who will fall for every other man. Gogi on the other hand gets "distracted" a little too easily! Gogi's character traits aside, his dialogues and the way the character has been translated on screen always put a smile on my face!
Surraya has turned out to be a major disappointed, she is the only bechari in the play who left the person who loved her for a richer man but now wants him back even though she knows he is married. And then saying things like men go after younger girls makes her character the least likeable character in the play. Until now I never realized that Sir Mustansar was actually no more in love with Surraya but at some point he fell in love with Farwa. Like he said, he never went out looking for Surraya and he does not want her back. The only thing he wants is that Farwa should realize that Gogi is not the man for her. When she realizes that Gogi was never sincere with her, she will value her husband. The story is moving towards that direction fast but you never know what will happen next.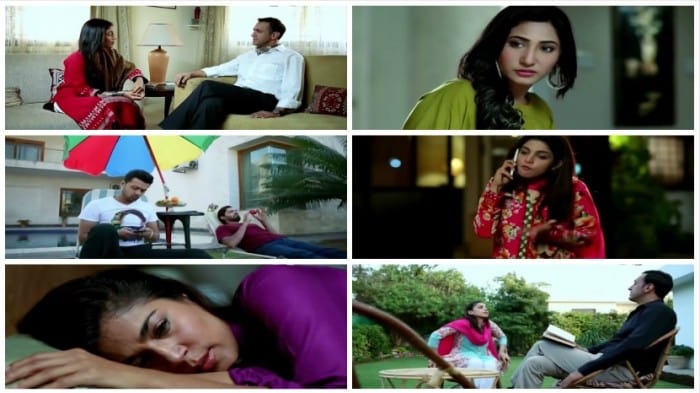 It was sad to see that Asma has not changed a bit. She still thinks she needs to prove that she is better than Farwa although it is hard to believe that she would even think of Farwa as her competition! There was a time when I found Asma's character interesting but the fact that there has been absolutely no character development since the first time we saw her on screen is actually making her scenes somewhat repetitive. Silky's character is turning out to be one which also keeps you guessing, the girl is full of surprises and she knows what she needs to do to get what she wants.
I must say that Gogi's character has been the most amusing character in the play right from the get-go and Sir Mustansar's character is the most intriguing character in the play. It is impossible to gauge what his true intentions are but his plans always add some interesting twist to the story. I have no clue as to why Sir Mustansar asked Farwa to tell her parents about Surraya but I am waiting to find out where everything that he has planned leads to.
Which is your favorite character and why? Do share your thoughts about tonight's episode.
Fatima Awan