Renowned television drama writer Fatima Surraya Bajiya has been hospitalized due to continuous illness. As per press report after a head injury due to stroke, Bajiya is hospitalized. Bajiya's sister and famous cooking expert Zubaida Aapa informed Urdu Daily Jang "Bajiya is already suffering from prolonged illness and is therefore away from the drama writing for many years. Bajiya is also suffering from throat cancer, but despite this she is leading an active family life."
Many relatives and admirers of Bajiya visited her in hospital praying for her health. MQM's leader Altaf Hussain has also requested the whole party members to pray for speedy recovery and health of Bajiya.
Fatima Surrayia Bajiya belongs from a noble and famous family of Hyderabad Deccan which migrated to Pakistan after partition of India. Bajiya is eldest out of her ten siblings. Her brother Maqsood Hameedi (Government Officer), Anwar Maqsood (Writer, Painter, Compare, Actor) and sisters Sughra Kazmi (Dress Designer), Sara Naqvi (Broadcaster, Journalist), Zubaida Tariq (Cooking Expert) and Zohra Nigah (Poet) are also famous in their respective fields. Bajiya got fame for her television dramas as writer which include some famous plays like Shamma, Afshan, Zeenat, Uroosa and Babar.
Here is full content from Urdu Daily Jang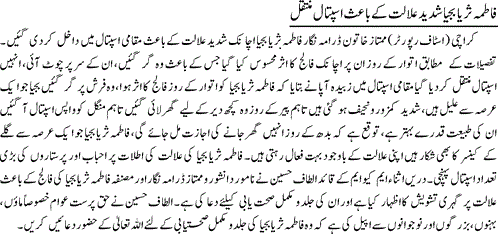 Rashid Nazir Ali