Pakistani heart throb Fawad Khan turned 34 on 29th of November. Fawad Khan was not in his home town on this big day but he was in Goa attending the Young Presidents Organization (YPO) conference. Fawad Khan celebrated his birthday with his wife by his side and his best friend Sonam Kapoor. Sonam Kapoor posted a video in which Fawad Khan was shown cutting a cake and she also said that she ran out of an award ceremony so that she could be there for her best friend's birthday. In fact she said that there would be no other reason ever because of which she would leave an award ceremony. Fawad Khan celebrated his birthday a day later and he hit his head with the lamp shade while he was cutting the cake so Sonam called him "accident-prone".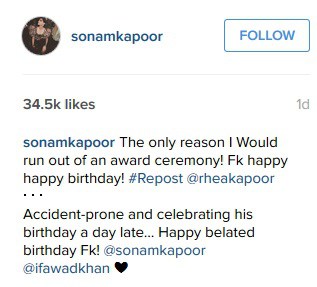 Fawad Khan had dinner with his wife on the day of his birthday and celebrated the birthday long before the actual day with the team of Ho Mann Jahan including the director. Fawad Khan is also making a brief guest appearance in the film which stars Mahira Khan, Adeel Hussein And Shehryar Munawar among other. Hamza Ali Abbasi is also a prominent actor who will making a guest appearance in the film.
Fawad Khan met Shilpa Shetty and Madhuri Dixit at the conference he was attending and all these stars posed for cameras. Fawad Khan did not tell the divas that it was his birthday and Indian magazines posted the news again and again asking whether Fawad Khan was too shy to tell Shilpa and others that it was his birthday.