The last quarter of 2017 is about to start. 2017 has so far proven a disappointing year for the local cinema. Apart from four films Mehrunnisa V Lub U (June), Yalghaar (June), Punjab Nahin Jaongi (September) and Namaloom Afraad 2(September) the rest of films have struggled on the box office.
The first half of the year (Jan – June) saw very few releases, but the tremendous success of Namaloom Afraad 2 and Punjab Nahin Jaungi (released in September) might result in a favorable ending of 2017 for the local cinema. In the fall 2017 (October – December), the lineup of upcoming films is quite impressive especially November and December 2017. The months of November and December are stuffed up with the announcement of film releases and we might see few films delayed till next year due to packed schedule.
Lets see the list of the expected releases of Fall 2017 which also includes some major long awaited ones.
Pari (پری)
Release Date: 31st October 2017 (Expected)
Pari is a horror film, a genre not much popular in Pakistan. The horror films of recent years Siyah(2013), Maya(2015) and Aksbandh(2016) all proved dumb at the box office.
The teaser of the film is already released which received mixed response on the social media.
https://www.youtube.com/watch?v=G5wH0em2cJ8
Tum Hi Ho (تم ہی ہو)
Release Date: 3rd November 2017
The major highlight of THH is the comeback of the director Sangeeta on the big screen. Sangeeta is the most successful female director of Pakistan cinema. She has directed around 70 films (Urdu, Punjabi, Pashto) the most by any female director. Her last film Lahoria Te Pishoria (لہوریا تے پشوریا) in Punjabi was released in 2015, while her last Urdu film Haseeno Ka Mela (حسینوں کا میلہ) was released in 2010.
THH was due to release in April 2017 then delayed to August and now November. The trailer of the film was out in March 2017 and was heavily criticized on social media. Going by the trailer THH is definitely not the best work by Sangeeta and we expect some quality work from the comeback of Sangeeta.
The veteran film makers returning to film makers must understand audience of cinema has changed and is no more limited to the blue collared class of the society as it was in 1990s,so the Lahore based directors returning to Urdu films like Sangeeta, Syed Noor, Nasir Adeeb, Iqbal Kashmiri, Sohail Khan, Faisal Bukhari also have to reconsider their style of film making.
Azaadi (آزادی)
Release Date: November 2017 (Announced) Expected to release on 10th November 2017
Azaadi is a film based on the Kashmiris struggle against the Indian occupant forces. The film highlights the decades old Indian oppression and brutality towards Kashmiris as well Kashmiris struggle for independence from India.
The film is directed by Imran Malik, who is the son of Parvez Malik (late) a successful director of Pakistan film industry. Parvez Malik directed some block buster Urdu films of the past mostly starring Waheed Murad like Armaan (1966). Azaadi stars Moammer Rana and Sonya Hussain in the lead roles.
The teaser of Azaadi was released in March 2017, the first look or poster was launched in June 2017. The poster mentions the release date as November 2017 but lately its team is not much active on social media.
Shor Sharaba (شور شرابا)
Release Date: November 2017 (Expected)
Shor Sharaba is another film produced in Lahore, where its producer Sohail Khan is making a comeback towards Urdu cinema. Sohail Khan is a film producer from Lahore, and since film making in Pakistan was extinct by mid 2000s he produced films in Bollywood. He was the co-producer of the Bollywood films like Jannat, Murder 3 and perhaps it is where he get acquainted with Indian film directors.
Since the so called revival of Urdu cinema, Sohail has also announced his film Shor Sharaba around 2014-2015 to be directed by the Indian directed Hasnain Hyderabadwala (حسنین حیدرآبادوالا). It took Hasnain Hyderabadwala long time to get the work permit and other permissions required to work in Pakistan and thus the film delayed. Eventually Hasnain Hyderabadwala got the work permit and the shooting of the film started in Lahore in 2016 and completed earlier this year. Interestingly in October 2016, Indian film producers association announced a ban on Pakistani artists in Bollywood. However at that time the Indian director was shooting this film in Pakistan and he again visited afterwards to complete the film as there is no such ban on Indian artists in Pakistan. Apart from the Indian director, the choreographer Shabina Khan of this film is also Indian.
Shor Sharaba stars Adnan Khan and Rabi Peerzada in the lead roles where Rabi is doing her first film. The trailer of the film was released in April 2017 and was quite clueless. One wonders what difference the Indian film director has made as the film is at par with the Urdu films of 1990s directed by Parvez Rana (Late), Maqsood Butt or Anjum Parvez.
The film release date was initially Eidul Fitr in June 2017, then 21st July 2017 and now November 2017. Lets hope the film sees the light of the day. It is another film from a Lahore based film maker which seems outdated and reminds of the Urdu cinema of 1990s. So the film might attract the persons nostalgic about the "Sweet" 90's cinema.
https://www.youtube.com/watch?v=mEEYZNwJ4e0
Cake (کیک)
Release Date: November/December 2017 (Expected)
Cake is an Urdu film starring Adnan Malik, Sanam Saeed and Aamina Sheikh in the lead roles. The film makers are new as well it is the first film of Adnan Malik. Sanam Saeed and Aamina Sheikh two polished artists are appearing as sisters in this film.
Talking to the BBC Urdu, the director of the film hinted to release the film in November/December 2017, however so far no song or teaser of this film is released yet and there is uncertainty for Cake to be served in the fall 2017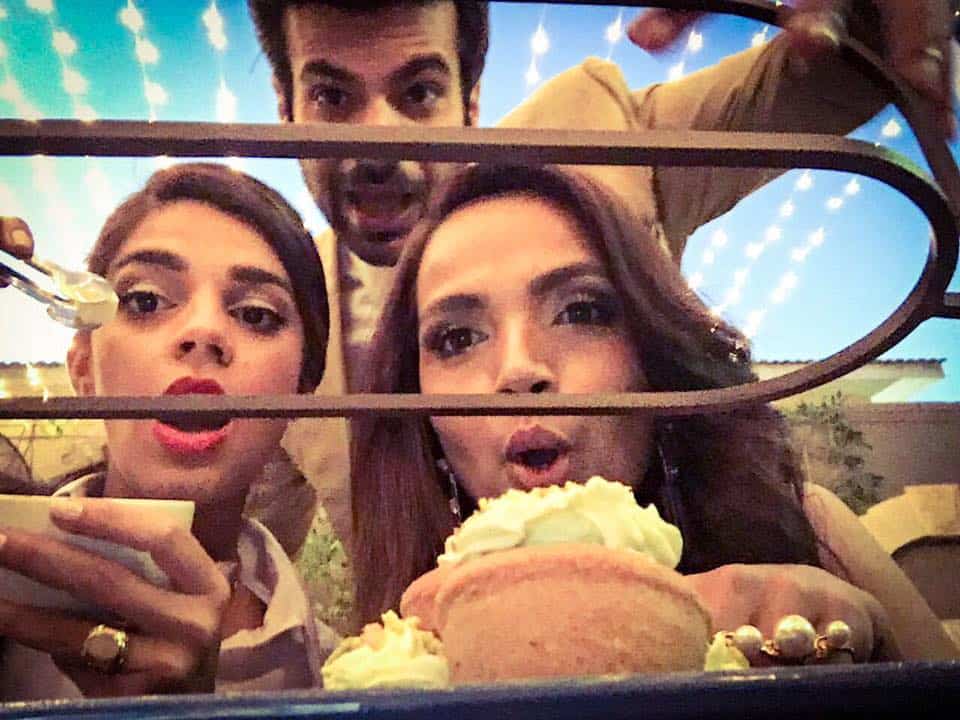 Verna (ورنہ)
Release Date: November 2017(Announced), 10 November 2017 (Expected)
Verna, a film by Shoaib Mansoor is perhaps the most awaited film for a while. It is the third film by Shoaib Mansoor, after Khuda Ke Liye (2007) and Bol (2011). Shoaib is known for selective but quality work. His films are not mainstream commercial films but still prove successful and thus Varna has huge expectations associated with it.
After Shoaib Mansoor, Mahira Khan the super star of Pakistani cinema is the other big aspect of Varna. Mahira is appearing in an Urdu film after a gap of almost two years where her last film was Ho Man Jahan (1st January 2016), though she did a cameo in Actor In Law (September 2016) too. Like the previous films of Shoaib Mansoor, Verna also covers a serious social subject. But Shoaib Mansoor is known for delivering a complicated subject in a subtle manner without being too preachy.
No teaser of Verna is released so far, only its first look is revealed.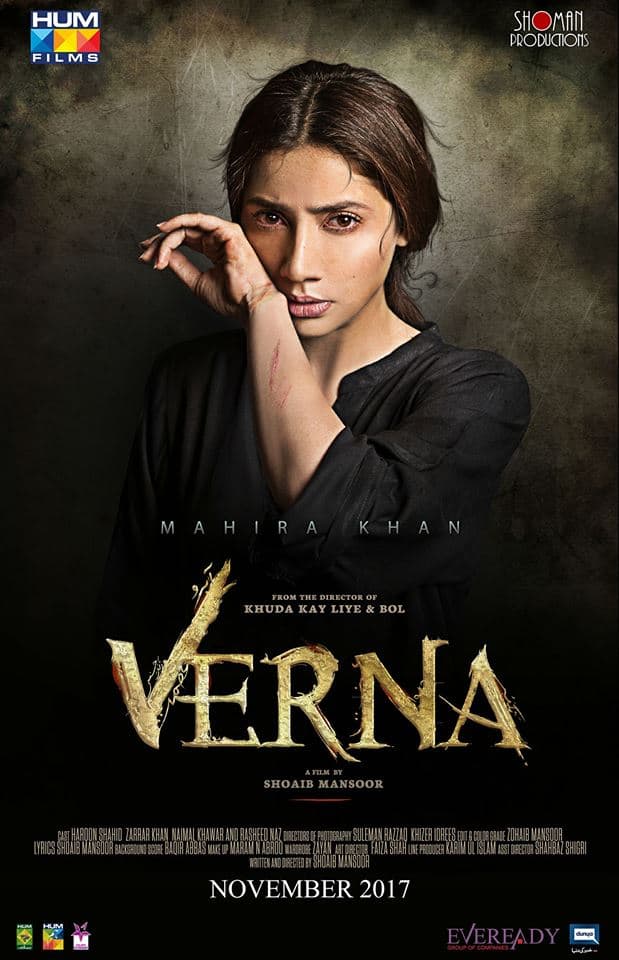 Maan Jao Na (مان جاؤ نا)
Release Date: 1 December 2017
MJN is a romantic comedy starring Iranian artist Naaz Norouzi paired with Adeel Chaudhry working in his first Pakistani film. MJN also star Ali Gur Pir in an important role. MJN's trailer or teaser is not yet released.
MJN is directed by Aabis Raza, who earlier directed many successful dramas.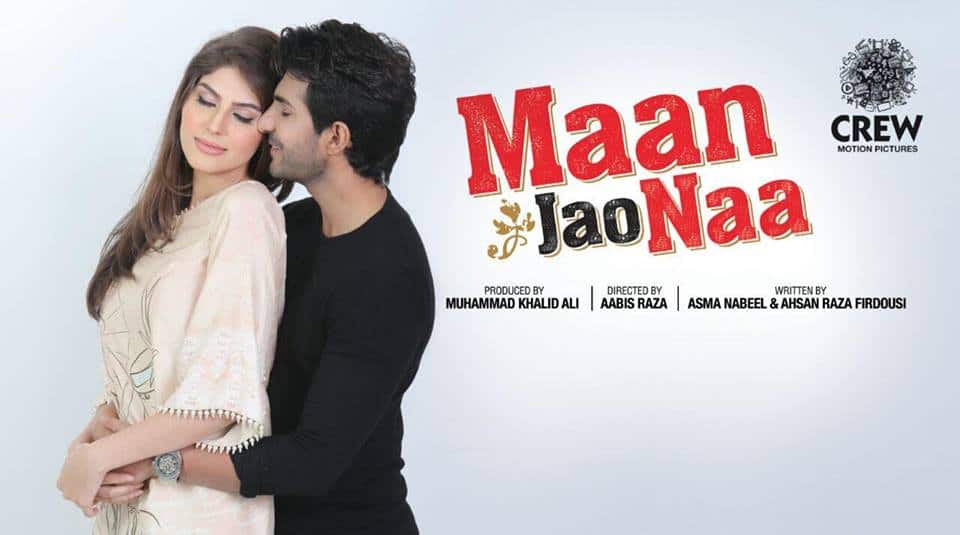 Parchi (پرچی)
Release Date: November/December 2017 (Announced)
The teaser of Parchi is released last week and received positive reviews. The production team of Janaan (September 2017) is back with next film though the cast of the film is changed apart from Usman Mukhtar and Ali Rehman Khan. Hareem Farooq is playing the female lead From its teaser it looked a crime caper- comedy film.
The teaser says Parchi will be out in the Winter 2017, so its expected release date must be November or December 2017.
Rangreza (رنگریزا)
Release Date: 21 December 2017
Rangreza is a film announced in August 2016. Initially Sana Javed was in the lead role, but she later left the film and replaced by Urwa Hocane. The male leads of the film are Bilal Ashraf and Gohar Rasheed.
Rangreza is based on music where Gohar Rasheed is playing the role of a member of Qawwal family. Bilal Ashraf is appearing as a popstar. Ghana Ali and Aleezay Gabool are also in the cast.
One teaser and four songs of this film are already released. The first song of Rangreza Phool Khil Jayen was well received upon its release in June 2017. The consequent songs released also praised, so music is another major highlight of this film. The film also features an item song which is shot on Eunchs(Hijras).
Chuppan Chupai (چھپن چھپائی)
Release Date: 22 December 2017
Chuppan Chupai is a film announced two years ago. It is a comedy film starring Ahsan Khan and Naeelum Munir. Ahsan Khan is returning to big screen after a gap of few years, while Neelum Muneer is starting her big screen career.
Ahsan Khan has been a popular name on television for past many years, so it will be interesting to see translating to this success on the big screen. Neelum Munir is also a popular name of television dramas. Comedy genre (with a pinch of romance) or RomCom films have emerged as the most popular film category in the recent times. No trailer or teaser of Chuppan Chupai is released so far, but its first look poster is already out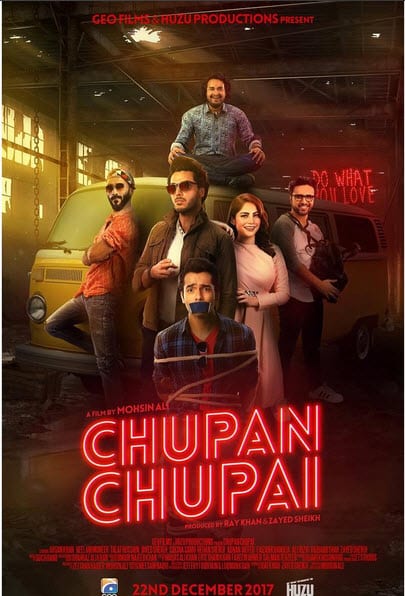 Arth (ارتھ)
Release Date: 22 December 2017
Arth is a remake of the Bollywood film Arth of 1980s. Shaan Shahid the director is also playing the lead role alongwith Humaima Malick, Uzma Hassan and Mohib Miza. Arth was announced in 2014 and it took three and a half year for Shaan to complete this "master piece". In 2014 the initial cast of the film includes Humayun Saeed, later replaced by Mohib Mirza.
The teasers of Arth were released in July 2017. The film is shot in UK and Pakistan. Shaan Shahid is returning to film direction from Arth2, where his last film Zille Shah (as director) was released a decade ago. Uzma Hassan known for her power performances in the television dramas, is making her big screen debut.
Shaan Shahid is a brand name and the biggest star of Pakistan cinema of current era. He is one of the very few film person of the old cinema of 1990s, who successfully transitioned into the new age Pakistani cinema (Other such name is Shafqat Cheema). His presence in a film guarantees a good opening week for the film and Arth is expected to have a good start.
So it completes the films announced or expected to be released in the upcoming three months of 2017. Few of the films like Cake or Shor Sharaba might be postponed since their release date is not confirmed yet. On the whole the next three months look quite promising with back to back quality productions, especially the Christmas weekend of 21st December when three films are releasing.
Thanks for your time. Do share your feedback.
Rashid Nazir ali