2018 has so far proved a mixed year for the Pakistani cinema with few hit and miss films. The last major Urdu film of 2018 was Motorcycle Girl released almost two months ago on 20th April 2018. No Urdu film was released in May 2018 due to the holy Islamic Month of Ramazan. The two month long dry season will be over on upcoming Eidul Fitr 2017 where a handsome number of films are releasing. Eidul Fitr is the major festive occasion in our country followed by Eidul Azha. It is the time of joy, family reunion, outing, recreation and vacation. The long holidays of Eidul Fitr benefit the entertainment industry as well majorly cinemas and theaters. To utilize these holidays the big banner films are scheduled to release on Eid. Eidul Fitr has historically been the most successful time for the Pakistani cinema in an year. However from past one decade, Eidul Azha has overtaken the Eidul Fitr with respect to the business of local films. The major films which were once specific to Eidul Fitr are now shifted to Eidul Azha. The most significant reason is the direct competition with the Bollywood Eid film. Every Eidul Fitr some Khan starer Bollywood film gallops the bulk of the cinema shows and business. On 2015's Eidul Fitr, Bollywood's Bajrangi Bhaijan (BB) emerged blockbuster. Due to the enormous success of BB, many shows of the two Urdu films Bin Roye and Wrong No. also released on Eidul Fitr were shifted to BB. Though eventually Wrong No. and Bin Roye also proved successful but their business was impacted by BB. On 2016's Eidul Fitr, Bollywood's Sultan made many new records of collections like most earning in a single day, most earning on a weekend. The film earned around 34 crore and became the highest earning Bollywood film in the Pakistan. Two Urdu films Swaal 700 Crore Dollar Ka (SSCDA) and Blind Love were also due to release on Eidul Fitr in 2016. But due to unavailability of shows Blind Love was not released and the only film SSCDA struggled against Bollywood's Sultan. The situation changed in 2017 as the government has not allowed the release of Bollywood Eid film Tubelight and hence no Bollywood film was released on Eidul Fitr 2017. This year Eidul Fitr will fall on 15th or 16th June 2018 Here is the summary of the films coming on Eidul Fitr. Hollywood Hollywood films are only released in the multiplexes having 3D screens. Hollywood films have their own dedicated audience. This Eidul Fitr only one Hollywood film Jurrasic World – Fallen Kingdom is releasing. https://www.youtube.com/watch?v=vn9mMeWcgoM Bollywood: No release Like 2017, no Bollywood film is releasing on Eidul Fitr. In 2017, the government did not allow the release of Bollywoods' Tubelight on the Eidul Fitr. There was no official statement on its release and it was expected to hit theaters after two weeks of Eid. However Tubelight's business was not as per expectations in India and the rest of world and consequently the film was not released in Pakistan even after Eidul Fitr. This year the Federal Government has defined the regulations of films releasing on Eid. As per the official notification released three weeks ago, no Bollywood film will be screened till after two weeks on both Eidul Fitr and Eidul Azha. However last week upon the pressure of Bollywood's film distributors the government has reduced the ban to one week. The 2018 Bollywood's Eid release is Race 3 which now will release in Pakistan on 22nd/23rd June 2018 one week after Eidul Fitr. Bollywood films have an all-seasons and all-weathered loyal audience in Pakistan across all sections of the society. Despite hostile aggression from India on borders Bollywood films earn huge in Pakistan from the posh areas multiplexes to crowded areas old single screen cinemas. The prime example of the bonding of the Bollywood fans in Pakistan is the business of 2016 Eidul Fitr's release Sultan which earned a mammoth 34 crore in three weeks and became the highest earning Bollywood film in Pakistan to-date. Before its release filmi circles were predicting a possible low turn out for the film as Indian army butchered around 120 Kashmiris in the Indian held Kashmir within a week around Eidul Fitr while thousands of Kashmiris lost eye sight due to the use of the pallet guns by the Indian forces. Despite continued state terrorism and blood bath in Kashmir on Eidul Fitr 2016 by the Indian forces, Sultan received a massive response on Eidul Fitr in Pakistan. The film registered the largest ever opening weekend for any film by earning 7.5 crore in just four days again proving the massive appeal of Bollywood films in Pakistan. So even though Race3 will release one week after the Eidul Fitr, the film distributors are hopeful about its massive business.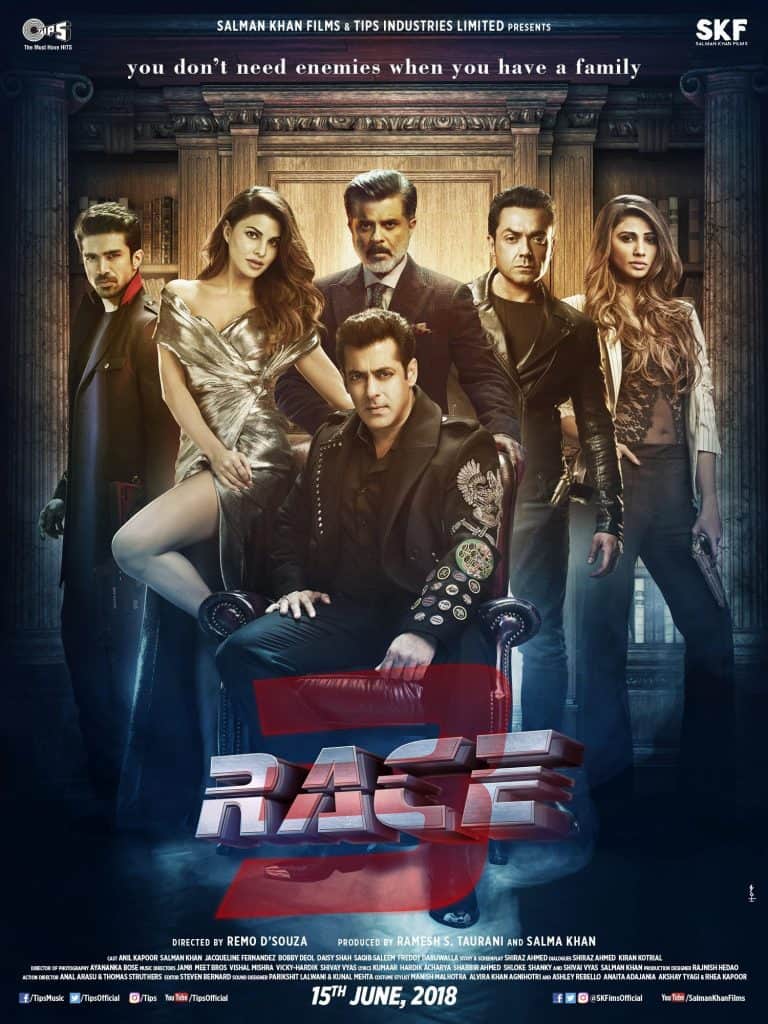 Urdu films Urdu is the national language spoken in all the regions of Pakistan and Urdu cinema is gradually recovering after its extinction in the last decade. In 2017 two Urdu films Yalghaar and Mehrunnisa V Lub U (MVLU) were released. In the absence of the Bollywood film both proved successful where Yalghaar earned 17-19 crore and MVLU earned 13 crore. The main business circuit of Urdu films is Sindh, Punjab and Islamabad Capital Territory. Urdu films have a limited release in the cantonment areas of Balochistan and KPK In the absence of any Bollywood film, four Urdu films were announced to be released on the Eidul Fitr 2018. All four films are of diverse genres providing ample choice to cine goers to choose one as per their choice. 7 Din Mohabbat In (سات دن محبت ان) Starring superstar Mahira Khan alongside her Ho Mann Jahan co-star Sheheryar Munawar, 7 Din Mohabbat In (7DMI) is all set to release on Eid ul Fitr. It has been directed by duo of Meenu Gaur and Farjad Nabi, whose debut directorial venture Zinda Bhaag (2013) became the first Pakistani film to be submitted for an Oscar consideration. Written by Fasih Bari Khan, the romantic comedy shows the life of Tipu (essayed by Munawar) on a quest to find his true love and the troubles he encounters during his journey. The film also marks Mira Sethi's big screen debut and has an all-star cast that includes names such as Amna Ilyas, Jawed Sheikh, Hina Dilpazeer, Aamir Qureshi, Rimal Ali, Adnan Shah Tipu, Mira Sethi and Beo Zafar. 7 Din Mohabbat In will be Mahira and Sheheryar's second film together after Asim Raza's Ho Mann Jahaan (2016), where Sheheryar Munawar is appearing in a film after a gap of 2.5 years. 7DMI is the debut film for Hina Dilpazeer, Rimal Ali and Mira Sethi. Transgender artist Rimal Ali will perform on a dance number in this film too. It is also the first film by Herald Entertainment Company and Dawn Films, a film house of Dawn Media and Publications. Outside Pakistan, 7DMI will be distributed by B4U movies. 7DMI will also release in North America, Europe, Middle East, Australia/NZ, Africa and South East Asia. Film: 7 Din Mohabbat In (سات دن محبت ان) Release Date: 15th or 16th June 2017 Genre: Romcom Cast: Mahira Khan, Sheheryar Munawar Siddiqui, Mira Sethi, Amna Ilyas, Jawed Sheikh, Hina Dilpazeer, Aamir Qureshi, Adnan Shah Tipu, Beo Zafar Music by: Arshad Mehmood,Shuja Haider,Shani Arshad, Waqar Ali, Sheraz Uppal Written by: Fasih Bari Khan Directed by: Meenu Gaur, Farjad Nabi Producers: Nazafreen Saigol, Lakhani Shakeel, Masud Hussain, Sheikh Amjad Rasheed Production House: Dawn Films Distributor: Dawn Films & IMGC Global Facebook: https://www.facebook.com/7DinMohabbatIn/ https://www.youtube.com/watch?v=3Qa_DNWlYlA Azaadi (آزادی ) Moammar Rana and Sonya Hussyn starer Azaadi is also releasing on Eidul Fitr. The film is about finding freedom and is a love story set against the backdrop of the freedom struggle in Jammu and Kashmir. The titular character Azaad is being essayed by Moammar Rana. He is shown to be a freedom fighter who chooses Kashmir over love, career, and family, whereas Sonya Hussyn is essaying a British journalist of Pakistani roots who loves Azaad. Besides Rana and Hussyn, veteran actor Nadeem will be essaying Moammar's father in the film. By the looks of the trailer, Azaadi seems to be packed with a lot of action and impressive visual effects. Azaadi is directed by Imran Malik the son of late great director Parvez Malik. Imran's first film as director was Tere Bin Jiya Na Jaye in 2005 and Azaadi is his second film. Azaadi is Sonya Hussyn second film after Moor (2015). Film: Azaadi (آزادی ) Release Date: 15th or 16th June 2017 Genre: Action Cast: Moammar Rana, Sonya Hussyn, Nadeem, Maryam Ansari, Erum Azam, Ali Fateh, Maryam Khalif Music by: Sahir Ali Bagga Written by: Wajid Zuberi Directed by: Imran Malik Producers: Irfan Malik, Imran Malik Production House: Parvez Malik Films Distributor: ARY Films Facebook: https://www.facebook.com/Azaadi-803318393140295/ https://www.youtube.com/watch?v=U71A8kn_h64 Wajood (وجود) Wajood is directed by Javed Sheikh where his last film as director Khullay Aasman Ke Neeche was released in 2008. Starring Danish Tamoor, Saeeda Imtiaz and Aditi Singh in the key roles, Wajood has veteran artists Shahid, Nadeem and Javed Sheikh in the supporting cast. A romantic thriller it is shot in Turkey. Danish Taimoor, will be seen essaying the character of a pilot, while Jawed Sheikh is possibly essaying the villain's role. It is the first film of Saeeda Imtiaz in a lead role, as she had earlier appeared in a dance number in Raasta (2017). Indian artist Aditi Singh is also part of this film. Frieha Altaf is making her big screen debut from this film, while Ali Saleem is also appearing in a key role. Like the past films of Javed Sheikh, Wajood has melodious music well shot on the scenic locations of Turkey. Film: Wajood (وجود) Release Date: 15th or 16th June 2017 Genre: Romantic/Thriller Cast: Danish Tamoor, Saeeda Imtiaz, Aditi Singh, Nadeem, Shahid, Javed Sheikh, Frieha Altaf, Shaheen Khan, Asad Mehmood, Ali Saleem Music by: Sahir Ali Bagga Written by: Babar Kashmiri Directed by: Javed Sheikh Producers: Moomal Sheikh and Shahzad Sheikh Production House: Distributor: Distribution Club Facebook: https://www.facebook.com/wajoodthefilm/ https://www.youtube.com/watch?v=gL9gShbxYR0 Na Band Na Baraati (نا بینڈ نا باراتی) Na Band Na Baraati is a romantic comedy feature film. The film trails lives of a few Pakistani families in Canada. It has a mix of culture, compassion, love, mischief's, and entertainment. Starring Mikaal Zulfiqar, Nayab Khan and Shayan Khan in key roles, it has established names like Qavi Khan, Atiqa Odho and Mehmood Akhter in the supporting cast. The film is shot entirely in Canada. It is the Mikaal Zulfiqar's first Pakistani film in a leading role. Earlier he has appeared in supporting roles in God Father The Legend Continues (2007) and Cake (2018). The film was due to release on 6th July 2018, however its release date is pushed back as another film Parwaaz Hai Junoon by the same distributor is delayed. Film: Na Band Na Baraati (نا بینڈ نا باراتی) Release Date: 15th or 16th June 2017 Genre: Romcom Cast: Mikaal Zulfiqar, Ali Kazmi, Shayan Khan, Qavi Khan, Atiqa Odho, Komal Farooqi, Azra Mohyeddin, Nayab Khan, Saram Jaffery, Anzelikha Tahir, Kashif Ahmed and Zuhair Jaffery Music by: Ayaz Sonu Written by: Harish Kumar Patel Directed by: Mahmood Akhtar Producers: Khawar Farooqi, Nighat Farooqi & Zain Farooqi Production House: Zashko Films Distributor: Hum Films & Everready Films Facebook: https://www.facebook.com/nbnbmovie/ https://www.youtube.com/watch?v=KdJFbA0Jtx8 Punjabi Films Punjabi is the largest spoken language in Pakistan. For almost five decades Punjabi cinema has proved to be the backbone of our cinema and film industry. The success of Punjabi films also provided a space for Urdu cinema to flourish. However after Urdu cinema, Punjabi film making has also been extinct till the end of last decade. Unlike Urdu cinema there has been no considerable effort to revive the Punjabi cinema. Every year very few Punjabi films of inferior quality are produced which hardly add any value towards the dysfunct Punjabi cinema. Three Punjabi films are expected to release on this Eid which are traditional gandasa films. The punjabi films will only release in the Punjab province. The name of the Punjabi films are Faisla Gujjar Da (فیصلہ گجر دا), Malik Bahadur (ملک بہادر) and Market (مارکیٹ). The trailers of the Punjabi films are not available online.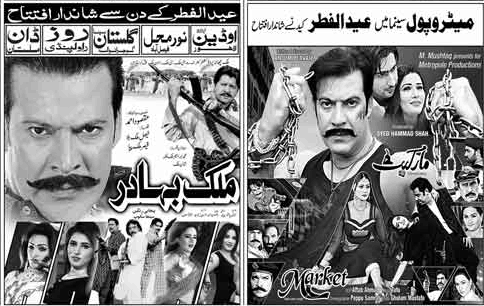 Pashto Films Pashto is the second largest spoken language in Pakistan after Punjabi. Pashto cinema was the third most successful film circuit after Punjabi and Urdu films. Unlike Urdu and Punjabi cinema which faded a decade ago, Pashto cinema has survived well despite dismal situation of law and order in its circuit. Pashto cinema seldom gets the attention of the mainstream media, still Pashto films have successfully retained their viewership . Pashto cinema has its own dedicated circuit in the province of KPK, Balochistan (Quetta) and Sindh (Karachi only) where native Pashto speaker live in large numbers. Apart from Pakistan, Pashto films sometimes are also released in UAE (Dubai/Sharjah) and Afghanistan (Kabul). The leading artists of the Pashto cinema are Shahid Khan, Jahangir Jani, Arbaaz Khan and Ajab Gull. Four Pashto films are expected to release on this film namely Paidageer (پیدا گیر)  , Ziddi O Badmash (ضدی او بدمعاش), Zandaan (زندان) and Kashar Khan Loafar Da (کشر خان لوفر دے). The trailer of all these Pashto films are available online, but here only one poster is added.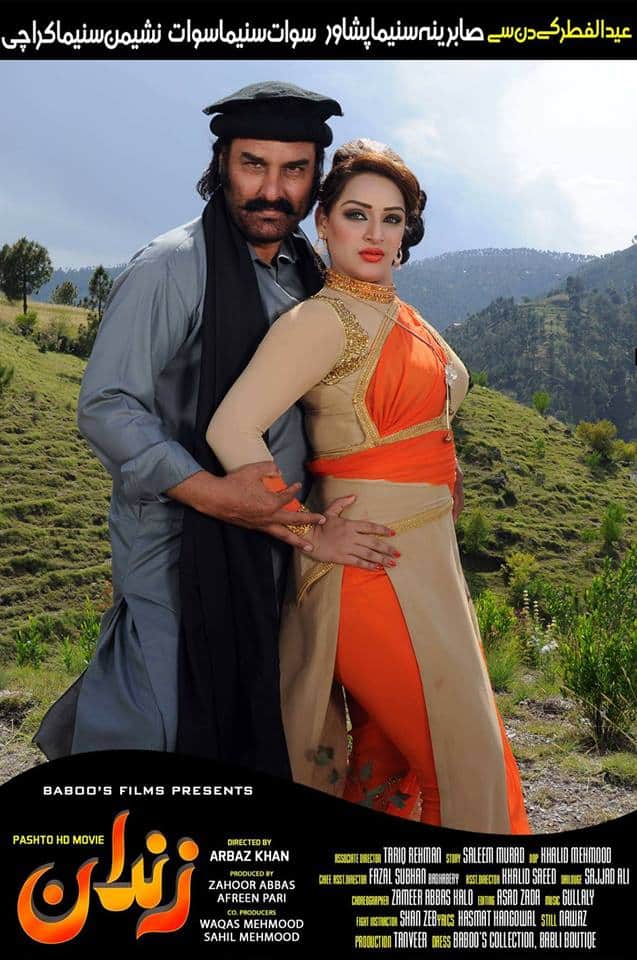 So it sums up this compilation of the films coming on Eidul Fitr. All the four Urdu films of Eid are of diverse genre so hopefully we can find one of our choice. Wish all the readers a happy and prosperous Eidul Fitr. Keep supporting Pakistani cinema. Thanks for your time.   Rashid Nazir Ali