This first episode was very engaging; it kept me glued to my TV screen right from the get-go. Drama serial Firaaq has been written by Mustafa Afridi, directed by Aabis Raza and produced by MD Productions. The first episode introduced the viewers to all the main characters in the drama and their backgrounds. The main protagonist of the play Payman (Sanam Saeed) is a Pakistani American who may have been living in America for a long time but her controlling and conservative mother (Uzma Gillani) does not allow her to adopt anything that is American. Not only that, Payman has grown up in a very strict environment, she is constantly judged and criticized. Payman is not happy with her life because of her situation. Her mother has a very desi set-up in which she is the boss of the house. Her second husband plays a second fiddle to her because she runs a restaurant and runs the house therefore she has no respect or regard for him either (anyone remember Bilquees Kaur?). Yes, Uzma Gillani's character reminded me of Bilquess Kaur because Bilquees' husband and children used to get the same treatment from her too. Bilquees was also loud and bossy and she had a very desi set-up in her house. The only big difference is that Payman's mother is not playing the lead in the drama and she is probably not going to be around for long either but her character definitely seemed to be inspired from Bilquees Kaur's character. Payman's step-father (Syed Mazhar Ali) on the other hand is a very soft-spoken and easy going person. It was great to see Syed Mazhar Ali on screen after a long time.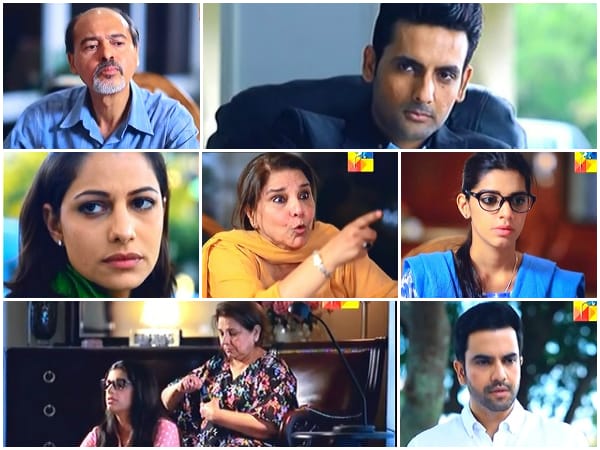 Payman's brother Shams (Junaid Khan) left his mother's house when she remarried after her husband's death. Sham's wife Sara (Cybil Chaudhry) wants to have kids but Shams made it very clear to her before they got married that he did not want any children. Sara meets a family friend (Noor Hassan) and shares her worries with him and he suggests that she should see a counselor. The counselor (Mohib Mirza) suggests that Sara's troubles will only be over if she can reunite Shams with his mother. Personally, I did not agree with the advice at all because anyone with such an authoritative, suspicious and unreasonable mother would not want to have kids because they would not be sure if they will be able to give that child the kind of life which every child deserves. I felt like Shams is too afraid that he may not be able to be a good father that is why he does not want kids. Anyway, Sara decides to meet Shams' mother and what an interesting meeting that was! Shams' mother may regret losing her son but she is not very eager to win him back either!
The preview of the next episode promised another happening episode therefore I am definitely looking forward to it. Sara's plan to get the mother and son back together is going to backfire in the worst way possible. Sanam Saeed looked really cute in those glasses and she owned her character. I could feel all the pent up anger and frustration in her expressions, body language and voice. When I first heard Cybil Chaudry talk I thought her voice was dubbed but by the end of the episode I liked her character and acting. Junaid Khan is not among my favorite actors but he is definitely well-suited for this role. I am waiting to see more of Mohib Mirza and Noor Hassan.
Overall, this was a very promising beginning. All the scenes were short and to-the-point , the characters are interesting, the story has potential and the episode was very well-directed. It was refreshing to see so many talented young actors on-screen. I wish people who are responsible for writing the plots of dramas online would not have access to more information than the viewers would like to know. I read the plot summary online and now I know exactly what is going to happen next! I highly recommend this first episode to anyone who has not watched it yet.
Fatima Awan