Ohkay so, the production of iDream Entertainment, direction of Saqib Khan & the writing of Zanjabeel Asim Shah; drama serial Fraud has definitely had the kind of start that hooked the audience immediately. Another factor that played to its favor was the teasers that were released that were intriguing & promising at the same time. In a typical Zanjabeel Asim fashion, the story has been established pretty quickly & now all that remains to be seen is how the protagonist will fight for her rights after she will be faced with he misfortune at the hands of her husband. So far, the initial episodes have shown a good progress in the story & have been a reminiscent of Cheekh as to how it kept the audience guessing about some of the characters.
Cast & Characters
Maya (Saba Qamar) happens to be the eldest daughter of Nisar (Mehmood Aslam) & Shehnaz (Nida Mumtaz). Maya's younger sister Maila (Rabya Kulsoom) is her strongest support system & plays an important role in Maya's life. Although Nisar himself belongs to the middle class, it has made him quite staunch regarding his approach for his daughter's proposals. Nisar comes from a good place though but he has failed to make the people around him understand why he thinks getting his daughters married into rich & wealthy family is important. Initially it did look like he was being irrational with his approach but as the episodes progressed, he did share his reasons.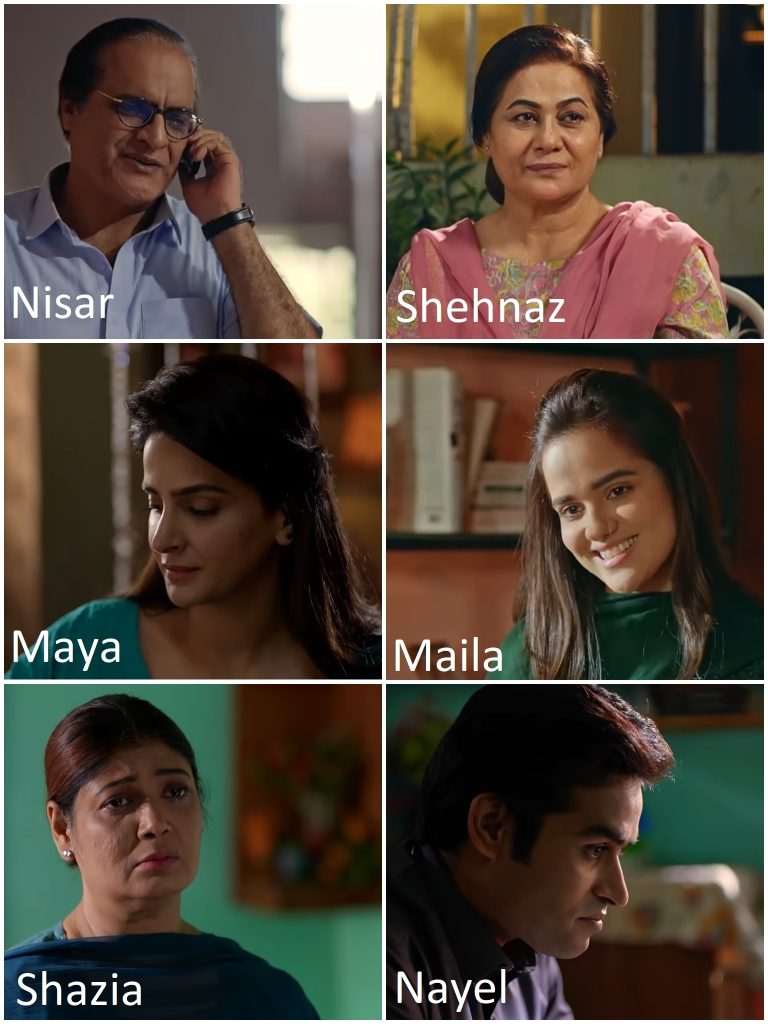 Nisar's sister Shazia (Nazli Soomro) is a widow & has a son Nayel (Adnan Samad Khan). Maya & Nayel liked each other to an extent that they actually wanted to get married but somehow, despite the love Nisar has for his sister & nephew could not make him change his mind about the criteria that he had for Maya's future husband. Nisar has been always there for his sister & has been supporting her financially, therefore it didn't take him long to make Shazia realize that this kind of financial condition was only going to create problems for Maya & this wasn't the kind of life he wanted to choose for his daughter.
Tabrez (Ahsan Khan) has agreed to the marriage easily & has assigned this 'project' to his mother (Ainy Zaidi). Tabrez's father (Saife Hassan) seems to be playing along as well & has left every decision on his wife. On the surface, this family seems a bit too perfect but deep down, only they know what they are trying to achieve.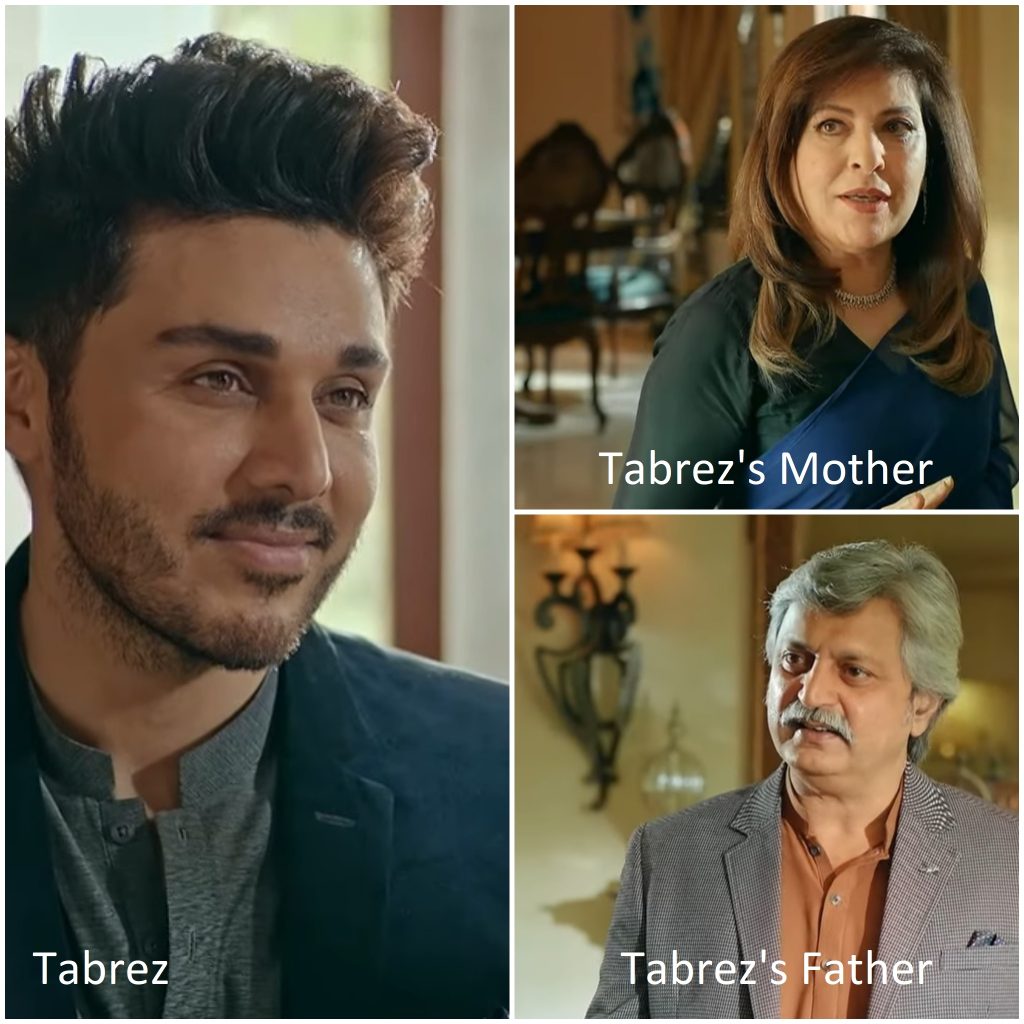 On the other hand, there is another family of Shaan (Mikaal Zulfikar), who trusts his step mother (Asma Abbas) & sister Tuba (Naeema Butt) more than he should. Only because of the problems created by his step-mother, his wife Simra & their daughter Zimmal have left for the USA. She tried her best to take him realize all that was wrong with his step mother & sister but he failed to see through them.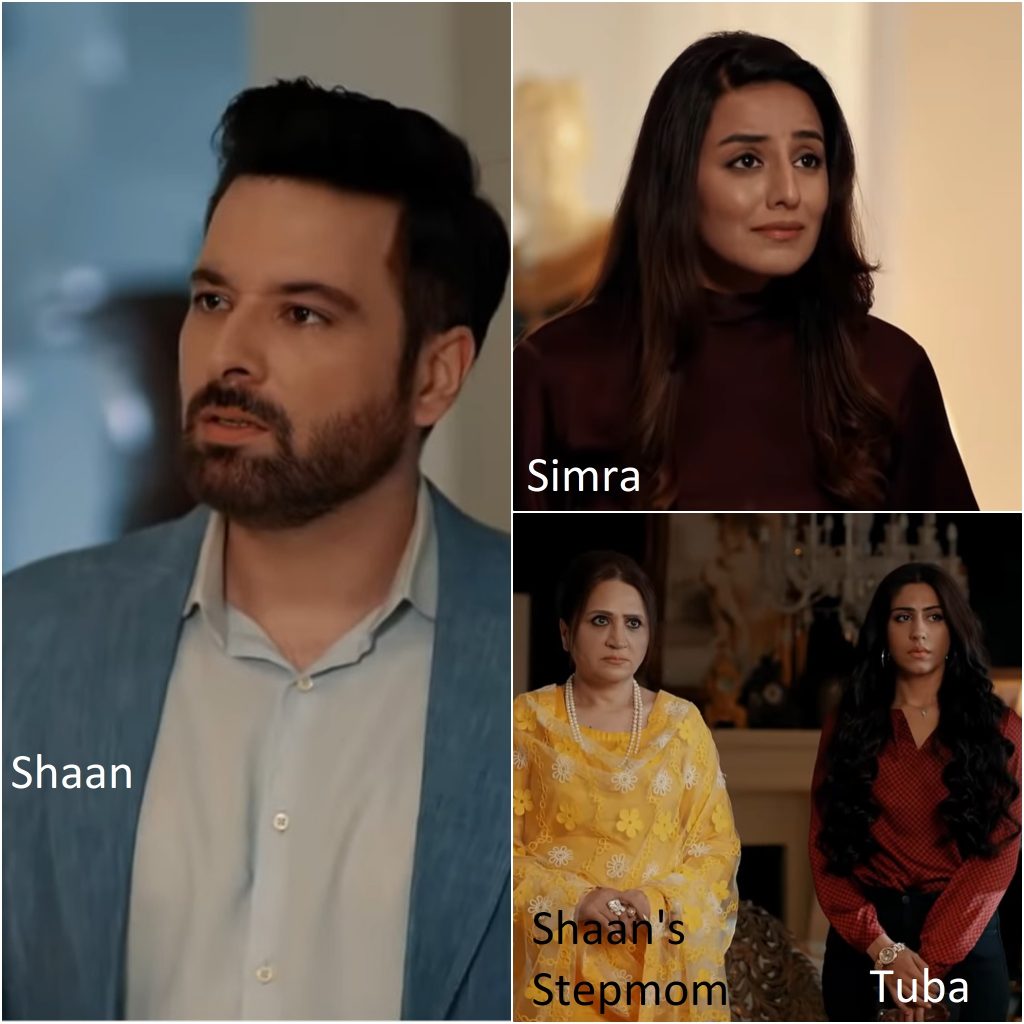 The Story So Far
Nisar at first did come across as a rigid father but as the episodes progressed, it changed my perspective about him. He is just someone who hasn't been able to make it big in life but does not want that to happen to his daughters. He only comes from a place of concern & love for his daughters but unfortunately, his tunnel vision has deterred him from seeing the negative side of the picture. Although Nisar himself is a mature & experienced person, but for him to literally think that wealth is going to bring every single happiness into his daughter's lives makes him look a bit too naïve. The way he hastened in getting Maya married to the very first suitor that approached him does show that he wasn't too wise to begin with or that he saw goodness in others a bit more than he should have.
I definitely would've liked if Maya had something going for her because to see a girl lurking around the windows & doors of her house, awaiting a proposal as if it was the only purpose of her life wasn't appeasing. I liked how Maya's younger sister had a lot more personality & character though. The two sisters are definitely different from one another but they share a strong bond. Maya has always been the submissive one, that it why she decided to be what her father expected her to. Maya did have feelings too but she felt none of it was worth standing against her father for. It is unfortunate that Maya's obedience & submissiveness is going to cause so much pain to her & she will be left betrayed & exploited, however I am keen to see how she will bounce back & what she will do with her life. So far, Maya has lived her life as per her father's wishes & he has done all he could to keep her protected in a bubble, but now when she will be exposed to the harsh realities, she will find her potential.
In these 3 episodes, the dialogue that caught my attention was regarding the 'project' that Tabrez handed over to his mother. If you have watched enough dramas of Zanjabeel Asim, you'd know that she always relies on such hints to complete the picture, therefore for Tabrez to call this marriage & proposal a project was a clear hint that he & the couple playing the role of his parents were definitely in it for an ulterior motive. I must say Ainy Zaidi's subtle expression at the mention of 20 lacs that Maya was going to get were spot on. She tried to show that she wasn't affected by any of it but deep down, it was obvious that this is exactly what they all are expecting from Maya & her family.
Although I really like Nayel's character & Adnan Samad Khan has played it to perfection, I feel some of his scenes were a bit too stretched. Yes, he definitely is suffering from a heartbreak & also, he feels burdened because for him Nisar won't be the same father figure that he was before, but I felt those scenes could've been easily cut short because I struggled to be attentive for the remaining parts of the episodes after seeing his never-ending scenes. Nayel has now stepped into a practical life & he will also use this heartbreak as a driving force to do better in life, not for any other reason but to prove himself as well as Nisar that he was rejected for all the wrong reasons. Shaan's scenario is very much inspired by the Bollywood movie Dharkan, the only difference is that here an added step brother has not been included. Apart from that Shaan himself is a decent person who is selfless & kind, because of which he has wholeheartedly accepted his step mother & sister. Shaan will also learn a lesson or two but sadly, it will happen when he won't be able to undo the pain & sufferings of his wife. It seems she has decided to end this marriage, which will allow Shaan to get further exploited by the step mother & sister.
A Promising Start
So far, Fraud has had a promising start & with convincing performances & strong direction, it definitely makes you look forward to its episodes every week. Fraud is the kind of drama that has everything working in its favor right from the beginning. There is suspense, there is emotion, a highlight on the relationships, heartbreak & things related to it. All the actors have given such convincing performances, that has helped in making Fraud a very good watch. The director has made sure to put the expertise of all these seasoned & measured actors to good use & that has definitely been one of the strengths of this drama. it is definitely good to see Saba Qamar back in a drama after a long time. Mehmood Aslam continues to give yet another strong performance. Adnan Samad Khan too has given a very strong performance as Nayel. I have always found Rabya Kulsoom a very strong performer. She always fits in her characters effortlessly & brings a lot of charm to the screen.
Ahsan Khan is a good actor too but I feel after Fraud, he really needs to pause & make different choices. This has been a case with Ahsan Khan right from the beginning where he always ended up doing similar roles. Years ago he was always seen as a hopeless romantic hero & now especially after Udaari, he has decided to play negative characters only. Qissa Meherbano Ka, Qayamat, Mere Humnasheen & now Fraud, I think Ahsan Khan has definitely shown his caliber as a villain, but now especially after this project, he should take something different for a change. However, it is worth appreciating how he had changed his look to fit the character of Tabrez better like a tattoo, ear piercing as well as a cut on the eyebrow. It will be interesting to see how many looks he'll change in the upcoming episodes. Fraud definitely has all the factors to keep the audience engaged & I am definitely looking forward to the rest of the story. The production value is great & it definitely is refreshing to see a drama set in Lahore, all the shots capturing the essence of the life in Lahore were stunning. How have you guys found the first three episodes of the drama. Please share your thoughts about the initial episodes of Fraud.
Keep Supporting,
Cheers,
Zahra Mirza.