These days all the channels strive for higher and higher ratings.In this rat race (never mind cats!)they are willing to do anything.These days Geo Entertainment is at the top ratings wise.Let's analyze some of their dramas and try to find out their success formulas
1- Numm
No need for a proper script or coherent storyline.Just get a heart throb hero and an aged actress,don't forget to cast a beautiful young mannequin also,don't pay the mannequin just tell her she can scream at everyone in sight and that too to her heart's content and take out her entire life's frustations.since there's proper script ask the actors to remain silent most of the times or stare at each other.The people will watch and bite their fingers at this abstract piece of art and since most of the budget had already been spent on casting the hearthrob hero,the shooting is carried out in morose blue tones.The story (read the lack of it) never mind there's always this hero sandwiched between two women story that's already being played in a dozen or so dramas on air.One more such show won't hurt anyone!Even if nothing else will work,people will watch it for the hearthrob hero and then curse the drama and its makers only to watch the next episode and the next and the next.There we have a big hit.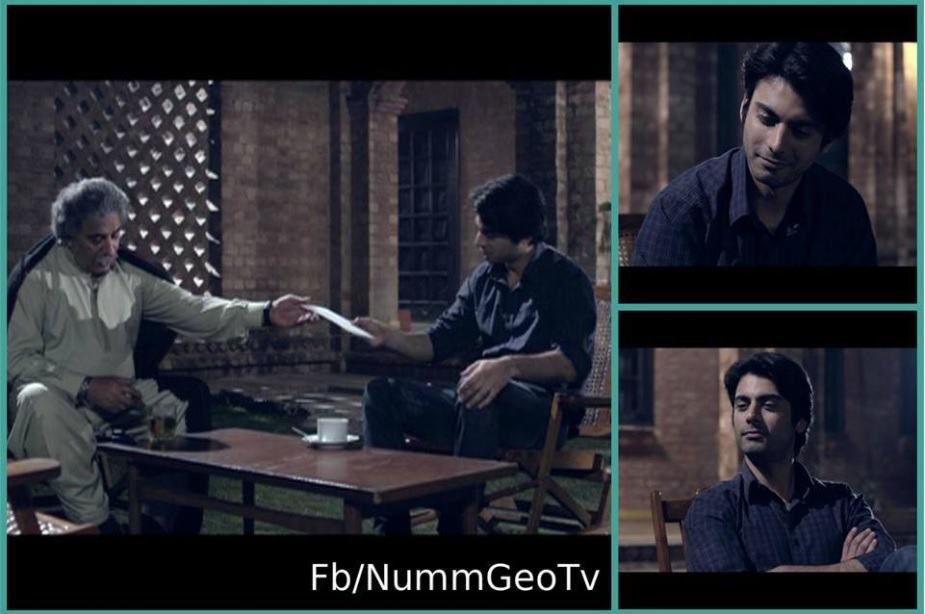 2- Mann Ke Moti
Everybody loves a roti dhoti woman,right.Now don't say you don't for its your love for crying women that have made this drama a roaring success on the ratings chart.Audiences and makers' love for crying women has led to a huge increase in bucket sales (buckets to collect tears shed by our drama heroines such as heroine of this drama).Economic activity indeed!This drama also has all kind of tragedies you can think of all kind of tragedies that A&B Productions is famous for.You have a heroine whose first husband has passed away leaving her with three children,her extremely evil mother,her forced marriage to a second man who just considers her a caretaker of his son and then there are miseries of the three children also.What novel story,what new-to-the-world concept!But never mind jealous writers like me,the audience loves it and that's all that matters.They also keep their buckets firmly under them while watching this show.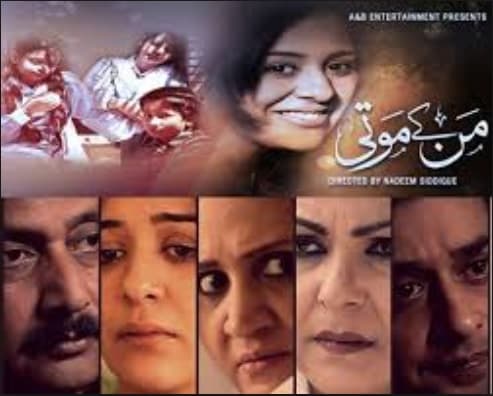 3- Asmano Pe Likha
Another very popular show,how can I forget it!The story can be copied from an Indian Show.Yes no harm in copying,no one would know!Once you have done that,cast a youthful couple and add a filmy dash of the hero marrying the girl instantaneously just as her to-be-husband left the wedding avenue with his family.Now the boy's father and his girl friend want him to divorce his wife at the earliest while the wife does not want this till her father gets well.Amazing story,right and amazing scenario!Reminds me of Pakistani Movies of 60s and 70s where the hero protected the 'girl's honour' by doing such antics.I thought we'd phased that phase.Unfortunately,I was wrong.The period lives on and again the audiences love it so I am a jealous writer once again!In this story,do make sure you cast a handsome all-smiles actor who remains confused about where he has been taken,kidnapped,oh no!Such things only happen in Pakistani dramas not on drama sets.

4- Saari Bhool Hamari Thi
Girl trusts her tai ami more than her mother as she's raised in a joint family set up.Falls for the wrong guy and Tami Ami is as lalchi and as black a character as it could get.Wonderful and again new-to-the-world story and concept,right?Do add lots of negative behaviours of other characters and goody-two-shoes all white characters,chip in girls running from home and the usual dramatic consequences,rural urban setup that looks straight out of Ptv Drama Waaris (only less authentic) and we have got Saari Bhool Hamari Thi.The actors don't do a very bad job but the story,ahem!The less the jealous writer says the better :)Plus the lead actress Aiza is seen in so many dramas currently that I forget whether I am watching Adhoori Aurat or Saari Bhool or …never mind.She's popular and you people want to see her.And before I forget,it's another crying woman story we all love so long live the buckets and bucket makers.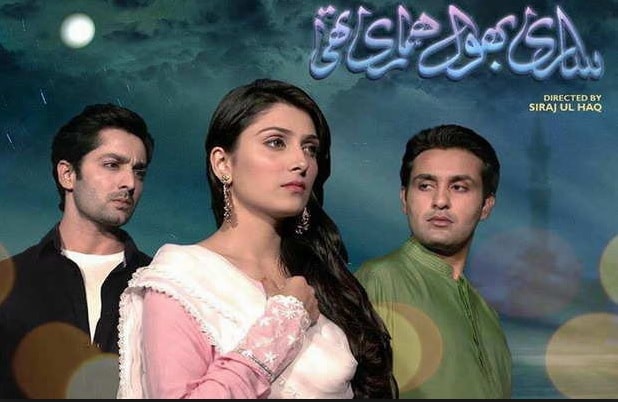 There's Ik Kask Reh Gayee,Meri Maa and Meri Zindagi Hai Tu also but the less said about them the better.And to further entertain us,Geo is now coming up with another sotailee-maa-kee-satayee-huee-mazloom-larkee story,wonder if Maria Wasti who plays the lead here could be called a larki!But then again my eye sight is quite weak so you never know,this play titled Kalmoohi would have bucket makers clap again with joy!
Haseeb Ahmed