Tonight's episode of Ghairat covered the aftermath of the tragic development in the previous episode and it did so quite logically. All the developments in tonight's episode were convincing. Saba's frame of mind in particular was translated on screen superbly. She was fearful for her life and knew that only Zohaib could rescue her. Usman killed Iqra while her mother was present there, she could not do anything to stop him therefore Saba knows that she is not safe in the house even with her brothers locked away since they can return at any given time considering the fact that her mother is not in her senses and rest of the family is more than willing to cover up for Usman. The shock and horror on the faces of Saba and her mother when they saw what had happened and when Usman announced it was an accident made this scene come to life.
Junaid's fears immediately after he let Usman and Adnan take Iqra were shown through the conversation he had with Jamal. This was another discussion which was realistic and to the point. Watching Usman act so normal after killing his own sister was seriously disturbing but it was a true depiction of the mindset behind such crimes. These people are so sure that there was absolutely nothing wrong with what they did and they do not even have a conscience. It was almost as if Usman felt more in control now and had gained more confidence after killing his sister. The way he told Zohaib to take his family away and that he wanted no ties with them went to show that he felt more entitled than ever to make these decisions and force them on other people.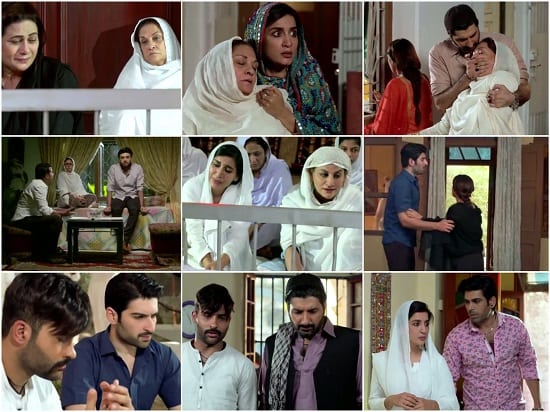 Zohaib's reaction in particular demonstrated how a "normal" person would react to such an incident. He could not stand to be around these murderers who were acting like they did nothing wrong and when Saba wanted him to take her with him he did his best to stay with her even though everyone around him asked him to leave. Muneeb Butt and Iqra Aziz acted brilliantly in this episode as well. Iqra Aziz and Muneeb Butt also have great on-screen chemistry. In fact all the actors have been performing really well so far.
Adnan ultimately narrated the entire incident to Jamal and it remains to be seen what turn this track will take from here on since the real story will begin now. This is what I found most appealing about this drama, the honor killing takes place in the beginning therefore the main focus should be on the aftermath which I hope will have a good lesson and will be handled intelligently. The next episode showed Usman and Adnan coming back home; I am wondering how that will happen. Will Usman's mother forgive him so that he can be out of jail?
So far, Ghairat has been an interesting play which keeps giving you a reason to tune into it every week. It has a solid story which is executed well and all the actors are doing complete justice to their characters as well. The pace of the play so far has been impressive too.
How many of you watched this episode? Please share your thoughts about it.