From the past many years Pakistani drama industry has become very famous not only in India but also in the Arab world.
(Especially 'Zindagi TV' in India and Arabic dubbed serials in MBC Bollywood)
~Actors
Without any doubt, we have exceptional actors who are so talented that they delve deeply into their characters and portray them in the most accurate way .A power pack performance is the genuine description for it .I think nobody would deny this , that Pakistani actors are extremely skillful. I would not like to mention them because it would be unfair if someone is left behind. So I give you a chance to list them according to your opinion.
~Script and dialogue delivery
Moving a step further and let's jump into the realm of spot on reactions with powerful words that express their character's true feelings.
Script and dialogue delivery has been one of the most crucial and important aspect of the success of the drama. Powerful characters , reacting to harsh circumstances made the drama worth watching and appreciating; From strong Kashaf to the innocent Bano , all contributed to the success of this industry. (Even the recent dramas especially MNYH, DeD, Mol are top-notch and there are many more it's a long list).
~Mesmerizing OSTs
This perfect picture needs some mesmerizing music, the OST's are wonderful and they hit your heart with such bang that you are left in awe. Completely lost in their lyrics. One just flows with the music and lyrics seems to be your heart's true feelings.
Diyar e Dil OST – Diyar-e-Dil
Aasmaonan Se Utara Noor- Dastaan
Wo Humsafar Tha- Humsafar
Zindagi Gulzar hai- ZGH
Yaar Ko Humnay Jabajah Dekha-Shehrezaat
Hum Sadqe Tmhare- ST
Zulekha Bina Yousuf-MNYH
And many more…..
It was the positive side of this picture and now let's move on to the other part.
~Darker side of the picture
There is always a darker side of the picture and that too is pointed out in many articles and drama reviews, such pathetic content and extremely painful direction bore hatred in viewer's hearts and I would not talk much about it "Chup Rho "is the best answer.  On a serious note, it was all about this negative portrayal of societal issues which made me think why not we delve into history!
Lessons from the Golden Era of Dramas
Imagine yourself when you were in school back then as a student, studying Pak-Studies and your teacher stumbled upon this notion that "Nations have to learn lessons from their history to rise again"
So let's get started…Few Masterpieces of the past are mentioned below
~Spirituality Based Dramas
1–Ajaib Khaana -written by Noor-ul-Huda Shah, directed and produced by Iqbal Ansari. Starring Nabeel, Mishi khan, Badar khalil and many more.
So it was a good drama aired on PTV, although I disagree on many aspects of it but it was a masterpiece of his time.
2– Wajood-e- Laraib – It is a Novel- Based drama of Umera Ahmed (huge fan)
 Starring Adnan Siddique, Faisal Qureshi, Shafi Muhammad and many more; was a masterpiece and it lost the pace in the middle but it was really worth watching and how the different characters went through their miseries was very well directed.
3- Main Abdul-Qadir Hoon– It was written by Sarwat Nazir and directed by Babar Javed.
Starring Fahad Mustafa, Alishba yousuf, Faisal Qureshi, Aamina Sheikh, Asif Raza Mir and Saba Hameed.
Fahad Mustafa's best serial I must say. Superb acting, mesmerizing OST and magnificent script and story .It's worth watching and shows how a man transforms from being in love with Creator's creation to the Creator himself!
4- Shehrezaat – It was a Novel Based drama written by Umera Ahmed and directed by Sarmad khoosat produced by Momina Duraid and Abdullah Kadwani.
Cast- Mahira khan, Mikaal Zulfiqar, Muhib Mirza, Mansha Pasha, Sameena peerzda and Hina Bayat.
Although not much recognized yet was a great and very emotional drama. It was a spiritual journey of Self- Realization.
5- Meri Zaat Zara-e-Benishan– Again Umera Ahmed's novel based dramas are always a treat to watch.
Starring: Samiya Mumtaz, Samina Peerzada,Serwat Gilani, Faisal Qureshi and many more. Directed by Babar Javed and produced by Abdullah Kadwani and Hamayun Saeed.
 This drama portrayed the very serious issue of mocking your religion and bearing its consequences.
 6- Aik Pal – Written by Sarwat Nazir and has been directed by Siraj-ul-haq.
 Starring: Areej Fatima, Danish Taimoor, Sumbul Iqbal and Affan Waheed.
It was dragged and I disagree on few aspects of this drama but again it was pleasing to watch the transformation and it was a journey of finding tranquility.
Spirituality based dramas are food for soul but their content should be selected and written with immense wisdom and knowledge.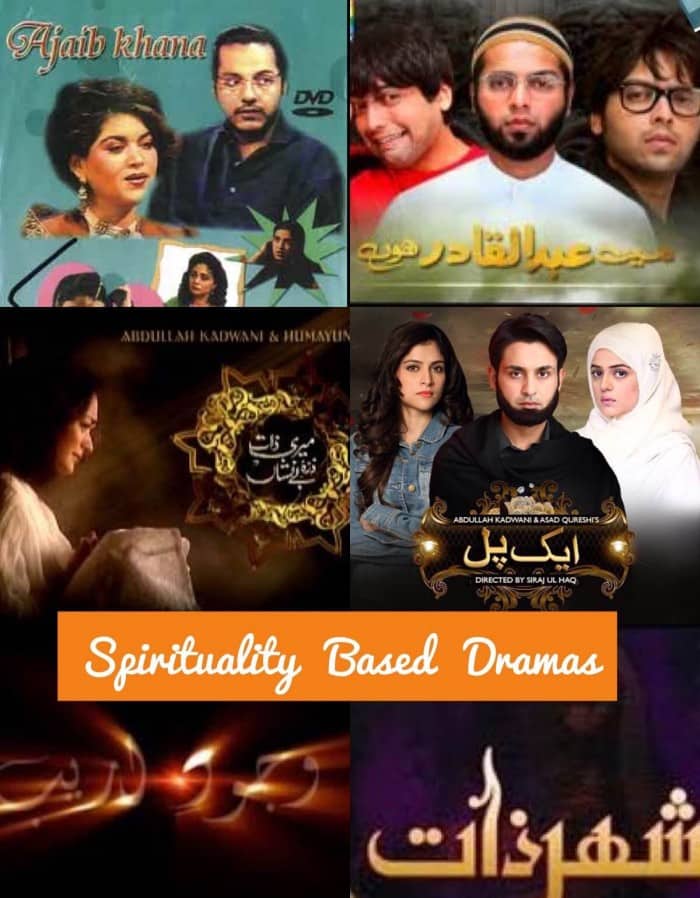 ~  Dramas With Headstrong Women

 "Say No to Roti Dhoti Heroines"
 It's actually more of a myth than a notion that working women most probably are categorized as strong; can't manage to have a family life and this myth was crushed by the super duper extremely lovable drama "Zindagi Gulzar Hai".
1- Zindagi Gulzar Hai – Written by Umera Ahmed, directed by Sultana Siddique and produced by Momina Duraid was a masterpiece indeed.
Starring: Fawad Khan, Sanam Saeed, Samina Peerzada, Hina Bayat and many more.
A perfect answer from Kashaf through her struggle and hard work to all the chauvinists out there that women can manage both and are pretty good in this. This drama also depicts the fact that "Betay "are given more superiority than "Betiyan "but "Betiyan "rehmat k saath unka sahara bhi bansakti hain. Beautiful story and very well directed.
2- Main Bushra– Written by Sanam Mehdi, directed by Ahmed Bhatti and produced by Zeekay films.
Starring: Mawra Hocane,Faisal Qureshi, Affan Waheed,Waseem Abbas, SabaHameed,Saba Faisal and Shehryar Zaidi.
Bushra is not a very headstrong character, apart from rona dhona she actually makes it to this category and I liked bushra because she was strong enough to deal with the miseries of her life.
3- Kis se Kahoon– Written by Shaheed Nadeem and directed by Kashif Nisar. Main cast of the drama includes Sajal Ali, Yumna Zaidi, Agha Ali and Samina Ahmed.
This drama was inspirational, the way she fought without playing the role of a victim was the positive message they conveyed. A good step to create awareness among youth.
~Love stories
I mean they are so typical and predictable that they seem cheesy at times but sometimes we really need to have such light dramas for entertainment and there are so many dramas that revolve around love triangles, lost love and ultimately fall into the dusri biwi notion.
Disclaimer *** the overdose is not healthy ***
These were huge Dramas that created awareness of the societal issues and motivated the youngsters towards a more steady and right way of living and coping with their circumstances.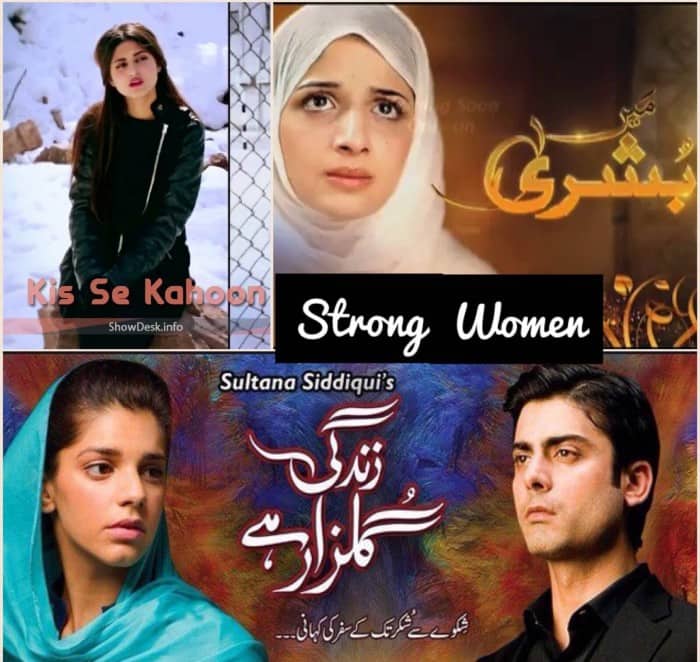 What We Expect:
1- The dramas should provide us "food for our souls "and motivate youngsters to relate themselves to religion and understand it.
2-We need "headstrong women "dealing with their problems and not surrendering to the bad circumstances .We truly need this aspect to be portrayed in our dramas.
3- It is the time to show people that how could they move on in their life and find a solution of their problems while relating to the sensible characters.
4- College life / university life sitcoms and dramas which should focus more on their career and their bright future could be a very smart step and a good change.
5- Dramas that could break the myths and create awareness among the people and provide them with true knowledge and make them realize that such myths have nothing to do with their luck.
6- Novel Based dramas are very good but pathetic direction and bad choices of actors for the appropriate roles would turn it into a disaster like Amar-Bail. So, Novel Based dramas are needed but with careful selection.
P.S This is solely based on my opinions of the dramas and you could share your list of favorite and inspirational dramas that you think were marvelous..!
Do share your views about it!
Asma Jamali