This episode was fast paced which did not only introduce the viewers to all the main characters but the main story of the play started with this first episode too. I must confess that after watching Chup Raho I am convinced that it takes a very intelligent writer and director to tell a story like this in a manner that it has the impact which such a story should have on the viewers but at the same time I also remember how wisely a rape story was taken forward in the play Pani Jaisa Pyar. In fact this first episode suggested that this drama might be similar to Pani Jaisa Pyar in some ways. The script for drama serial Sangat has been written by Zafar Mairaj, it has been directed by Kashif Nisar and produced by Momal Entertainment.
Our main protagonist Ayesha (Saba Qamar) is loving and sensitive; she is the kind of person who will apologize to a plant if she "hurt" it accidently, she will take care of her mother in law's birds like they were her own babies and she will put up with her mother in law's harsh words for the longest time even though she knows that she is not the one who is at fault. Saba Qamar does not need to prove her acting skills to anyone; she is always full of confidence and she knows what is expected from her and she has played the role of the dutiful wife and daughter in law before too. The real challenge would be portraying a rape victim who is married and will have to put up with a great deal once her beautiful world come crashing down after the tragedy.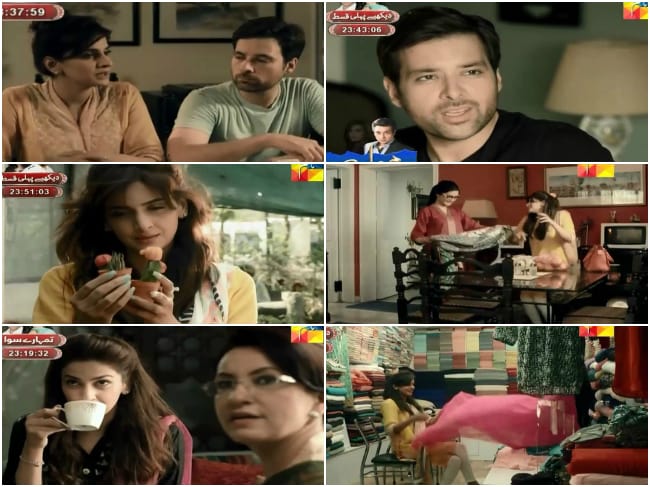 Adnan (Mikaal Zulfiqar) has been married to Ayesha for two years and these two have known each other since their college days. Unlike most married couples Adnan and Ayesha's friendship is stronger than anything else that exists between them. Adnan's reaction when Ayesha told her mother in law the truth went to show that he did not expect his wife to continue playing the scapegoat. He understood why Ayesha would want to tell his mother the truth.
Ayesha's relationship with her mother in law is bitter-sweet which was actually quite relatable. While the mother in law keeps on reminding her bahu that she is not that perfect after all she also values the good qualities in her. Ayesha's sister in law Farah (Kiran Haq) is very close to her. The way that the rape incident was shown clearly indicated that Ayesha knows the person who raped her (Zahid Ahmed). Everything was planned beforehand, his accomplices were going to get the money and he was after Ayesha alone.
This episode was flawless and I hope that the drama as a whole is equally good. I must say that the promos of the play gave a little too much away. I wish that HUM would avoid these detailed promos because they do not stir up curiosity but leave very little to look forward to. One can easily predict how Adnan is going to react in the future and everything else that is going to happen (I am not going to give away the details because people who haven't seen the promos wouldn't want to know exactly what is going to happen next.) Unfortunately I saw all the promos therefore I know exactly what is coming next, all that remains to be seen is how it will all happen and that for some reason isn't as exciting as waiting to find out how Adnan will react and what the future holds for Ayesha. I haven't seen a drama with Saba Qamar in it for a very long time but somehow I felt like this was going to be a character-driven story and Saba Qamar usually does well in such plays.
How many of you watched this first episode? Do share your thoughts about it.
Fatima Awan