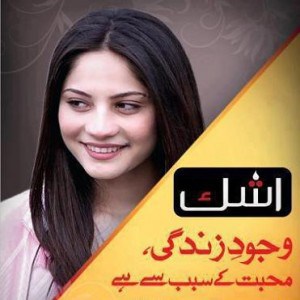 Let me start with summing up this final episode. There were lots of ashks in this final episode, everyone cried from Ajo to Major Mansoor. Ajo ko us ki Zebu mil gaye aur Rohail ko us ki Zebu mil gaye pur Madiha ka kiya ho ga:) Rohail has the answer "mein tu kabhi Madiha ka tha hi nahi". In Madiha's words, Zebu is Rohails dil and Madiha is like jism….okay I have to admit I totally did not get that! Even though Madiha explained it quite well. So, was this story about Ajo's Zebu or Rohail's Zebu? This finale focused as much on Ajjo as it did on Zebu and Rohail.
Enough crazy talk, let's talk some sense now. Honestly speaking I completely gave up on Ashk a very long time ago but I could not help but watch a few minutes or so of every episode, hoping against hope that the story may change for the better. But Alas, it was not meant to be. There were a few other plays also in this season that were poorly scripted, badly edited and the acting left a lot to be desired for too  but Ashk had much more to its credit, we saw things and heard dialogues that left us baffled. Even in this last episode there were enough dil and jism dialogues to make you cringe. When Madiha summed up what Zebu's biggest mistake was, I could not believe that she actually said that. It was just plain disgusting when she said "Us ka kasoor yeh hai keh us ne tumhei apne bedroom se nikaal ke mere bedroom tuk anay pe majboor kiya"…c'mon guys this is just not on. Did we ever think that we would get to listen to such lines in our dramas? And as if saying it once wasn't enough, Madiha said it again just in case anyone missed it the first time!
When I sat down to watch this final episode, I had a very positive frame of mind because even the most disappointing of dramas sometimes have endings that make you relate to the happenings. But guess what I felt absolutely no happiness for any of the characters. For me this was the biggest flaw in Ashk, most of us found it impossible to feel any sympathy or love for any of the characters. No matter how many times Rohail called Zebu a bechari, I failed to feel for her. In the end when the two made up, I should have felt happy for them but the dialogues were so poor that I just breathed a sigh of relief that it was finally over! Zebu ki bhi yehi Sachai hai ke vo sirf Rohail ki hai but I can't help but wonder Madiha ka kiya ho ga!
I am sorry if this review makes barely any sense but if you people watched this finale, you will know what I mean. Despite of all it's flaws, Ashk will go down in history as one of those plays that was watched for no real reasons… except for Fawad Khan of course! Ashk gave us tons of "I can't believe my eyes and ears" moments. There was hardly an episode of Ashk which did not have some "unbelievable" scenes to it's credit. And yes there was a time when Ashk was the most talked about show also, for all the wrong reasons of course. Usually in the last review of any play we give credit to the team for putting on a great show. All I can say is that Fawad Khan, Mehreen Raheel and Seemi Raheel acted well. The writer of the play should keep our social values in mind next time he sits down to pen down a script and whoever was responsible for the editing should take half the responsibility. Goodbye Ashk…Rest in peace!
Fatima Awan.