Ko Ko Korina has done which could not be done by the 22 crore people of the Islamic Republic of Pakistan. Yes, the opposition and the government are finally united. Yesterday, a huge drama broke out when Shireen Mazari, Minister for Human Rights called the attempt of remaking Ko Ko Korina horrendous. The singer Momina Mustehsan did not hold back and came forward to defend the song.
The situation got interesting when people were agreeing with Shireen Mazari left and right. We are all familiar with the relationship among Pakistan Tahreek e Insaaf and Pakistan People's Party. With the former being in the government and the later on the opposition benches, they are never seen agreeing on any point. But Ko Ko Korina finally made it happen when Senator Sherry Rehman from PPP came forward with the same opinion as Shireen Mazari from PTI. She called the Coke Studio's version flat and shared that she likes the Leo Twins version. Here is the Senator's tweet: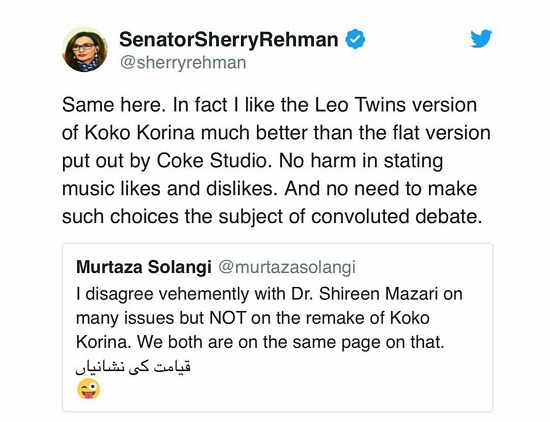 Ko Ko Korina thus has established that Daagh To Achay Hote Hain and how sometimes small things can bring people together. Do you agree with the politicians or the singers on this? Share your thoughts in the comments section below!