This drama never had much to offer but now it has turned into a complete snooze-fest! Talk about dragging a story to the limit and showing the same scenes over and over again and then forgetting altogether that these issues ever existed!! Some 5 weeks back Asher's illness was introduced in the story 2 episodes later it was completely forgotten. Asher looked perfectly healthy and there was absolutely no mention of his disease. Now that Rana has gone to Murree Asher looks very bemar and his illness is being given the "attention" it deserved right from the time it was revealed to the viewers. Although I must say that in this episode Asher seemed more love stricken than anything else since this recent change in his health and attitude came only after Rana left. We saw Asher day dreaming about Rana which was actually quite disgusting since she is married and has never really shown any interest in him. Not to mention the fact that Asher is also getting married really soon and Asher Bhai doesn't think it is important to tell the girl he is marrying that he has a serious illness. Most of the characters in this drama are living in lala land where not much makes sense.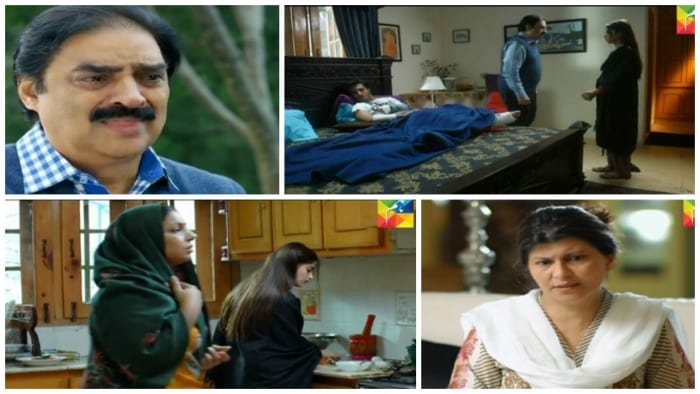 This episode was full of awkward moments. Rana and Adeel shared most of these awkward moments in which we saw Rana looking after Adeel like it was her duty. She made sure that there were no emotions involved in this whole caretaking scenario. I liked the way this particular aspect was covered but then we saw these scenes over and over again. Adeel continued to be a spoiled brat, he wanted Rana to pamper him, to insist that he should eat and what not. He seemed like a toddler who was trying very hard to get his mother's attention. Omer and Rana's scene was another awkward moment which was quite unnecessary. It really did look like Omer was flirting with Rana, he brought her flowers and the way he talked to her was very flirtatious. Since when does Rana think it is okay to have male friends? Rana refused to take the gift Omer brought for her but she was very candid with him. Adeel was right in pointing out that Rana is so talkative and chirpy when talking to everyone else except him which is something which I totally understand. While I loved the way Rana treated Adeel but her attitude towards Omer (another bhai???) was not in line with her character at all. Omer wasn't just being nice with her and I won't be surprised if we see him day dreaming about her very soon too ;)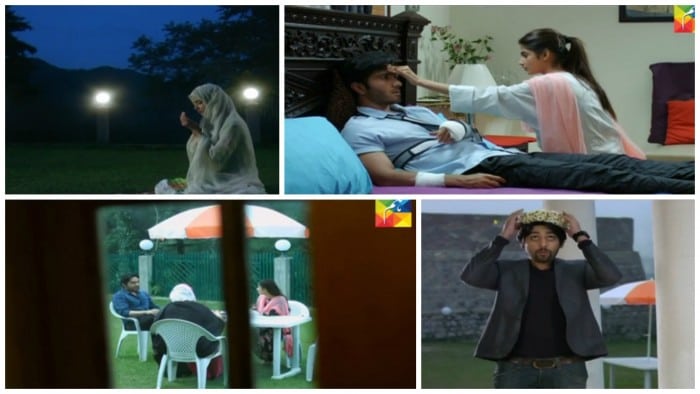 So, Rana's mother just found out that Adeel had a terrible accident!! Rana went to Murree and told her! Wah!! Does Munira really live in that house? No one even told her what had happened? Adeel's father is a rich man, he can afford to keep a male nurse for his son who will look after him therefore putting Rana in this awkward position seems really forced. There was a scene shown in the preview of this episode last week which was missing from it, something that has been happening very often on HUM. Asher's love story once again got a lot of screen time in tonight's episode which makes me wonder why the writer is putting so much emphasis on this track.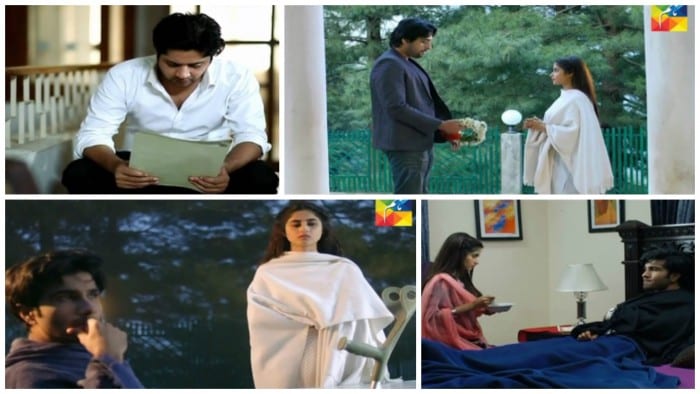 The episode ended with Asher's sister finding out about Asher's big secret!! While his disease is the last thing on Asher's mind, the writer is bent on making him a bechara. The script of this dramas lacks depth and even meaning. We watch the same scenes over and over again in every episode as if the writer and the director are trying too hard to get the message across. Asher Bhai's love for Rana, Rana's lack of concern for her husband and Adeel's attention-seeking behaviour is not the least bit appealing! The preview of the next episode suggested that things are not going to move much even in the upcoming episode therefore anyone who didn't watch this episode can easily skip it and watch the next one (maybe!!)
How many of you watched this latest episode. Do share your thoughts about it.
You can watch all episodes of Gul-e-Rana on http://www.dramasonline.com
Fatima Awan