Adeel is the ultimate catch in this play and except for our heroine every other girl will do anything to have Adeel in her life. Adeel on the other hand has very different standards for the kind of wife he wants. He wants someone who will do everything he wants her to do. Which makes me wonder why he would end up falling for Gul-e-Rana because she is clearly not one of those girls. Adeel's character and this whole play has a very filmy feel to it. To be honest most of the time Zafri manages to entertain me more than any other character. Adeel's negative traits have definitely been highlighted more than the good ones. He is a bad boy who will do anything to get what he wants and he has a strong urge to control people whether it is Zafri or anyone else. He has a big ego which is only satisfied if he knows that people around him are doing things exactly the way he wants. He also does not believe in giving anyone much respect. He is obviously not a good judge of character either because if he was he would know that Maria and Laila were more likely to be the kind of wife he wants than Gul-e-Rana!
The first half of tonight's episode made me wonder if Gul-e-Rana was still the ambitious and studious girl we were shown in the first 2 episodes because most of the time she was making tea and gossiping with her chachi. It was good to see her studying in the second half and I am glad that the viewers got to see that Gul-e-Rana is still focusing on her studies. Her attitude towards Adeel however could have been shown in a much better way. She could have shown him some respect instead of giving the impression that she was scared of him for some reason. All the interactions between Gul-e-Rana and Adeel have been shown in a very strange way. I wish we were shown that Gul-e-Rana had a little respect for this person who might not be perfect but he was her chacha's son and so far he has been very nice to Gul-e-Rana. This strange tension that has been shown between the two doesn't quite fit in and sets the ground for a relationship that is very difficult to relate to.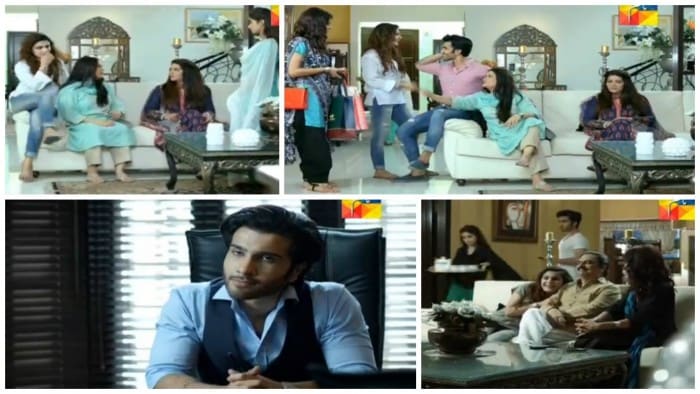 Adeel's concern for Gul-e-Rana right from the get-go seems out of place because if he really can tell who is genuine and give that person the respect that he or she deserves then howcome we don't see him giving the same respect and showing the same concern for his step-mother? If Adeel is fascinated by Gul-e-Rana even that impression is not being conveyed properly, the viewers can guess that based on their own intelligence and not because of the way it has been translated on screen.Everyone asked Zafri what he was doing in the living room in the middle of the night but it was okay for Gul-e-Rana to be found sleeping on the couch! It is almost as if just like Rameen, Gul-e-Rana keeps on putting herself in these situations and then she plays the victim!
Gul-e-Rana's mother was completely missing from tonight's episode which was definitely odd. Even if she is unwell, she should have been given some screen time. Why is every man in this play, including Zafri, in constant need of chai and they also insist that it should be made by one of the women in the house and not Gulab Khan!! Gul-e-Rana's character lacks the spark it needed to impress the viewers. There are times when you see a strong girl in her and there are others when you feel like she is perfectly capable of being a door mat. Feroze Khan has managed to bring out the negativity in his character but he has failed to make this bad guy stand out in the crowd. He plays the lead but he does not have the screen presence needed to own this role. Both the leads in this drama have so far failed to leave an impression which convinces you that they were best suited for these characters. Sometimes an exceptional actor working under a good director can make an ordinary character stand out too and at other times even the most well written characters fall flat if the actors playing the roles appear to be misfits. Gul-e-Rana can be rated as a guilty pleasure at best – something you watch to pass time but it has nothing substantial to offer. Many of the scenes have a very unreal feel to them, you can't really relate to them and they do give you the been there watched that feeling. I haven't been able to connect to the lead characters and the side characters are either desperate or amusing with the exception of the Chacha/mamu. I wonder if we will always be watching Sajjal Ali and Feroze Khan sharing a dysfunctional relationship on screen. This is their second project together and something tells me that their relationship in this play is not going to be a 'normal' one!!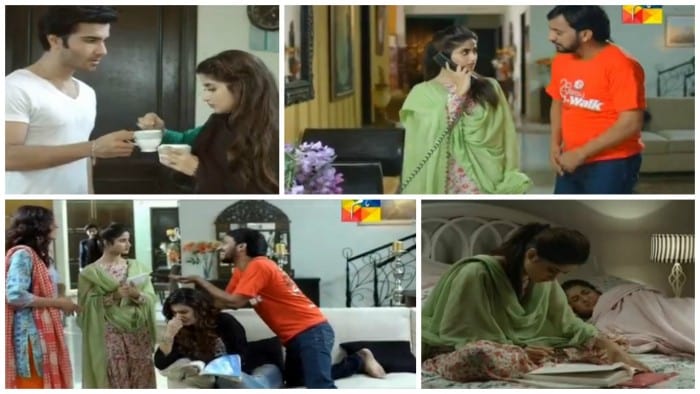 The preview of the next episode promised some more unrealistic drama! The whole theme of the drama is based on what happens when a spoiled brat falls for a nice girl, how appealing can that possibly be especially when the spoiled brat and the nice girl both fail to impress you!
How many of you watched this latest installment of Gul-e-Rana? Don't forget to share your thoughts about it.
Fatima Awan