Hadiqa Kiani is one of the famous Pakistani singer who has received immense love and recognition from all around the globe. Recently, Hadiqa Kiani took to her official Instagram account to slam Indian singer Kanik Kapoor for copying one of her famous track "Boohey Barian".
"No one asked for my permission, no one has given me royalties. They just take the song my mother wrote and I recorded and use it as an easy mine making scheme" added Hadiqa.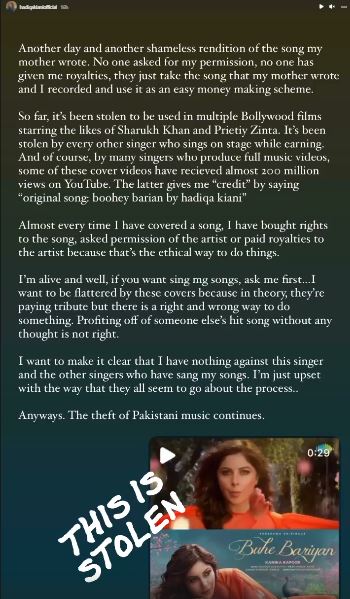 Hadiqa further said that there is always a right and wrong way to do something and if someone wants to copy her song they should get permission from her or at least should give royalties to her. "I have nothing against this singer or other singers who have sang my songs, I'm just upset with the way they all seem to go about the process. Anyways the theft of Pakistani music continues", she concluded.