Nemrah Ahmed's Haalim has started publishing – an episode a month – from this month and this was the first episode as well​ as chapter we got to read. :) It is getting published in Khawateen Digest and is also available online on Nemrah Ahmed's official page.
The first episode was full of surprises and writer has done an excellent job in ensuring we continue reading this novel.
*Spoiler Alert*
So, the very first scene shows Haalim dreaming a dream and it aroused enough curiosity in me to continue. Dream was symbolic of something which we get to read in the last scene of this episode.
Then writer takes us to an office in Kuala Lumpur where Molia is seen telling his boss that he has traced where the laptop of their boss – which got lost somewhere by Anwer – is right now. And that he hired Halim, a private scam investigator for this job. Anwer tells him to do whatever is in his will to get the laptop back or he will fire him. He contacts Halim who at first shows some attitude then agrees to merely "help" him on getting 3 times as much money as before. He gives him profiles of Tangu Kamil's workers to see who he can "buy" for getting the laptop back. The only profile which attracts him is that of Taliya Murad from Kashmir, Pakistan who's a caring, loving, quite stupid and impetuous girl who works as a maid for Tangu and also cooks soup in a soup parlor. Her only weak point is her illegal status in Malaysia.
So, Molia uses it to threaten her but she refuses and tells Tangu Kamil of the incident who then properly looks everywhere for the laptop and tells the secretary to do the same. Laptop is produced from one of the drawers of study table. Tangu gifts some money to Taliya and tells to take the money from Molia as well which at first she's reluctant to do as her pride in her "honesty" and "loyalty" will be shattered as Molia will think she's a thief who betrayed her boss but Tangu convinces her. These qualities of hers impressed me so much that she became my favorite character at once. I liked her only to be surprised later :P She gives the laptop back to Molia at her soup parlor taking the money (not willing to) from him who taunts her of doing what she seemed to loathe the most. She feels hurt, writes resignation letter and leaves for her home.
… & here comes the plot twist! :D I was shocked when I read "welcome home Halim!", haha! :D This seemingly innocent Taliya was the same person who was Halim for Molia, (took money as a scam investigator) (voice modulation helped to act as a male), then Taliya for him (took money for stealing back the laptop) and Taliya for boss Tangu (took money as a reward for loyalty)! :P She and a lady Liana – whom Taliya calls Datin (meaning grandma in Malay language) – work together as scam artists and have done many scams and thefts together. They were the ones who initiated it by stealing the laptop from Anwer and putting it in Tangu's study room and finally giving back to those it belonged to and earned money three times.
That night they plan together their next theft. Taking laptop search as an excuse she had already made Tangu open his drawers in front of her whose code she could see as an image on book rack's mirror. They intend stealing Mrs Kamil's jewelry next on Sunday night his family has special guests coming.
That night they also talk about where they came from and how they met, just to remember​ old days. They met seven years ago on an airport when Taliya's foster parents had gotten her married (nikkah) on Skype with a boy she had come from Lahore to Malaysia to live with. It is revealed Taliya has precognitive visions and dreams which help her decide what to do. She had her first vision that day on airport when her hubby was about to receive her. Liana was a worker who helped her feel better. She was being used as a courrier girl for money laundering by her husband and was oblivious to that, Liana helped her in safely getting out of the airport with money and then they used it to get divorce from him. Liana herself was probably living in an olds house those days. It is also revealed Taliya's first memory is that of 17 yrs ago when she was 11 yrs old. She was walking between church's desks, had a shabby dress on and a dirty face, in St Paul church, Malacca, Malaysia. She was admitted in an orphanage from where her foster parents belonging to Kashmir took her only to treat her as a maid when they returned to Lahore, Pakistan. Everyone tells her nothing about her could be found. Her name, family, where she came from, she knows nothing. But she believes her ethnicity is Malay. She also had this round symbol on her neck back as if it was heated. She had forgotten everything, probably due to some incident she doesn't know of. She told everyone her name is Taliya bint Murad and so that's her name.
So, after establishing the background of these characters, we move on to the next part where they put two and two together and get to know that a replica coin of old times (which Mrs Kamil has in her possession) and a bracelet of Queen – these two things they never stole every time they saw someone having it. Coincidentally! These two circulated among many different victims of their scams but never thought of picking. Liana joins the pictures of these two to show Taliya how these two join to make a "key". And are broken parts of a gold key! Taliya then gets to remember how she had this key whose chain was wrapped around her arm as a bracelet when she was 11 and lady Maria who dropped her at orphanage must have taken it from her.
So, she tells lady Maria a fake cover story to get her to tell where that bracelet is. She admits she accidentally broke it and then sold it to a goldsmith to fend for Taliya. And that before she took it from her, she did utter a few words telling her name is Taliya and that this key is her father's. Also, something on the lines of "villagers are in deep trouble, I've come here to rescue them." And tells that no one came to claim her.
On the planned day, she succeeds in stealing the jewelry minus gold coin as Tangu Kamil's family gifts it to Fatih Ramzil (guest who's also Malaysia's politician) right in front of her. Liana also calls her to tell the missing bracelet is now in Fatih Ramzil's possession. The dream she saw, for the first time ever she interprets any of her dreams right! Now both the parts of key are in the same person's possession so they will be doing a theft on "Malaysia's next prime minister"!!!

That's where it ended and I liked reading it throughout. :) It's going to be about, as it seems, dreams and their interpretations and I'm excited! There were many comic lines which amused me for example the point about Molia scared at the sight of his family picture in "dhoop" as his family will be "bay ghar" if he didn't get the laptop back :D and Hailm AKA Taliya telling him to write it 555 times: "Halim KL (Kuala Lumpur) ka behtreen scam investigator hai aur main ainda us se ikhtilaf nahi karoon ga." then Molia taking a page out of his file in front of Taliya to show her the missing laptop's picture and Taliya reading the line which was written on a page which slipped a little outside and line could be read. :P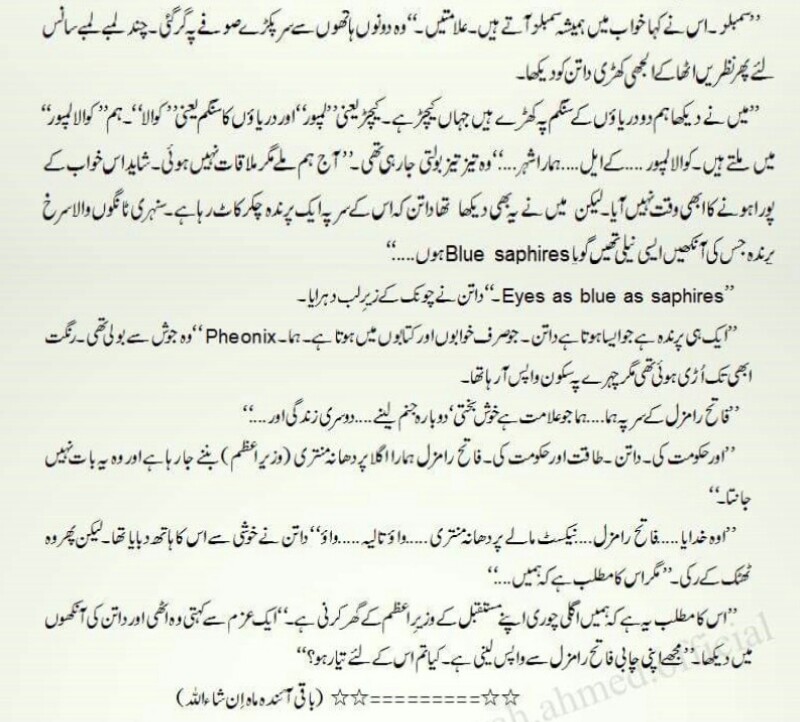 Taliya said she doesn't justify what she does but I caught her doing just that. She put the blame on her husband and then on her foster parents that had they kept her well fed and well cared for, she won't have gotten used to lying and stealing to fulfill her needs. This heist will be her last – she says so. She dreams of getting a beautiful house at her favorite place and wants to do a big big robbery one last time! Also, after getting to know this bracelet originally belonged to her, she's a little curious to know about herself too. There's a hope through this bracelet she'll meet her biological parents – a hope! A scary thing is, all those people who possessed these two things got ill, died of painful diseases. These things brought bad luck with them – that's what Datin thinks and is scared. :O Also, since Taliya's dreams and visions come true, usually bad ones, she thinks it's not a blessing but a curse! Sad!

I also liked everything Fatih Ramzil said about toheen e risalat and the role Muslims can play in order not to let that happen. Fatih dreams of a progressive Malaysia, he had a daughter Ariyana who died in childhood.
The first episode was screaming Nemrah Ahmed ;) as by now I and many others recognize her unique writing style.
Anyway, the first episode was a complete package and I loved it. Share your thoughts too! Thanks for reading!
Sidra Hasan