Heer Maan Ja – Movie Review – is it worth watching? There are very few films which hit the right note in every aspect but at the end of the day, viewers expect to be entertained more than anything else. Heer Maan Ja has its high and low points but the good news is that it entertains and even though it is essentially a comic film but the serious elements of the film have been gelled in beautifully with the comic ones. While some of the comic dialogues fall flat, others are enjoyable. This film is extremely well directed especially because the director Azfar Jafri does not always play it safe. The script is typical in many ways, some of the scenes too are not entirely new but even then the director of photography and the actors make it work. Heer Maan Jaa will remind you of the romantic Bollywood films of the 80s but with spectacular visuals.
Written by: Owais Korai Baloch
Directed by: Azfar Jafri
Produced by: IRK Films & Arif Lakhani Films
Music by: Ahmed Ali
Emotions and Comedy – An Unusual Combination
Heer Maan Ja is a decent mix of emotional drama and comedy. The beautiful visuals, perfect makeovers and beautiful cinematography make this film a visual delight. This film will make you laugh and it will make you cry at the same time but there are also times when the dialogues are not very impressive. The characters however have a history, a present and more importantly a personality. There are times when you feel that Heer (Hareem Farooq) is too dressed up considering the circumstances she is in but Hareem Farooq looks stunning in every single shot and even makes the most unconvincing parts of the film a treat to watch. Heer Maan Ja has all the ingredients of a commercial film but Ali Rehman Khan and Hareem Farooq's on-screen chemistry has not been utilized to the maximum. Ali Rehman Khan's comic timing is perfect in the film, he looks handsome and sleek in every single scene but he is not very convincing as the love-stricken hero who is willing to do whatever it takes to win over the love of his life. It more often looks like something he is doing out of duty and guilt than love.
Heer Maan Ja promised to be a romantic comedy and it delivers just that even though the romance bit especially from the hero's side doesn't seem genuine enough most of the times. Mojiz Hassan has also played his role well, even though his comic lines at times are not funny at all but he has done complete justice to his role. Shamayale Khattak's role is relatively less important but he has been given plenty of screen time. He doesn't add much to the plot but he definitely delivers in the acting department.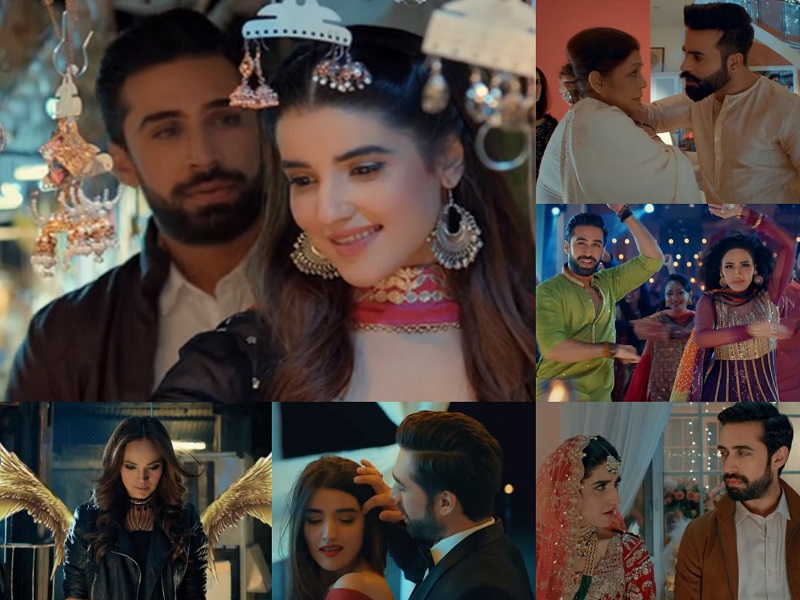 The Makeovers, Characters and Performances
Another good thing about Heer Maan Ja is that the characters are not caricatures and the fact that the actors have played their roles so well adds more life to them. Heer Maan Ja also has supporting characters who have a definite screen presence. Faizan Shaikh shows his versatility in the film in different ways. He plays a negative role superbly right from the get-go. One thing is for sure when it comes to visuals IRK Films simply doesn't compromise! Heer and Kabeer are dressed to impress throughout, they go through hell but they look perfect the whole time and even though there were instances when Hareem Farooq could easily have done without the accessories, these beautiful people do look great on the big screen. The styling and dresses are gorgeous throughout and the backgrounds are carefully designed too. Aamina Sheikh makes her presence felt even though she has a guest appearance in the film. Her character and her outlook is definitely likable and noticeable. Personally, I felt that Hareem Farooq completely stole the show by giving a brilliant performance throughout.
The Songs and The Choreography
Ali Rehman Khan, Hareem Farooq and Faizan Shaikh show that they are few of those Pakistani celebrities who can actually dance. Ali Rehman Khan and Faizan Shaikh's dance moves were full of energy and well choreographed. Heer Maan Jaa only has 4 songs, one of which comes at the very end. While these songs don't blow you away, they are decent enough and they are visually pleasing in particular. The background score has been used very wisely in the film which adds more life to the scenes.
Final Remarks
Heer Maan Ja is a visual treat, a film which should be watched on the big screen. The story is simple but it celebrates friendship and commitment (at times more than love). The comic element of the film is not completely on point but it definitely keeps you entertained for the most part. Hareem Farooq is the main attraction of Heer Maan Ja, she looks spectacular throughout and her acting is remarkable. The editing and the overall content of the film could have been more crisp. Watching Kabeer give up on his career completely was the most disappointing element of the story. I was hoping, the film would end with him giving another phenomenal presentation but teaching his colleague a lesson or two in a more subtle manner. Heer Maan Ja provides decent entertainment if you're looking for a simple Pakistani film to watch on Eid with your family.