I think by now you are all aware of the Sonu Nigam twitter rant. For those who don't know, Indian singer Sonu Nigam shared a series of tweets describing how the Azaan, disturbs his sleep every morning. The tweets sparked a controversy and people from all over the world including Pakistan reacted to this gratuitous statement.
God bless everyone. I'm not a Muslim and I have to be woken up by the Azaan in the morning. When will this forced religiousness end in India

— Sonu Nigam (@sonunigam) April 16, 2017
https://twitter.com/sonunigam/status/853760205368078336
He said the same for other religions as well:
I don't believe in any temple or gurudwara using electricity To wake up people who don't follow the religion . Why then..? Honest? True?

— Sonu Nigam (@sonunigam) April 17, 2017
However, that doesn't justify what he said, because he picked on a really sensitive topic and that too in an unexpected way! He managed to hurt the sentiments of Muslims from all over the world.
Gundagardi hai bus…

— Sonu Nigam (@sonunigam) April 17, 2017
There were numerous reactions from both sides of the border.
@ashu3page This is total nonsense…Azaan is for 1,2 minutes…Sonu nigam program is 2 hours…How many ppl getting disturb?

— Aleem (@enggaleem) April 17, 2017
@sonunigam Azaan wakes up sonu nigam daily but it failed to wake up his mind and soul. Sad! I would have been blessed if i had been in his place.

— Nikhita Biswas (@Nikbis21) April 17, 2017
Azaan ki awaaz sunkar musalman nahi uthte aajkal namaz ke liye, lekin Sonu Nigam ki neend toot gayi.

— Danish Khan (@DanishKh4n) April 17, 2017
When you wake up for azaan only to realise that your alarm tune is a Sonu Nigam song. pic.twitter.com/92GoPjZwKh

— Gabru Tippler (@MrTippler) April 17, 2017
@NagvekarTirath @rose_k01 @sonunigam and brother , i hope you a bit aware of Muslims , in India ,Why don't they have freedom of speech ?

— Dr Shahid Nabi (@ershahid1998) April 17, 2017
His 'forced religiousness' statement was slammed by some yet praised by others. In midst of the controversy, filmmaker Pooja Bhatt posted a tweet in favour of the morning prayer.
I wake each morning to the sound of church bells & the Azaan in a quiet by-lane of Bandra.I light an aggarbatti & salute the spirit of India

— Pooja Bhatt (@PoojaB1972) April 18, 2017
Just when the debate was raging, a few old videos of Indian actors respecting the prayers went viral.
In the video, Priyanka Chopra is seen describing the Magrib Azaan time as her 'favourite time.'
So She Said this is peaceful time during azaan,

Aur janab @sonunigam ki nend khrb hoti hai.pic.twitter.com/LLOXUckZAx

— Haroon (@IHarOonN) April 17, 2017
Here, Salman Khan was at the launch of Bigg Boss 8 and while interacting with media, a nearby mosque gave a call for Azaan. And the actor called for a break, the moment he heard the Azaan.

There aren't many reactions from Pakistani celebrities, and this is probably the only one I found. Here's what Syed Jibran shared on his Instagram handle.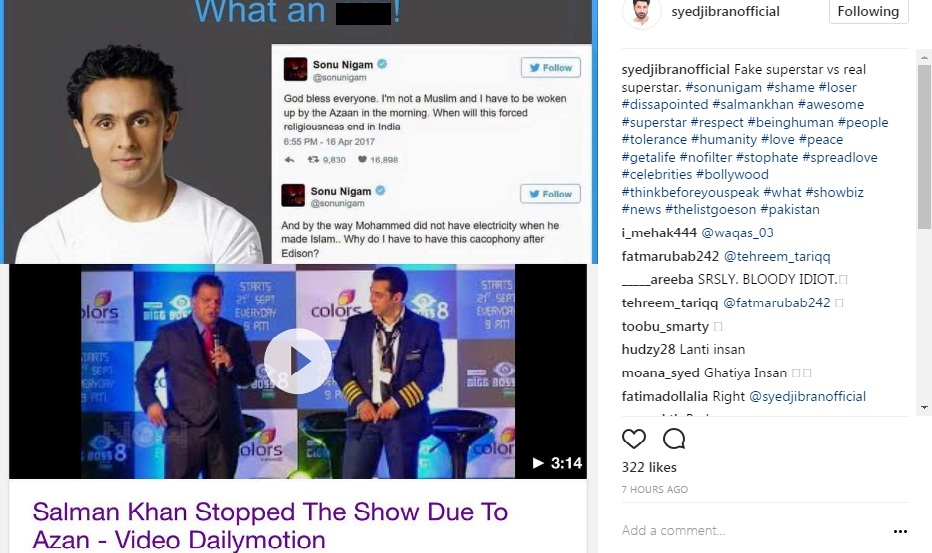 After receiving backlash on social media for his statement regarding Azaan. Still standing by his statements, this is what Sonu Nigam shared today:
Dear everyone. Your stand exposes your own IQ. I stand by my statement that loudspeakers should not be allowed in Mosques & Temples. Period

— Sonu Nigam (@sonunigam) April 18, 2017
This is how Sensible people Interpret an issue. Respects Mr Ahmed Patel. It is not about Azaan or Aarti. It's about Loudspeaker. https://t.co/8aABhYLic2

— Sonu Nigam (@sonunigam) April 18, 2017
Islam is undoubtedly one of the most peaceful religions of the world. The Azaan is an Islamic call to prayer and a symbol of Muslim presence.