Muqabil set the bar really high in the first 15 weeks or so with its steady pace, well-executed scenes, an unpredictable story and of course phenomenal performances. Even the previous few episodes which were slow-paced and one which was somewhat ambiguous (the one in which Arman went to Sara's office) had some important developments to their credit but this episode in my opinion was directed more towards keeping the viewers at the edge of their seats for absolutely no reason, more than anything else!! At least twice, the viewers got the impression that Arman was going to tell his father or mother the truth but both these scenes ended with him blaming Pareesa.
The viewers can only hope that there is a good surprise in store for them which will be worth the wait. Right now the story is all over the place and Arman's reaction was definitely unexpected and disappointing. These episodes are the most crucial ones because they are going to cover which turn Arman and Pareesa's story takes from here on but for the first time I felt like the writer was testing my patience. Even the past few episodes had quite a few scenes which could have been easily chopped down but this one had far too many of them. There were a lot of conversations which could have ended in a more dramatic manner, like the conversation which Arman had with his father. It would have been awesome if he confronted his father and continued to support Pareesa. Even if he told his mother the truth, her annoying existence could have been put to some good use.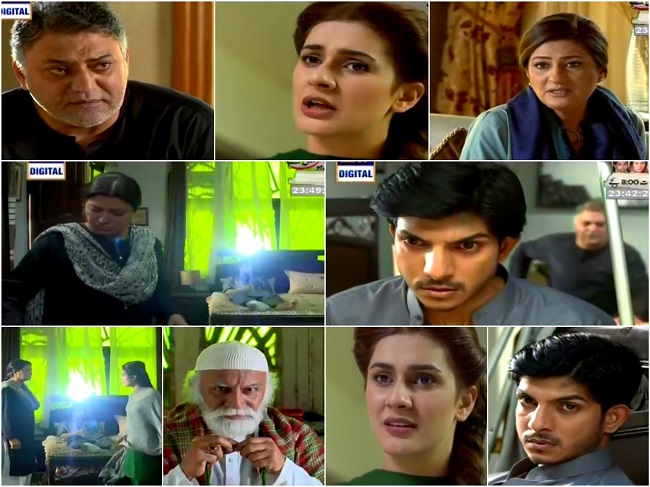 Shehnaz's reaction to the whole scenario was another disappointment. It was good to see her going out of her way to make an effort to help her daughter and understand her in the previous few episodes. In this episode however she reminded me of the person she was in the first few episodes. Shehnaz was of course doing what she thought was in her daughter's best interests but the way she did it wasn't exactly pleasing. Shaheen Khan's scenes once again had nothing new to offer, I actually kept on adjusting the volume every time she was on screen and I kept on wondering if all this pointless shouting was even needed!
The only good thing about this episode was the way Maulvi sahab gave Mahmood a reality check. Mahmood's increased sense of guilt was the only important development in this episode. The performances once again were top-notch but I do feel like the viewers deserve more because they wait all week to find out what turn the story will take next. Having said that, I feel that Muqabil so far has done better overall than many other dramas. I hope that the makers do not spoil the whole experience by ruining the story in the end and give the viewers an ending which is both logical and satisfying.
For the first time, the preview of the next episode did not appeal to me. The story is going around in circles at this point which is just plain sad considering the fact that Muqabil has been such a brilliant play throughout.
How many of you watched this episode? Don't forget to share your thoughts about it.