Screenplay by: Ahmed Afzal, Rashna Abidi, Imtisal Abbasi
Dialogues by: Yasir Hussain and Asim Raza.
Directed by: Asima Raza
Produced by: Asim Raza and Sheheyar Munawar
Ho Mann Jahan is a story of three friends Arhaan (Sheheryaar), Nadir (Adeel) and Manizey (Mahira). They study at IBA, one of the best business schools of Pakistan but their hearts and passion lie with music. Arhaan is from middle class. His mother has died and he is weak in studies and because of that, he hasn't got good relations with his retired government servant father. Nadir is from a high class family. He is an obedient son and good in studies too. His mother (Bushra Ansari) is quite protective of him. His father (Arshad Mehmood) is a businessman. Manizey lives with her Artist mother (Nimra Bucha) while her father who was a singer once and now a religious man doesn't live with them. The story is about what happens to the 3 friends after they leave the college.
I have never liked spoilers myself and wouldn't want to spoil it for you, so you will have to go to the cinema yourself and watch it yourselves. I would say that by the end of 3 hours, not only I was pleasantly happy with the film but both of my friends who accompanied me liked it and could relate to the characters of the story especially the parents! :D
Here are my thoughts and opinions about the film.
The main theme of the story is 'pursuing dreams' and music is just used as a backdrop. I personally don't have any problem with that but some people might be disappointed if they were expecting to see the trials and tribulations of making it big in music.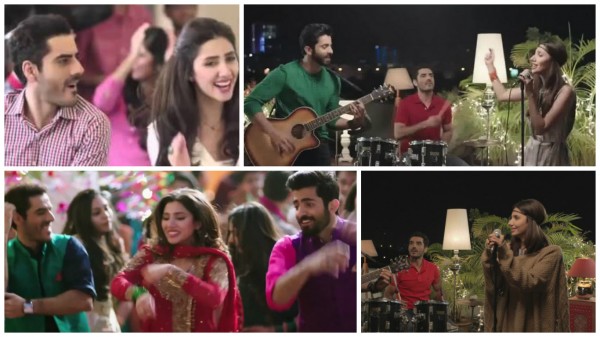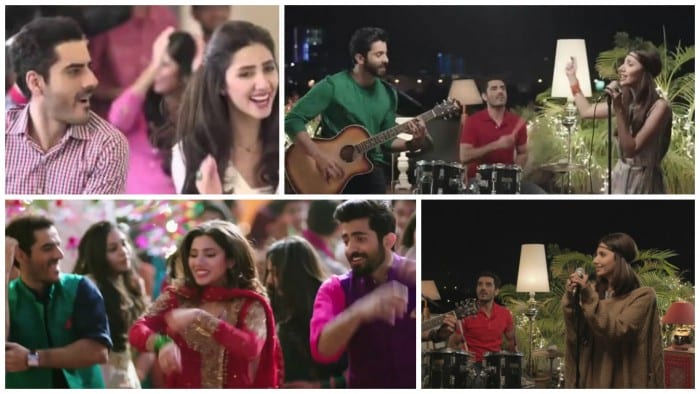 It is basically an elite class youth oriented movie. The strong points of the story for me were that all the characters were relatable and there was no distinct evil character. They had their positives and negativities and the just like in real life the conflicts arise because of the different way of thinking of different people. I also liked the small comics moments in the film for example Arhaan's congratulating the other's on engagement, Arhaan gesturing at boys to keep off during 'barish' and Manizey winking at Arhaan. The funniest thing is that this is usually what happens in reality. The other thing that made an impact for me was that the movie just like 3 Idiots, it gives some messages (pursue your dreams, be tolerant of other's view and don't control your children lives too much) meanwhile entertaining us as well. The best part about the movie is the music and beautiful cinematography. Each and every frame was exquisite and colourful.
I especially liked the scene between Manizey and her father at the end of the movie. At first, I was thinking; Please don't include religion in this. But I liked two things in that scene. First Manizey said that she was angry because she felt that her father judged her but she herself judged him as well. I like it because nowadays people judge others just because they are a little Islamic and would generalise them as extremists. The second thing was they showed that people can have different opinions yet they could live peacefully. We should be tolerant and this is what Pakistanis lack.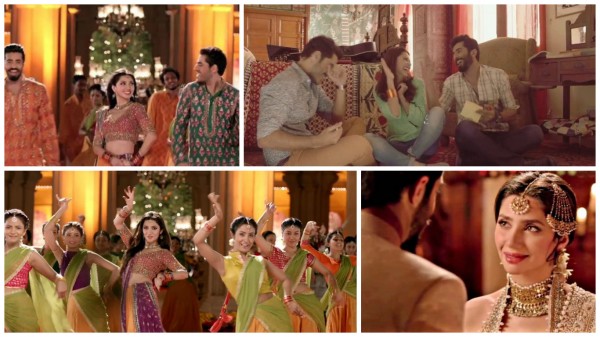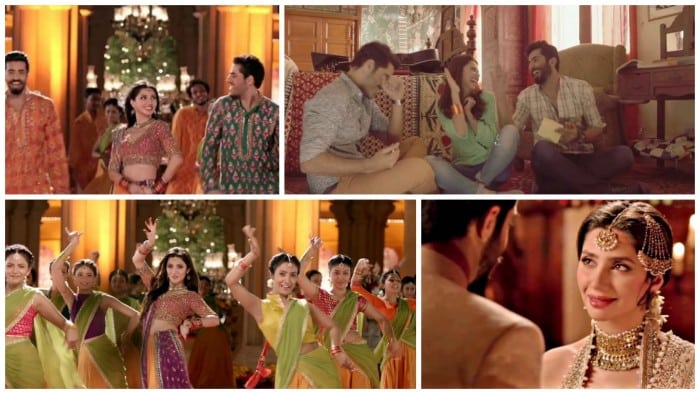 Here are my thoughts about the main characters:
Arhaan: My most favourite character in the movie was Arhaan. I was quite pleasantly surprised by Sheheryaar's acting. Different facets of Arhaan's personality were played well and his character was quite interesting. I really liked his acting in some of the intense sense. And in my opinion Sheheryaar is the star of the movie. Arhaan was the most flawed character of the movie but this trait made him the most endearing.
 Nadir: Adeel Hussain was also great as Nadir. Although he was able to show Nadir's emotions effectively but during one of the scenes when he comes back home heartbroken, he looked more drunk then heartbroken. But I did like the epic fall on table!
 Manizey: Mahira Khan as Manizey looked stunning. Mahira usually plays role like Khirad and Shanno so it was nice to see her in the role of a strong woman. She played the role brilliantly. Coming to the character Manizey, she is the most level headed person among her friends. And because of that, I feel her role wasn't as great as the boys. She was a secondary character to the bigger stories of both the boys. Whereas I could clearly see Nadir's struggles and pain, never once did Manizey show her emotions about her father. I think it would have been better if they showed a scene where Manizey feels really emotional for her father. Maybe they could have shown it when she meets Arhaan's father and seeing the love he had for his son she feels sad about her father too. Her character felt a little half baked and thus wasn't as engaging as the boys'.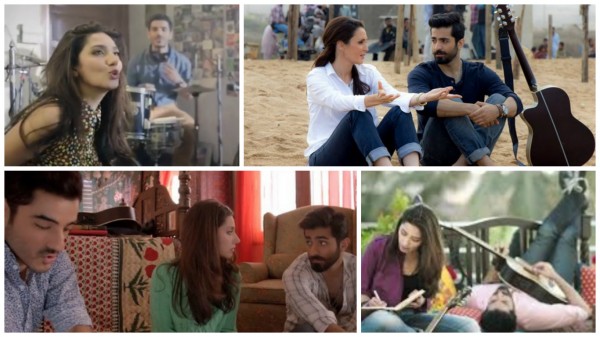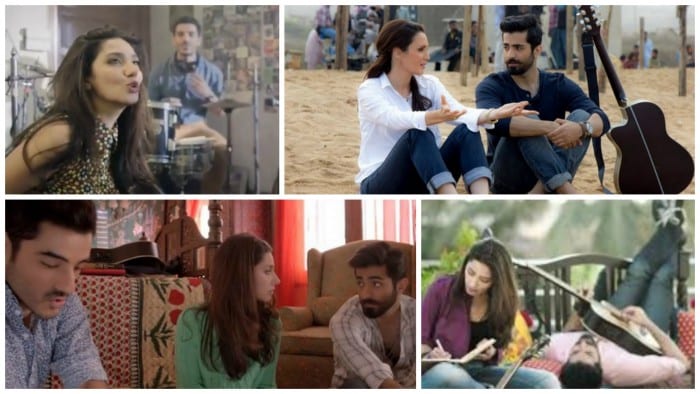 Sabeena: Sonya Jahan as Sabeena looked graceful and glamorous. Her acting was great and in the short span that her character was given, she was able to shine in her role. I liked Sabeena's character a lot too. She is a single working woman. She has her own restaurant and her objective look at life is great. She can be a role model for all women.
All the different parents did an amazing job. But somehow I felt Bushra Ansari could have emoted much better.
Writing: The story of the movie is quite simple. In fact you can call it the weakest point of the movie as the story is very predictable. What makes it amazing is the fact that inside all the entertainment, the movie shoes two three clear messages.
Direction and Cinematography: I really liked the direction and cinematography of the film.. I especially liked the camera angles during the restaurant scenes. And Karachi never looked this stunning. All the establishing shots of Karachi, boats, northern areas, crop fields, and seaside were beautiful too. It was a 3 hour movie but I didn't lose concentration at all. So thumbs up for the director. Every frame was presented beautifully and I especially liked the train station, proposal scenes. I absolutely loved the shots of the boat in the sea and the whole direction of 'Barish' song.
Editing and Pace: As far as the pace of the story was concerned, the initial introduction of the characters took a little time. But when the actual movie started, I started enjoying each and every scene. The editing was a little choppy at start and some scenes could have been shortened but it got better after the introduction of characters. I didn't understand why Arhaan asking Sabeena for forgiveness and missed the point. That point should have been elaborated.
Wardrobe and Locations: The wardrobe was amazing and the whole time I was trying to remember Arhaan and Nadir's clothes (Pagri for sure is in my shopping list!). And I also noticed that they included the whole spectrum of colours in the youngsters' clothing giving the movie a very youthful and vibrant look.
All of the locations were great. I liked that they included the train station dhaba and showed the raw side of the country. Apart of that, Manizey's house interior design was great and the restaurant was exquisite.
Music: The music has been out for some time and I like each and every song of the film. One thing that I noticed was that the transition when the music starts was abrupt during the first quarter and it didn't gel with the story. Even the background music felt a little off at the start. But after the initial introduction, when the story itself started, the transition and the background music was spot on. I especially liked 'Khush Piya Wasi'; it was used at such a precise time! I knew almost all the songs by heart and was enjoying so much that I couldn't stop myself from singing along as well.
Cameos: All the different cameos were great. Fawad Khan is a real star and looked his usual charismatic self (maybe more!). He just lit up the screen as soon as he came. On the other hand, each time Hamza came on screen, I just couldn't help laughing. Syra Yousaf's cameo was a good surprise which I enjoyed a lot. Zeb is my favourite singer these days and it was great to see her in the movie.
All in all, Ho Mann Jahan is a really great and entertaining movie. Yes, it wasn't perfect and there is always room for improvement especially in the story department but the great thing for me which made it such a compelling and heartfelt movie was the messages that it had hidden in the shining glossy wrapping. The movie still had a bit of telefilm feel which our directors should pay attention to. But I also think that we have to find our own exclusive identity apart from Bollywood or Hollywood and the lack of filminess could be our identity where the focus is on acting and social empowerment with the right amount of masala to entertain our masses. And Ho Mann Jahan is a total Pakistani movie which ticks all these boxes.
People say that our films aren't good. If you don't give them a chance how could you know that the film wasn't good? We have to support our cinema and for that everyone should go and watch the movies so that our film industry can improve. We should always give constructive criticism so that the industry is moving in the right direction.
Haider Janjua (HAJ)