Ohkay so, with this, the new chapter of Mehreen's life has begun. This episode was definitely packed with emotions, not only those of the characters but also all such emotions that I felt while watching everything that unraveled. I must say, this was one well-directed episode because the way the director kept on showcasing the thought-process of all the characters by relying on the flashbacks was simply brilliant. He intelligently hinted at all those aspects without needing any dialogues or conversations. After a break, I actually enjoyed this episode of Hum Kahan Ke Sachay Thay and am looking forward to how things are going to roll for Mehreen.
Aswad's Plan
Well, let's just say the apple didn't fall far from the tree. All this while, I have put my faith in Saleha & have always said that she seems to be the sanest of all but she left me baffled with how shallow she looked. I just couldn't believe that she was so emotionally disconnected with her only son Aswad that she failed to see his intentions or if not all of it, at least have an idea of what was brewing in his mind. Saleha took Aswad's irrational behavior as his love for Mehreen!?! On top of that, she actually seemed happy about the fact that Aswad just barged into the room & literally embarrassed not only Mehreen but his entire family in front of Saffan's family. This particular behavior of Saleha made me question her sensibility & most important her connection with her son. I won't deny Saleha has been a motherly figure & I have actually loved her character every time she has stood up for Mehreen but that doesn't mean the writer had to show her so aloof to Aswad's feelings & his behavior. At one point in this episode, I actually found myself blaming Saleha for this entire mess!
I must say I loved the way Saffan's mother spoke to him clearly & told him how she doesn't want him to become a part of the mess that Mehreen's family is. She was honest with Saffan while still being respectful of his feeling for Mehreen. I think she couldn't have said any better. Saffan actually wanted to give Mehreen another chance but after all the things Aswad said, I could understand why Saffan felt the way he did. I loved the fact that after assessing the entire situation & seeing the psychotic streak in Aswad, Mehreen actually decided to find an escape. She just didn't settle for Aswad quietly & although this is what happened, she at least tried on her own.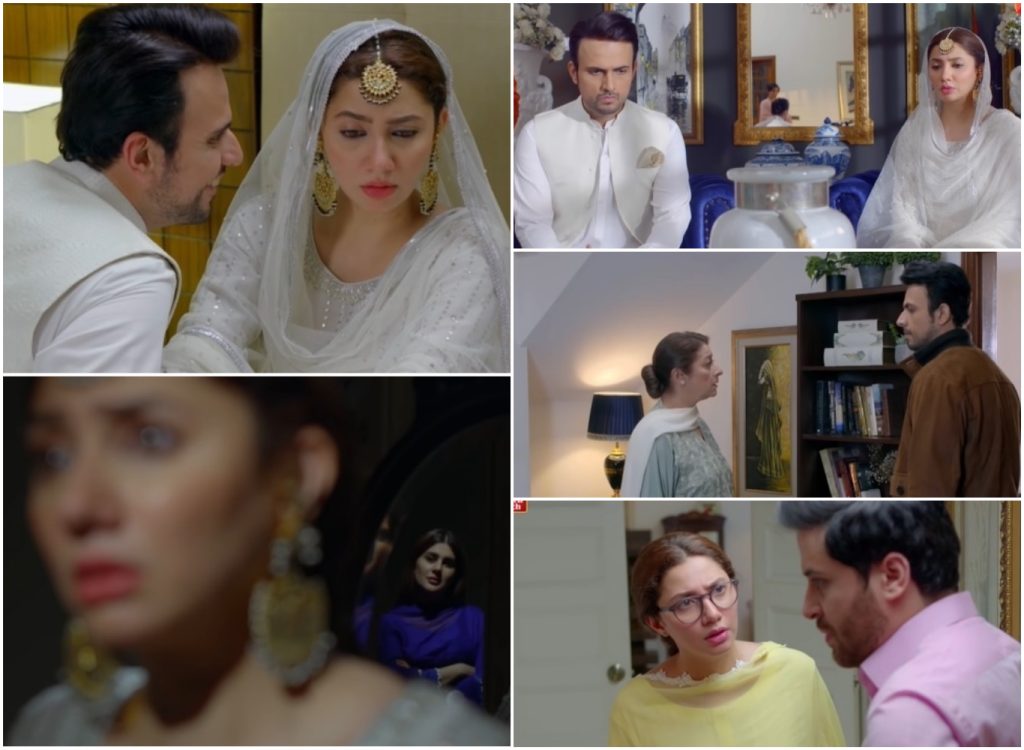 The scene between Saffan & Mehreen was heart-breaking. It was Mehreen's last resort & knowing her, one could imagine how hard it must have been for her to curb her inhibitions & fears to approach Saffan. She actually left Aswad's place for good & the flashback was my favorite. This was the time when she actually wanted his support but sadly, it was too late. The flashback of prison also was a reminder of the fact that Saffan went from being supportive to someone who was now aloof & also became one of those who chose not to believe Mehreen. All the things Saffan said were enough for Mehreen to know that she could never change his perspective & her worst nightmare had been materialized because Saffan was choosing to believe things he had heard from Mashal. This once again reminded me of how Mashal was still haunting Mehreen & was very much controlling her life, even after she's gone!
Well well well, talking about Aswad. He is plain evil & that's the only way to describe him. Yes he is guilt-stricken, yes he is also a victim of these circumstances, yes he could not protect his love BUT that does not mean he now punishes Mehreen only because he thinks she is the culprit. It is like Aswad is so entitled to think he can actually take matters in his hands & come up with his idea of how he should go about it – while completely depriving Mehreen of her basic right to protect or at least explain herself. Aswad made it very clear to Mehreen that he wanted to punish her, hence the marriage. While watching that scene & looking at Mehreen, the only thought that ran through my mind was how I'd love to see Mehreen coming out of this stronger. She has lost the last bit of hope that she once had, which probably was that her marriage to any stranger might save her & rescue her from the daunting past but sadly, she has fallen into a deep pit with no escape whatsoever. I really wish the way Mehreen's character has been written, she actually fights for herself & doesn't just give up, accepting this to be her fate!
This was yet another moment in this episode where I actually felt like blaming Saleha. After her apology to Mehreen, I was in disbelief that it took so much for her to realize that she should not have gotten Mehreen married to Aswad. She was the one who stopped Aswad from marrying Mashal. She can clearly see what she has done & how she has ruined Mehreen's life. I feel her request to Aswad for not judging Mehreen holds absolutely no importance because it is not as simple as she thinks it is. Also, it brings me to that point where even in such a grave situation, she chose not to explain everything to Aswad & just thought telling him to not be judgmental was enough. How come Saleha can not see what a twisted person her son has become & how this entire scenario has affected his personality, his thought process & his behavior. She can give him a cold shoulder all that she wants but not addressing the root cause is the main problem!
Well Directed
This episode belonged to Mahira Khan for sure. Usman Mukhtar acted brilliantly in those scenes where Aswad actually exposed himself in front of Mehreen & let her know what his intentions were. Mahira Khan looked stunning in the scene right after the Nikkah. I wish the makeup artist had chosen a better lipstick shade during the Nikkah scene, it was too stark & an outdated shade of pink. The preview of the next episode also seems quite interesting. I am glad Hum Kahan Ke Sachay Thay is turning out to be so interesting which gives so much to talk about. Although I will say at one point I did feel all of this was only because Aswad was led to believe all the lies about Mehreen & he chose not to use his brains, but only because it has been directed so well, all of this becomes quite interesting. I will also say that the childhood scenes of Mehreen, Mashal & Aswad are always heart-breaking. Who would've thought that such beautiful kids will end up becoming so twisted & victims of their circumstances. Please share your thoughts about this episode of Hum Kahan Ke Sachay Thay.
Keep Supporting,
Cheers,
Zahra Mirza.