Ohkay so, this entire episode of Hum Kahan Ke Sachay Thay was dedicated to Aswad & the lies that he was fed. I do understand that the writer has tried to show Aswad as a victim of circumstances & now the entire blame is being put on Mashal for what she used to say about Mehreen. However, instead of seeing Mashal responsible for what Aswad went through, I solely & completely hold him accountable for being so obnoxious. I really don't think falling out of one guilt into another is going to be redemption enough for Aswad!
Mehreen Is Not Guilty
Mehreen was still hallucinating & I was relieved when she spoke to Saleha about it. At least it showed that there was now hope for Mehreen to get better because now she was wording the things that were bothering her. This was definitely the first step that Mehreen took unconsciously to figure a way out of the deep pit that she was falling into. Although Saleha has never really helped Mehreen's case but the way she told her that Mashal does not exist anymore with a definitive tone did make Mehreen realize a thing or two. That entire interaction between Mehreen & Saleha was done well where it was quite obvious what Mehreen was feeling & how Saleha was shattered seeing what has happened to her favorite child that too in her home, right in front of her!
Aswad found out about everything & more than that, Shabo came clean about the mistake she made which took Mashal's life as a result. Mashal did not commit suicide which was good to know but unfortunately, it was saddening to learn that she was so driven by her hatred that she was ready to kill Mehreen & poison her tea too. This entire suspense was definitely done well & probably one such thing about this entire drama that kept the viewers guessing & made them look forward to every single episode. With this, I really think we're now approaching the end of the drama & I must say I am glad they decided to keep Hum Kahan Ke Sachay Thay short in comparison to the number of episodes that dramas usually run for these days.
It was Shabo's confession that gave Tahir a clear picture but even after figuring out everything. Shagufta was just not ready to accept what had just happened, more so that Mehreen was not responsible for Mashal's death. Shagufta has been sickly obsessed with Mehreen her entire life that she just could not take the fact that as much as she wanted Mehreen to be responsible, she just wasn't. It was nothing short of relief that Shabo finally spoke up & settled everything for good. I will however say that Aswad cutting the ties with Tahir was so out of the blue – hearing him say that made me wonder how & when did he find himself in such a position to say so.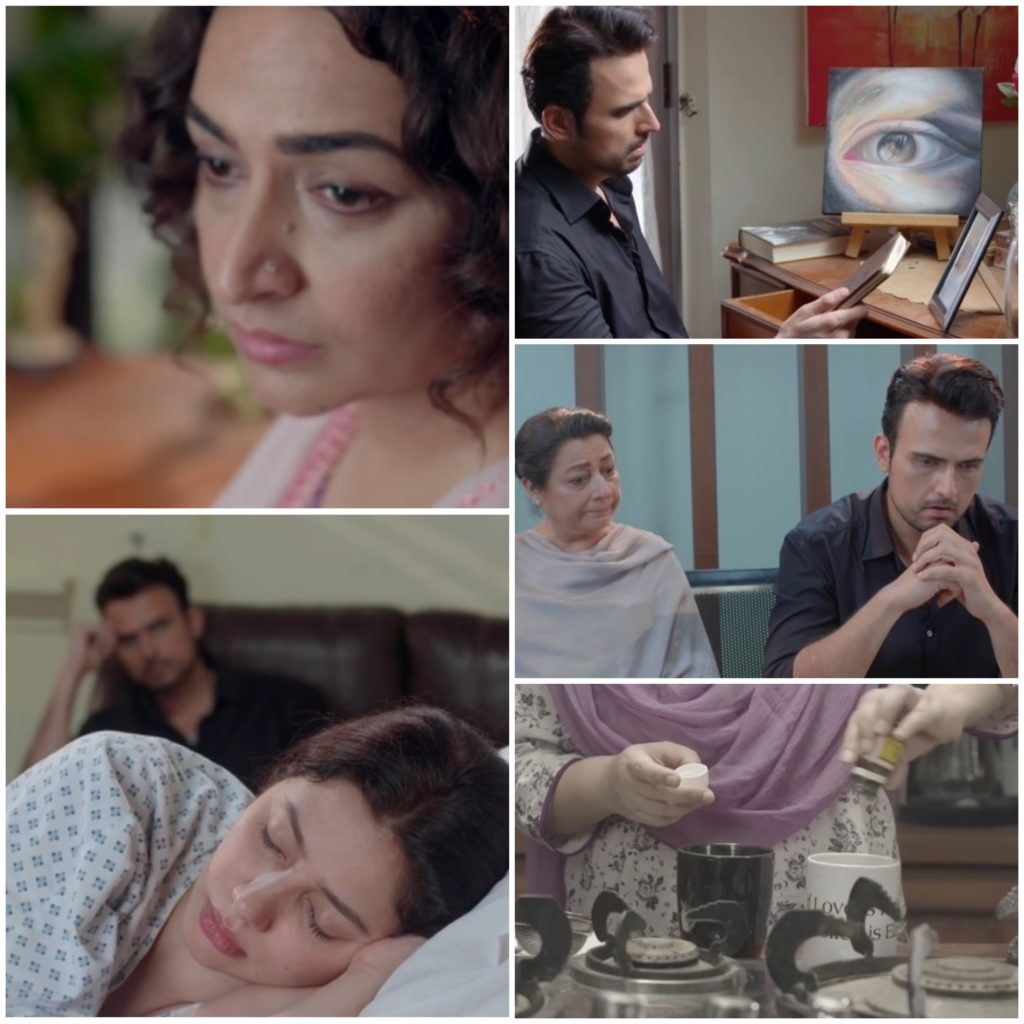 Mehreen's demand for divorce actually seems like the only right thing she can do. There is absolutely no way for Aswad to be forgiven, especially now when he heard the truth from Shabo. He should definitely be left to sulk in yet another guilt of losing Mehreen only because he chose not to use his own brains & conveniently allowed Mashal's lies to cloud his judgment. I really think if it was a teenage boy instead of Aswad, I would've given him the benefit of doubt considering the tender age but for a mature man like Aswad to behave so foolishly is not an excuse enough to be forgiven. Although the exchange of expressions between Aswad & Mehreen when she sensed some difference in his behavior did suggest that she might give him a chance but in all honesty, that just shouldn't happen. I am sure the writer has established it really well so far that Mehreen has absolutely nowhere to go, so it won't come as a surprise if she will choose to stay with Aswad but I will see that as an opportunity wasted where Umera Ahmed could've shown that a toxic man like Aswad should never be given a chance – no matter what!
A Decent Wrap Up
This episode of Hum Kahan Ke Sachay Thay was definitely better than the last so many episodes that I have watched. The episode that aired last week was definitely the best after so many weeks. Mahira Khan's performance throughout has been phenomenal. She has portrayed Mehreen's character with a lot of finesse & grip. Usman Mukhtar's performance has definitely improved along the journey but sadly the character of Aswad is simply intolerable therefore it serves as a major distraction from the actor's craft. I am glad that after a lot of slower episodes, we're now heading towards the end with some impactful & happening episodes of Hum Kahan Ke Sachay Thay. Please share your thoughts about this episode of Hum Kahan Ke Sachay Thay.
Keep Supporting,
Cheers,
Zahra Mirza.