Showbiz industry can be a difficult a place to understand how professionally emotions are dealt with. It was recently seen that former cricketer Wasim Akram confirmed the news of his second marriage with Sheniera Thompson and also shared their cute love story with media declaring that the two would soon be tying the knots the next year. While Waseem enjoys a limelight for the great news, it was Humaima too, who was questioned about her reaction over the recently revealed news. Readers who do not know about Humaima and Wasim, it is important to mention that the two were previously linked together but things somehow didn't work out.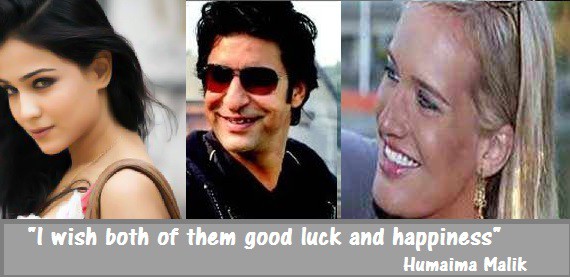 Humaima Malick, the 'Zainab' of Bol, is enjoying the best moments of her career and will soon be making her bollywood debut with the movie 'Shera', starring Sanjay Dutt. The movie has been shot in Rajhastan for 70 days and Humaima is hopeful about its success. Media, however, do not forget old link-ups and she was asked about Wasim's announcement of his second marriage and Humaima was bold enough to congratulate the couple and said that she was really happy about the fact that Wasim has finally decided to settle down. She also said that though she hadn't meet Sheniera Thompson personally, she got to know through some mutual friends that the would be bride is really pretty. She said:
I'm so happy for Wasim. He has finally got someone in his life and is planning to settle down. I haven't met the girl, but have heard from common friends that she is pretty. I have no idea about the wedding dates till now. I wish both of them good luck and happiness.
Now that both, Humaima and Wasim have founded the best for their lives, it is to be expected that they would now work with more power to keep their fans entertained,
Wishes,
Nida Zaidi