The episode started off on a good note as Zayaan was back to his former self. The caring and loving Zayaan was back and I loved all the scenes at the beginning of the episode. Maryam even complained about his rude and indifferent behavior towards her and Zayaan assured her that he will try to change himself now. They were both enjoying each other's company after a long time and it was lovely to see them together again. But unfortunately, Maryam's precious moments with Zayaan were cut short as Umair also appeared out of nowhere at the restaurant and Maryam panicked and quickly left the restaurant with Zayaan. So much for their little outing!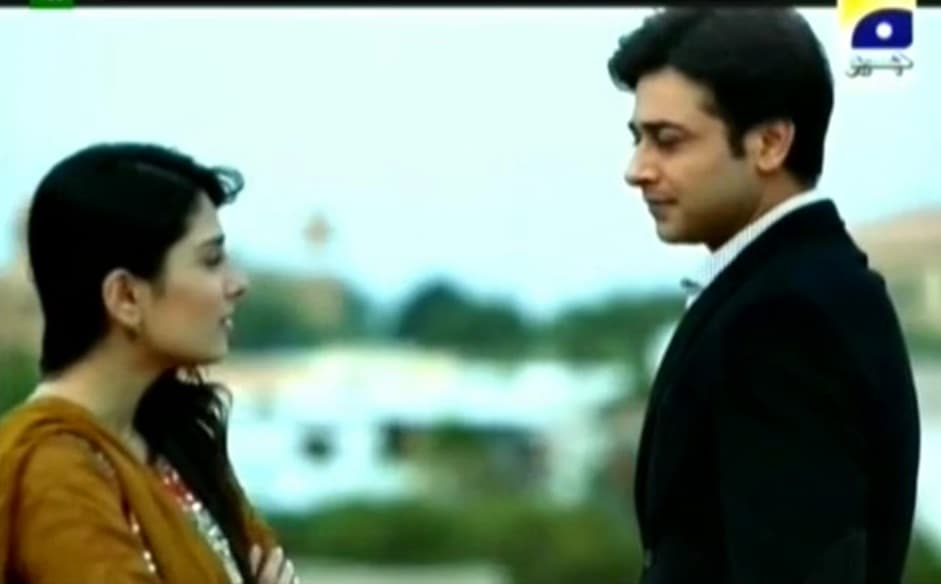 The much awaited 'slap' scene was brilliantly executed. After Umair got to know that Faiza was the one who told Jahanzeb about Saira and him he asked Faiza to meet him and he slapped her as soon as he saw her. The surprised expression on Faiza's face was a treat to watch! All of a sudden Maryam had become 'Bechari Maryam' for Umair, he regretted what he had done to Maryam and he also told Faiza to stop making Maryam's life miserable. Oh sure, like she will listen to you Umair!
I completely agreed with Umair when he said that Faiza likes to make up her own fantasies and when reality strikes, she cannot bear to face it. She had wanted to marry Zayaan when it was obvious that he had no interest in her but she dreamt her whole life ahead with him anyway and then she did the same thing with Umair. Umair never gave any indication that he likes her, but she imagined it all and when she got to know about Saira and Umair, she felt like Umair had betrayed her just like Zayaan had 'betrayed' her before. She really needs a psychiatrist! Maheen Rizvi had given her best in this show and she is the perfect choice for Faiza.
At least Maryam has one less thing to worry about now. Umair called her and apologized but sadly Maryam cut the phone before he could tell her about Faiza. Why is it that every time Nusrat brainwashes Zayaan, his ability to reason vanishes! When Nusrat complained about the gifts Maryam's family had given to Afshah and their lack of interest in Maryam's 'Godh Bharai', his attitude towards Maryam changed again. He was back to being indifferent towards her and just dumped her at her parent's house and did not even bother to contact her after that.

Faiza now works in Zayaan's office, thanks to Afshah and the growing friendship between them is nothing but alarming. Zayaan had started to ignore Maryam as he was too busy spending time with Faiza. Khurram's family and Zayaan's family seemed perfect together and there was just no place for Maryam there. Will she ever be able to create a place in their family?
After Afshah had a baby boy, Nusrat was expecting to hear the same news from Maryam. When Tasneem called Nusrat to inform her about the baby girl, she rudely cut the phone. She did not even inform Zayaan about the baby! Surprisingly, Afshah was happy to hear the news about the baby girl and she did not discriminate like Nusrat. Nusrat still leaves no chance to insult Maryam and I felt sorry for Maryam when they both went to the doctor and Nusrat told her that Maryam had already tried to kill the baby. That must have been humiliating for Maryam!
I really hope Zayaan would not discriminate like his mother. While Maryam was waiting at the hospital for Zayaan to come, Zayaan was even aware about his new born child. The preview for the next episode shows that things are not going to get any better for Maryam.
So guys, what are your views about the episode?
Mariam Shafiq