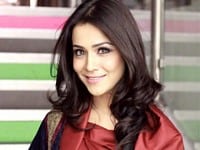 The stupendous and outstanding Pakistani Film actress Humaima Malik, is now all over again standing by pinnacles of fame and recognition for her unparalleled performance in Shoaib Mansoor's blockbuster movie BOL. Yet again she is keyed up to receive her other award in regard of her unbeatable acts in BOL movie as 'Zainab' in next to no time.
BOL movie is beared out to be a streak of luck for Humaima as she garnered rave appraisals and awards in support of her performance. Recently this bold girl has been crowned the Best Lead Actress for her role in BOL at the first ever South Asian Rising Star Film Awards. She was the only Pakistani girl to represent the country in award ceremony, which was organized in cooperation with HBO, was a part of the 9th annual South Asian International Film Festival, a ground breaking cinematic and entertainment extravaganza, which has already become a landmark event in New York City.
Well, this is not up to scratch! Humaima moreover bagged the Best Actress award in 11th Lux Style Award 2012 for her moving performance in Shoaib's BOL. Also she achieved another feather in her hat, by receiving another international award at London Asian Film Festival. Continuing her award winning string, this is not it for Bol and Malik though – she has also been nominated along with Vidya Balan (The Dirty Picture) at the Asia Pacific Screen Awards (APSAs) for her part in Bol.
And now she is passionate to get an edge over others with her new blockbuster. Humaima is on the brink of to take the lead role in an approaching Bollywood movie "Sher" with the big guns of Bollywood world i.e. Sanjay Dutt, Paresh Rawal and Vivek Oberoi. She has got a glamorous look in this film unlike BOL, and performing the main role as a Sanjay Dutt's wife. The film shoot is just about completed and it is up and about to release by the end of this year.
Undoubtedly, Humaima Malick has turned on to ardent and enthusiastic young girl who has rocked the floor and distinguished her name among most budding and talented big names. For her, these achievements are like a drop in the bucket. She is now all set to rock the world with her heartrending acting skills.
We wish you Good Luck for your potential smacks!
Nida Zaidi