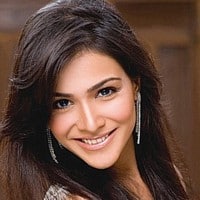 Pakistani actress Humaima Malick, for her poignant performance in the unconventional movie BOL, this star lady has won prestigious awards throughout. Gifted with natural intelligence and beauty she has touched the hearts of millions by playing a role of Zainab in Shoaib Mansoor's BOL. Now Humaima is all set to take the lead role in an upcoming Bollywood movie "Sher" with the big names of Bollywood planet i.e. Sanjay Dutt, Paresh Rawal and Vivek Oberoi.
The film is directed by the well-known Soham Shah, who tapped the apexes of fame and success in his last two movies, Luck and Kaal. The film is to be shot in Jaipur, Gujarat and Rajasthan and sources reveal that it is undeniably a heavy budget film of Bollywood film industry. Humaima will be made out in drop dead gorgeous epitome in Shah's Sher.
Soham Shah notified, "Humaima is playing a prominent role in the film. She is playing a Bollywood actress. It's a period film and she has got a glamorous look in the film unlike 'Bol'."
Humaima Malick is born to be a star. It looks as if she is destined to achieve prominence at a very young age of her life. Victory is constantly seemed in her bag, whether it's the Best Actress award at the 11th Lux Style Awards 2012 or Best Actor Female award at London Asian Film Festival.
While working out for the best, Humaima has passionately declared that, "I feel I'm crossing the border with a role that echoes my earlier film. Like my character in Bol, here too, my character revolts against patriarchy. I am not just the male protagonist's wife."
The huge talented actor Sanjay Dutt, who has done different kinds of roles from an ordinary lover boy to a mobster to comedian and has carried to life a good number of characters that could be an inspiration for the new breed of actors, Humaima is said to being mentored by Dutt. Not only he has taken her under his wing and is guiding her about work in the Soham Shah's film "Sher", but he's also counseling her on how to go about her career in showbiz.
The film shooting is almost completed and it will soon be released by the end of this year. Shah verified, "We have finished the entire shooting of the film and just two songs are left. They have to be shot with Humaima. This is not an item number, but the audience will see Humaima's dance number in one of the songs." "We shot the entire film in July and August in Jaipur. It was a 50-day schedule," he added.
We hope Humaima will gain an edge with a new blockbuster!
Nida Zaidi