Humayun Saeed, who himself, has a prime time watch, running alongside the new drama serial Alif, as competition on a different channel, recently showed great spirit when he took to his social media to congratulate the cast for a mind blowing first episode.
Posting a picture of himself with the cast and makers of Alif, Humayun Saeed shared a beautiful review for the first episode of the drama, stating that it had completely bowled him over.
"Blown over after watching the first episode of Alif. An all round fantastic effort by the entire team. Beginning with Umera Ahmed, credit goes to her for the soulful yet refreshing concept. All the actors, Hamza, Sajal, Kubra and even young Pehlaaj are simply outstanding, looking forward to Manzar Sahab and Ahsan's performances as well," wrote Humayun Saeed on his Instagram.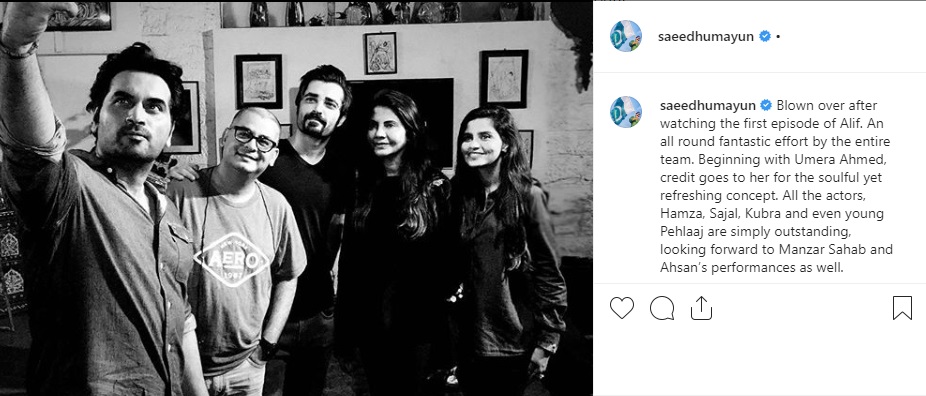 Adding further, Humayun Saeed, did not forget to mention how Haseeb Hassan had delivered impeccably with his direction and how his wife, Samina Humayun Saeed and also Sana Shahnawaz, had taken a risk by choosing to produce a unique story line for their drama.
"Impeccable direction by Haseeb Hassan. But most of all, extremely proud of Samina and Sana for consistently maintaining excellent production quality and executing this project with so much passion and hard work. You took a big risk by not picking a run-of-the-mill plot, which has certainly paid off. I hope you will continue to deliver such clutter-breaking content. After watching Alif, it seems that our industry is headed in the right direction and I really hope it will go on to change the landscape of TV production in our country. Wishing you all the best for all your future projects as well," stated Humayun.
Starring Hamza Ali Abbasi, Sajal Aly, Kubra Khan and Ahsan Khan in pivotal roles, Alif, aired its first episode on Geo Entertainment last week and opened to instant praises by the audience and critics both. Young Pehlaaj's performance was highly appreciated in the first episode and so was Umera Ahmed, the writer's, unique take on his relationship with Allah.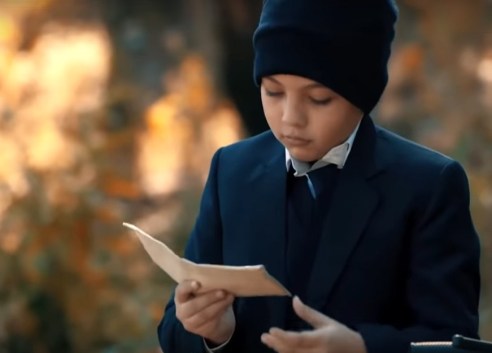 Alif, a joint production of IMGC, Samina Humayun Saeed and Sana Shahnawaz, has become a Saturday time favorite for all on Geo Entertainment, right after its first episode. The 8pm slot on Saturday now belongs to Alif alone. A masterpiece indeed it is.