Every era has its own gem and this one, for sure has 'Humsafar' to make itself proud even after decades. Just like we adore 'Dhoop Kinare' or 'Tanhaiyaan' still, Humsafar  is one of the similar  serials which would be remembered after 50 years from now onwards. These days when the Pakistani showbiz industry is all over loaded with the foreign content, there were people who complained  of the fact that if there is no harm in airing foreign dramas then the Pakistani dramas too, should be aired on channels of countries like Turkey, India and Iran. 
It is surprising to find that its Humsafar which is going to be on-air on an Indian channel 'Rishtay' evey weekend, that is, every Saturday and Sunday at 8:30 pm. If you notice, this is the same time when it used to be seen in Pakistan, every Saturday, 8pm and the difference of time in between the two countries is half  an hour to be accurate.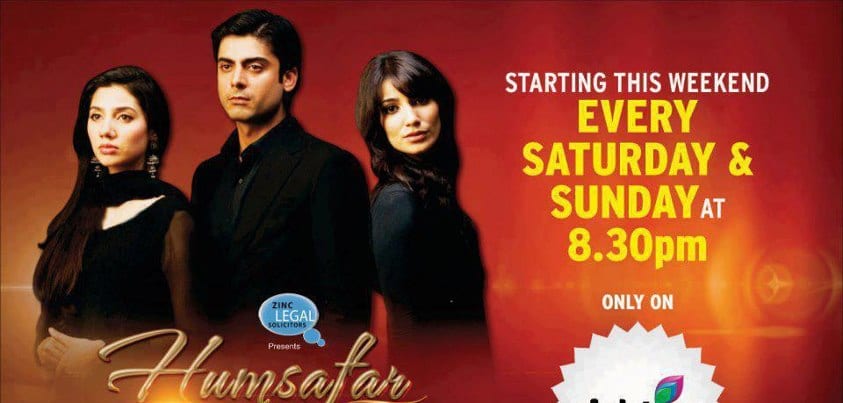 The news is amazing but not shocking because already it was known that Humsafar had its fans all over the world and Fawad Khan and Mahira are frequently discussed on India-forums (The largest discussion forum of India) where Fawad was also wished on his Birthday. No doubts about the quality of the serial in every sense and it well deserves to earn respect and recognition of this level.
The local audience is over joyed with the news as it has been taken as a symbol of respect that even the Pakistani dramas are no more less than any other drama and in fact, Pakistan has all the potential in every field to meet up the race of the world.
We are delighted with the news, How about you? Share your valuable views,
Once again, Humsafar, we are proud of you <3
Best Wishes
Nida Zaidi