Despite of the fact that Pakistani singers are doing a great job in India, it can be easily seen that our singers are still not given the deserving fame and respect in the country. While  Adnan Sami khan is  still not allowed to buy a home in Dehli, Rahat Fateh Ali Khan is also on of those singers who  are suffering despite of their endless services in the field of singing.
According to the latest reveals, it has been heard that the Pakistani Singers are unable to record their songs for the movies and projects in India and the issue is creating a serious problem for the singers and the composers who  have either paid or booked them for their movies and tracks. It was also seen that Rahat Fateh Ali Khan landed up with a controversy of smuggling dollars and soon after that it was  noticed that most of the songs are been dubbed in Dubai only.  Recently,Sajid and Wajid  recorded with him in Dubai.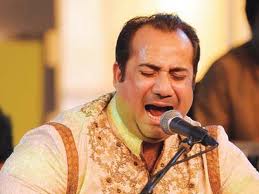 It is no less than a disrespect of the Pakistani Singers who are  recording their songs on Skype or via internet because they are either not getting the visa or are experiencing limitations unjustified.
Although they are paid pretty well for a single project in India, our singers need to maintain their respect and importance in the world of music and should take  a stand against such limitations. Share your views about it!
wishes
Nida Zaidi