Imran Qureshi Becomes First Pakistani Artist To Be Honored With A Medal Of Arts Award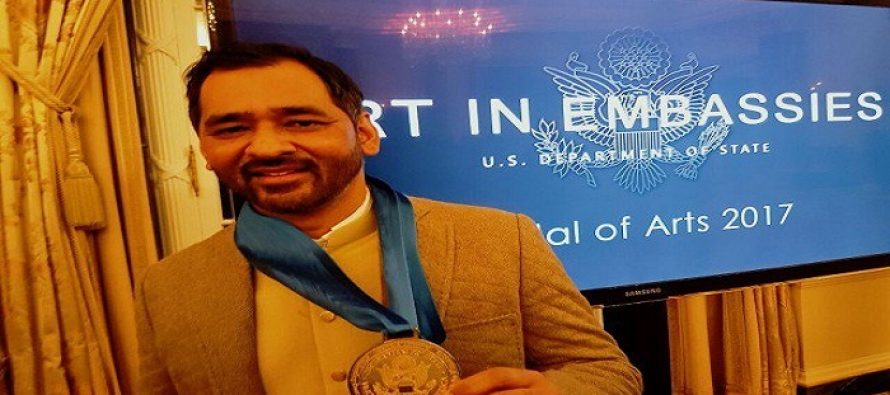 Internationally acclaimed award winning Pakistani artist Imran Qureshi has been honoured with a Medal of Arts Award by the US State Department for 2017, making him the first Pakistani ever to receive this honour. The awardees for this year also include Nick Cave, Jenny Holzer, Wolf Kahn and Rachel Whiteread. Qureshi was honoured in a ceremony hosted by Deputy US Secretary of State Antony Blinken in Washington D.C on 12th January.
Qureshi has been exhibiting his paintings internationally for almost 20 years. The Medal of Arts award is given to artists who have promoted cultural diplomacy through the visual arts and international cultural exchange. He was also made 'Deutsche Bank Artist of the Year' in 2013 with an exhibition at the Kunsthalle, Berlin, Macro Museum Rome and Ikon Gallery, Birmingham, in 2014.
Speaking on receiving the award, Qureshi said, "It is not just for me but for Pakistan. This especially holds true for the nation's contemporary art scene. The reality is that the West is only exposed to Pakistan through what their media tells them, this is often one-sided and myopic. Contemporary art is the most exciting thing happening in Pakistan courtesy the diversity of ideas, concepts and approaches."
He added, "As an artist, I have always assumed a sense of responsibility to make a significant contribution to furthering harmony between different cultures and countries. As a Pakistani I am proud to accept the award in the spirit of making this world a better place through art for our future generations."
---