Zain and Mahgul's track was covered flawlessly in this episode but I can't say the same about the way Mahgul/Noor and Mikael's track was handled. I still have a tough time relating to Mahgul and Zain's undying love for each other and their marital status but all the conversations today which covered their feelings were well-executed; the dialogues were not clichéd or over the top. This episode opened with Mahgul sharing how she felt about Zain and it was actually quite refreshing watching a strong woman who can look out for herself accepting that she loves a man like that. It goes to show that she does not feel that loving Zain makes her weak in any way. Mahgul and Zain's relationship might not be relatable but it is definitely positive.
The timeline in tonight's episode was slightly confusing because of some of the dialogues. When Kashmala's mother invited Zain to talk to him she made it sound like Kashmala and Zain had been "friends" for years even though it seemed like they had known each other only for a few weeks. Arshi once again tried to brain wash Zain and after 7 years we were not shown what Zain's relationship status was. What I truly missed in tonight's episode was Mahgul's presence in Noor's life. Mahgul was shown busy in her office most of the times in this episode and the previous one too and ever since Mikael entered Noor's life Mahgul has taken a backseat in his life. This drama should have been about Noor and Mahgul's struggle together. While it is good to see so many people who have supported Mahgul through all these years, it was somehow strange watching Mikael tell Mahi that it was time to have that conversation with Noor. Noor and Mahi's over dependence on Mikael isn't the best part of this drama. Also, I felt like I did not know Noor well enough. It would have been so much better if the viewers saw how difficult it was for Noor to adjust in the society and what issues he faced. That one scene summed up why he was a misfit but it just wasn't enough.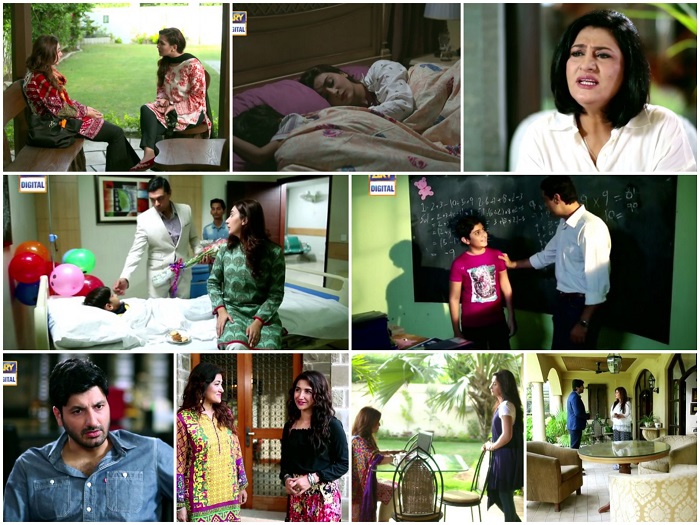 All these years Noor has been going to the same "classroom" and even now Mikael is his only teacher. Mahi was going to make him fit into the society but on the contrary his world is limited to that house, the class room and a few people so basically he is over-protected. The writer definitely did not delve into the details of this particular track and at this point I feel like Mahi and Zain's relationship is the focus of attention and Noor is merely an irritant. There was a definite focus on Noor and on Mahi's life vis-à-vis Noor but after Mikael's entry into their lives things have changed completely.
The most refreshing aspect of this episode was Mahi's reaction to Arshi's visit to her house. She did not try to distance herself further from Mikael or rethink the choices she had made so far as a reaction but did something which a practical and sensible woman like her should have done. The meeting between Zain and Mikael was also very well written and directed. Everything that Mikael said to Zain was right on point.
Although this episode wasn't flawless and few of the things did not work for me but it was very well directed and all the actors did complete justice to the roles assigned to them. The story however has lost its charm because of Mahi's over-dependence on Mikael, this was Mahi's war and it would have been good to see her fighting it on her own with some support from other people. Also, Noor's character and his struggles for now have been relegated to the background or are not getting as much attention as they should have.
The preview of the next episode suggested that perhaps Mahi has "moved on". Also we will see another leap of many years in the upcoming episode, hopefully then Noor will be the centre of attention.
How many of you watched this latest episode? Do share your thoughts about it.