Shatrughan Sinhais an Indian film actor and politician. Apart from being member of Rajya Sabha twice he was also Union Cabinet Minister of Health and Family Welfare (Jan 2003-May 2004) and Shipping (Aug. 2004). He was elected to 15th Lok Sabha in 2009. Shatrughan Sinha is member of Bharatiya Janata Party, which is famous for its Anti Muslim agenda and Anti Pakistan ideology.

Despite associated with an extremist anti-muslim and anti-Pakistan party, Shatrughan Sinha has vast friendships across the border in Pakistan. He has visited Pakistan on numerous occasion and is also expected to visit again to attend the birthday of her Pakistani  'Moonh-Boli Behan' (someone considered as sister without a blood relation).
To remind my readers regarding past, Pakistan has been ruled by an army dictator named Ziaul Haq from 1977 – 1988. General Ziaul Haq was considered 'Mard-e-Momin Mard-e-Haq' by his admirers and the same General Zia was the closest friend of Shatrughan Sinha. During 1980's Shatrughan Sinha visited Pakistan many times where he used to stay in President House (Aiwan-e-Sadar). General Zia has always stated Shatrughan Sinha as like his sons, and his youngest daughter Ms. Zain Zia declared Shatrughan Sinha as his 'Moonh Bola Bhai' i.e. someone considered as brother without any blood relation.  Shatrughan Sinha has family terms with the other family members of General Zia as well and visited Pakistan on the wedding of son of Aijaz ul Haq (grandson of  General Zia) few years ago.
Coming back to this post, Shatrughan Sinha is coming to Pakistan possibly with his wife to attend the birthday of Ms. Zain Zia. Ms. Zain Zia is the youngest daughter of Zia-ul-Haq and Shafiqa Zia out of their five children (two sons and three daughters). Ms. Zain Zia was quite famous in 1980's as she was seen regularly with her father General Zia on official ceremonies, foreign tours and state gatherings. Being a patient of autism, Ms. Zain Zia was applauded for her courage to fight this disease.  After the death of General Zia, Ms. Zain Zia is not much active and seldom appears at any event.
Here is the news excerpt from Urdu Daily Express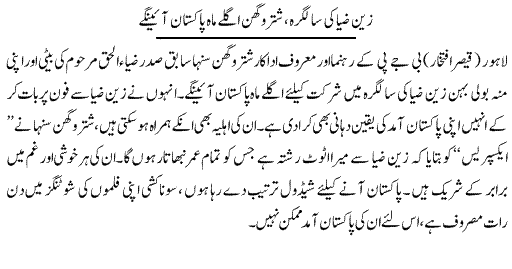 Here are few pictures of General Zia and Shatrughan Sinha taken during his visits to Pakistan in 1980's in the president house  Islamabad.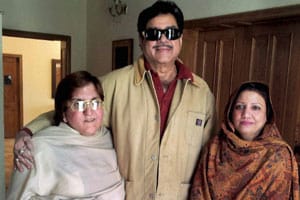 Rashid Nazir Ali