Censor board has allowed the screening of Indian film Holiday in Pakistan which stars Akshay Kimar. But what is unusual about it in a country where Indian films are regularly screened in multiplexes across the country for past many years. Indian films attract large viewership and generate revenue and are considered necessary for the survival for cinema industry. Indian film celebrities are household names and indian music is also relayed from most of the FM radio channels throughout the day. Showbiz segment of news bulletin also gives generous coverage to each and every aspect of Indian celebrities. Majority of print media also overs Indian films in their showbiz section, while Indian celebrities are the preferred choice for advertisers due to their popularity among general public.
So what makes Holiday special, well it is the story of an Indian army officer. In the past censor board has not passed any Indian film based on Indian army or spy agent, or Pakistani army. Though Indian films discussing any thing other than Pakistan army are allowed screening. Like someone told that famous cricketer Shahid Afridi was discussed in a negative manner in a recently released Indian film Total Siyyapa. Indian film Holiday has received censor certificates from all three censor board based in Karachi, Lahore and Islamabad after cutting few scenes. Screening of an Indian film based on Indian army shows signs of relaxation in censor regulations and also government has decided to relax its restrictive policy.
The film is released on Friday 6th June 2014 and is expected to generate substantial revenue as Akshay Kumar is widely popular in cine goers .Even though, Akshay's last film Boss was a complete dud, it managed to generate considerable revenue for its Pakistani distributors.
Interestingly in Pakistan, there has been an undeclared restriction on making any film based on army. In past Inter Services Public Relations (ISPR), an institution of army has refused any assistance for a project based on army. Portrayal of army officers has never been shown in any film. Waar was the first Pakistani film where ISPR has cooperated to make a film on terrorism.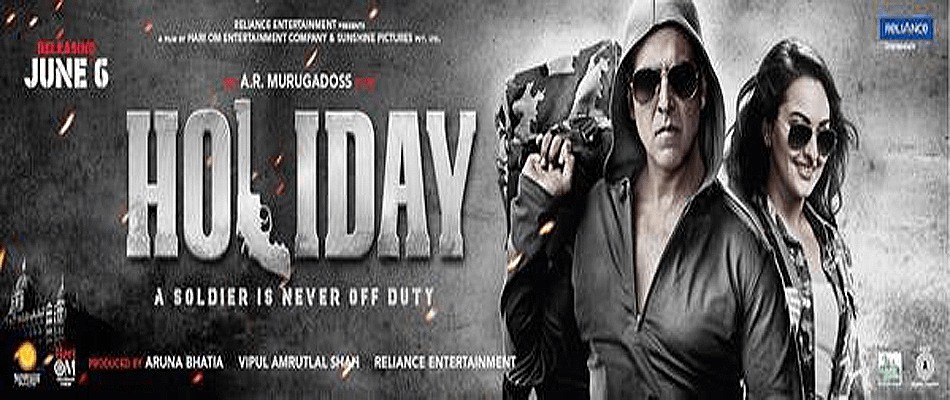 Source: http://e.thenews.com.pk/lahore/6-6-2014/page24.asp
Rashid Nazir Ali