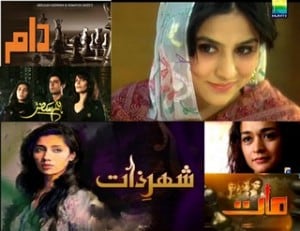 Unrealistic scripts, foolish concepts, absurd acting and never-ending stories have finally came to an end. This is indeed good news for me to hear that Pakistani people are now no more interested to see fatigue Indian dramas, which are usually based on unethical concepts. And for such accomplishment the big hand goes to Pakistani television Industry that not only came up as a hard-hitting challenger but also transformed the visions of Pakistani people.
I am proudly a Pakistani drama big lover. I do not miss any episode of my favorite serial and love to chat about every detail of them with my friends. I am proud of how these dramas have set free the nation of those who worshipped low quality soaps on Star Plus.
Indian drama craze went on for many years in Pakistan and set on accelerating the Indian drama fever like a dengue virus. The entire audience of Pakistan was grabbed by brainless dramas like 'Kahani Ghar Ghar Ki', 'Kasauti Zindagi ki' and the string goes on. Even that was a time when everyone knew every single thing about Indian culture and traditions but no one even bother to know who founded Pakistan. Besides this, little girls used to play 'Kum Kum' and 'Kyun Ke Saas Bhi Kbi Bahu Thi' instead of playing 'Ghar Ghar'. Moreover, women got their food burnt while they were deeply lost in drama scenes. And almost everything seemed to be paused at the time of drama.
Nevertheless in recent times I have been displeased to see an idleness of some concepts and characters in Pakistani dramas. It has been tiring to view the same characters being repeated on screen projecting an image of this country which is overstated and doesn't hold true to every single case. But no doubt! Pakistan made its boom and these days, Pakistani dramas have reached the peaks of success and fame.
Pakistani Drama Industry has given them a hard competition and effectively crossed the line of success that Indian Drama serials had set. Channels like, Ary, Geo, Hum tv have done a great job so as to promote Pakistani talent across the globe. Stories from intelligent writers, outstanding acting, brilliant dialogues and sound direction have set Pakistani television industry a notch above the rest. Captivating story lines like of 'Durr-e-Shahwaar', 'Maat', 'Meri Zaat Zarra Be Nishan', 'Jannat Se Nikali Hui Aurat', 'Doraha', 'Humsafar' and many more have just turned the hearts of people back to Pakistani civilized cultural values.
Well! It is a known fact that Indian Drama Industry has lost its charm in Pakistan. With powerful script, limited episodes, soulful stories and the efforts of drama makers, Pakistani drama has once again reached the height of success. Hit it Big!
Wishes,
Nida Zaidi