This was so much expected that the letter written by the Indian Journalist Soumyadipta Banerjee's to the Pakistan's superstar will not be accepted by his fans and the individuals having brain to think neutral. People are badly disappointed to read such kind of letter and the language journalist has used for Khan.
One of the leading magazines' of Pakistan FMH (For Her Magazine) has given a superb answer to the letter written by Soumyadipta Banerjee.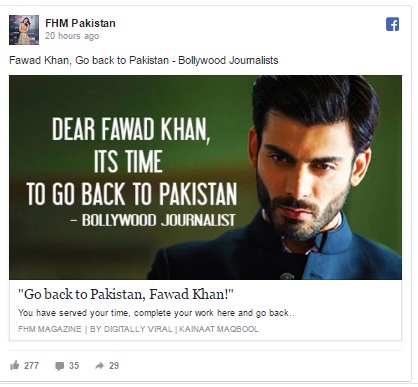 The magazine called Soumyadipta Banerjee a "Senseless Bollywood Journalist" and wrote that Fawad Khan deserved all the appreciation he received in India and he gave their industry what no other B-town could ever offer.
"If India has graciously showered love over Fawad Khan; then that is due to the fact that he has earned it along with any other Pakistani star. If you have given him the awards, than he has given you enough of his looks and acting, that no other of your actor would have been able to offer with such perfection," the writer says.
The FHM has warned the Indian journalist and think before insulting any Pakistani celebrity.
"Please note it down for your next article that if you, in the future, dare to stand against the Pakistani celebrities or anyone; you will get an even worst response", the note ended.
On the other hand Twitter is overflowing with the complaining and warning filled comments for the Indian Journalist.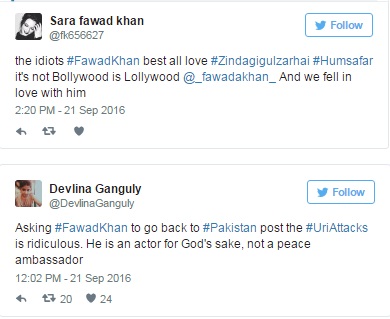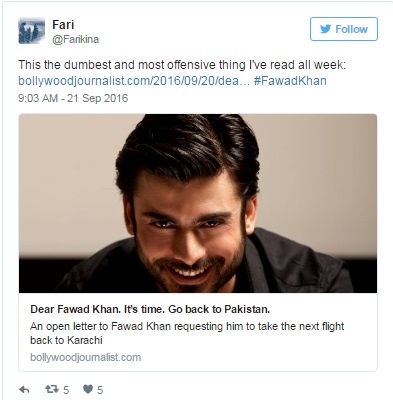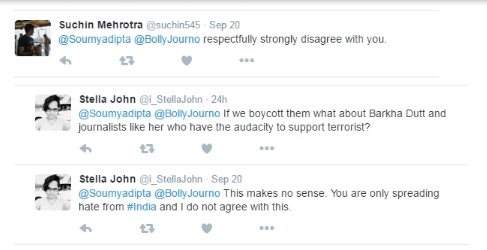 Though the journalist did not receive enough backlash but as he wanted to end the entire debate so  he posted on twitter: