This latest episode of Inkaar was terribly upsetting and with this episode Hajra lost her biggest support. The dialogues, situations and performances continue to be impressive. The clarity with which the writer has covered every minute detail covering the importance of consent in a relationship makes Inkaar the best drama on the subject. Kashif Nisar has given this perfectly written script the right treatment. The director has translated this story as honestly on screen as it could be told.
New Developments
Tonight's episode opened with Hajra giving a beautiful answer to a difficult question. Hajra's dialogues were meaningful and deep. Just because a girl sends a man she likes romantic messages, it doesn't mean that this man has the right to do what Rehan Chaudhry did with Hajra. There can be a difference between what you say and what you actually want. Hajra explained that in the best manner possible. Had she wanted to get physical with Rehan, she wouldn't have ran away that day. Later on, the way Hajra's father stood by his daughter's side was heart-warming. While it was shown that her father did not judge her or 'hate' her because of the mistakes she had made in her past, it was also shown that he was obviously affected by everything he saw and heard in the courtroom. This was a true depiction of a difficult situation.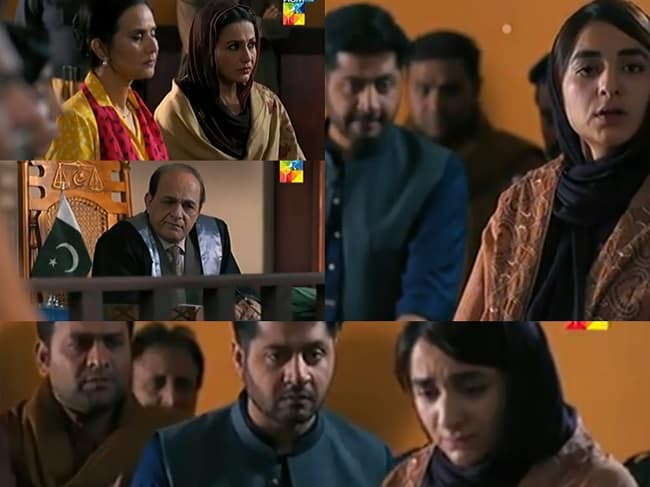 The feelings of all the other characters were shown in detail and quite convincingly as well. The detail with which everything has been covered without slowing down the pace of the show is what makes this drama so good. Rehan's real mother's feelings are completely different from how his stepmother looks at this situation. His real mother wants him to learn and mend his ways, she also blames herself because she let his father take him away from her. The stepmother on the other hand couldn't care less, she has always looked for ways to make Rehan happy without taking into consideration that such gratification might destroy his personality altogether. Although Gullu badshah's end was extremely saddening but it was definitely realistic. Had the Chaudhry been shown as a helpless man, it wouldn't have been convincing. In the end Shayan's father helped him to get Gullu badshah out of the way. Gullu died a hero's death and the last scene covering how he wasn't anticipating this at all was simply amazing. Iftikhar Iffi, the actor playing the role gave a brilliant performance throughout and I am sure everyone is waiting to find out how this will affect Hajra's case. Hajra has lost the edge she had and Chaudhry will be more confident than ever now.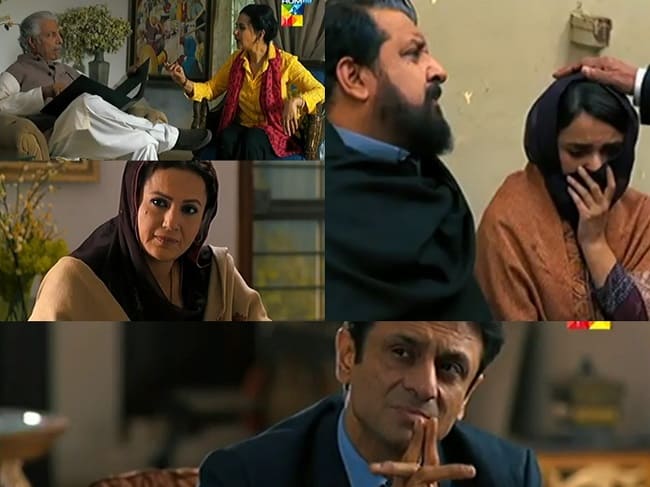 Hajra and Rehan's mother's scene was one of my favorite scenes tonight – the dialogues and performances made this such a powerful scene. Rehan's mother it seems was trying to do damage control when she asked Hajra for forgiveness. Hajra's reply couldn't have been more apt. It has been great watching Hajra's confidence and determination but the people she is fighting are much more powerful and cruel than she could have imagined.
Shayan's role has been relegated to the background for now. He has been shown as a decent man who is so in love with Hajra that he simply follows her lead and is at times incapable of taking decisions on his own. Hajra does not want Shayan back in her life right now but I am hoping that she will start sharing her fears and insecurities with him soon.
The Preview
The preview of the upcoming episode was alarming but hopefully the CCTV footage will surface from somewhere and the tables will turn. Rehan still thinks Hajra will marry him! Waiting for Shayan to play a bigger role in the picture and eagerly waiting for Rehan to pay for what he did to Hajra.
Final Remarks
This episode of Inkaar was powerful. All the actors playing the leading roles and the supporting roles have acted so well which definitely adds to the appeal of this drama. Kashif Nisar is one of those few directors in our industry who knows which actor can do justice to a specific character. Even the relatively new faces are so well-suited for the characters they are playing.
Do share your thoughts about tonight's episode of Inkaar.