Tonight's episode of Inkaar covered the entire backstory. It also revealed true feelings of Shayan for Hajra which always seemed genuine. Some of the scenes were emotional and Rehan Chaudhry's presence was terrifying. He is clearly someone who has absolutely no moral compass. The performances tonight were on point and so far the pace of this drama has been steady. Every episode has some major development to its credit. The characters are easy to connect to and the scenes covering Hajra's family life are always more appealing than the ones which cover Shayan and Rehan's family life.
The Characters
Shayan and Rehan are completely opposite to each other in every way possible. While Shayan never had the guts to share his true feelings with Hajra, Rehan went ahead and made a complete fool of her with utmost confidence. The fact that these two became friends at a really young age explains why they stayed friends for so long. This episode opened with an extremely emotional scene, this scene proved that Shayan was never playing games and his feelings for Hajra were genuine. Once again Hajra's father played an important role in helping Hajra make a decision which was quite difficult. Her father's faith in Shayan and most of all the fact that he felt that this man could love his daughter more than him, made Hajra take a step which she wouldn't have taken otherwise.
Just when Shayan wanted to run away from everything, Hajra gave him a chance to tell his side of the story. Hajra and her father's relationship is one of a kind, definitely something we don't get to see in our dramas all the time. There is respect and friendship there which is rare. While telling Hajra everything Shayan also mentioned that Chaudhry lived with his stepmother and missed his mother a lot. This sense of abandonment perhaps made him the person he is today.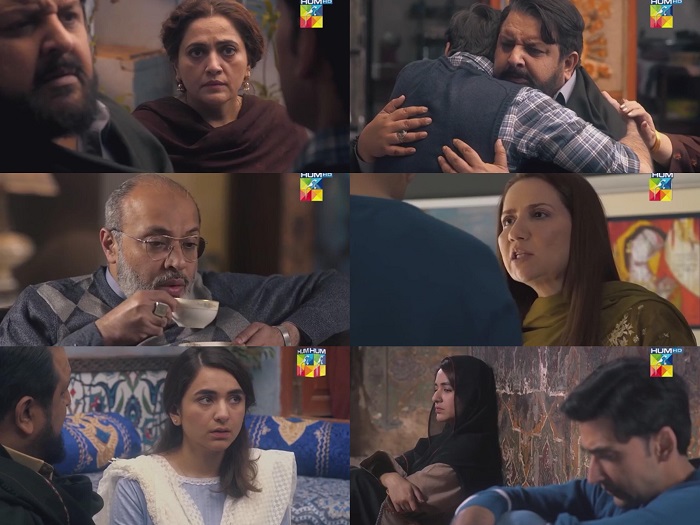 Even though Shayan gave him nothing but love and support but he did not think twice before going ahead with a plan that could have ruined their friendship forever. The way Rehan completely disregarded his relationship with his childhood friend simply to trap an innocent girl went to show how shallow and negative he was. This also showed Shayan's weak personality and how he was unable to ensure that Rehan stayed out of his life for good after everything that happened. Rehan rushed to the place of meeting immediately so that he could tell his version but apart from laughing and calling Shayan a liar, he didn't have much to add to the story. Sami Khan has underplayed this character beautifully. Shayan does not have a strong personality and he also does not think highly of himself which was the main reason why he fell for the lie Rehan told him.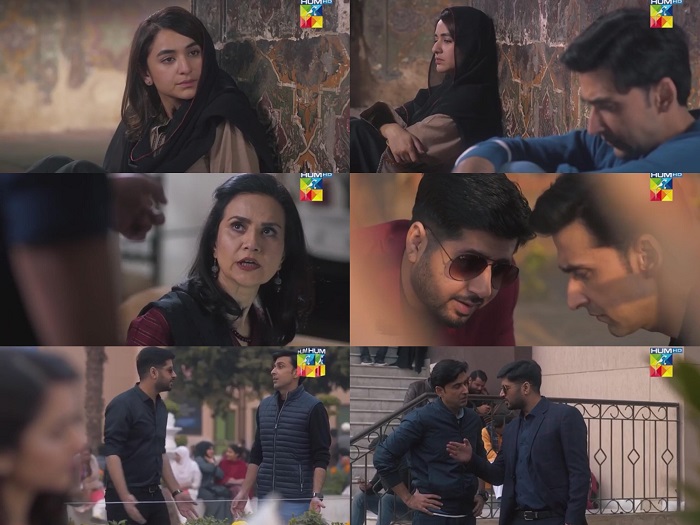 Overall Impression
The meeting place in this episode too seemed like a mazar which was rather odd since all of them were sitting there for the longest time. Also, if Shayan was with Rehan every now and then how come Hajra and her mystery friend couldn't recall who he was? Hajra's conversations with her mystery friend were an important part of the first few episodes but now all of a sudden that friend is completely missing. I am waiting to hear what Rehan Chaudhry has to say in his defense since in this episode he gave Shayan plenty of time to tell his story. Yumna Zaidi has acted brilliantly throughout, her expressions have especially been phenomenal. Sami Khan's character it seems will be a lot like many of the characters he has played in the past but he plays these roles so well. The preview of the next episode suggested that Hajra will forgive Shayan and tell Rehan Chaudhry off once again. I feel for Shayan already since he is no match for Rehan and Rehan will most certainly strike back! The overall feel of this play is different, I still feel the actually story hasn't started and that this play might have something bigger to offer.
Do share your thoughts about this episode of Inkaar.