This year we have seen many youngsters making their way in the Pakistani Drama Industry. One of such talented actress is "SOHAI ALI ABRO". The multi-talented actress has been able to successfully prove herself in different roles in Pakistani Dramas. She is not just an actress but a model and a dancer as well. 1994 Born young actress has played as lead character in many popular dramas.
Sohai made her film debut with a supporting role in the 2013 romantic drama Yasir Nawaz's Anjuman, a critical and commercial success. Her performance won wide critical acclaim, earning a nomination in the Best Supporting Actress category at Tarang Housefull Awards. Sohai started her career as a Model. She has appeared in many commercials such as Shan Pickle, Coca Cola, Mobilink and Pepsi.
Sohai made her acting debut with Geo TV serial Saat Pardon Mein opposite Mikaal Zulfiqar and Alyy Khan. Later she performed dance on ARY Digital's reality show, Naach. She also did a Telefilm Rangraiz Meray aired on Hum TV. She then appeared in serial Tanhai opposite Goher Mumtaz, Ayesha Omar, Azfar Rehman, Saba Hameed and Arisha Razi airing on Hum TV and Kyun Hai Tu opposite Mikaal Zulfiqar and Neelam Muneer aired on Geo Kahani. She is currently seen in Hum TV serial Khoya Khoya Chand opposite Ahsan Khan, Maya Ali and Rishte Kuch Adhore se opposite Yumna Zaidi and Mehmood Aslam.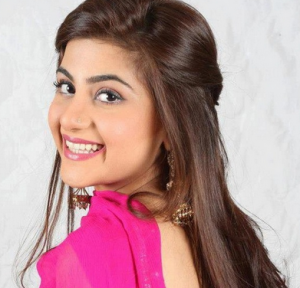 Sohai Ali Abro has been widely acknowledged by people for her acting in her drama Saat Pardon Main
Just recently when she was interviewed and asked about her the kinds of role she is interested to work in, she said:
"I had been getting very decent offers of acting since the past two years. The only reason I didn't do such dramas was that I wanted an interesting story along with a good role"
A young actor with so clear motives, she will definitely go a long way. She is very clear about the roles which she chooses. She knows where to work, where not to work, with whom to work & with whom not to work. These intelligent traits of her personality will help her out in getting better roles.
She is beautiful yet intelligent. She is poised yet careful. She is brilliant yet bubbly. And there are many other attributes of her personality which are admired by her followers/viewers. A poll was carried out on social media forum and it also highlighted that Sohai is one of the most successful faces of Pakistan drama industry.
It is not out-of-place to mention here that her latest fashion photoshoot got extremely popular. As a model, she has achieved great appreciation as well. Some critics said that she is not tall enough unlike veteran models to get herself fit in the fashion industry as a model but at the same time, her appreciators also say that she give enticing face expressions which trait overshadows her weaknesses. This is something very positive for her. She can flourish in both acting as well as in the modeling industry. But who will be the ultimate decider ? Lets keep that on the time ahead.
Also side by side, she is currently working on polishing her acting skills.Since she was a professional dancer in the earlier years of her professional career in the Pakistani Media Industry therefore she had to struggle on her acting skills when she entered the drama industry. Whether she played the role of a mother in "Tanhaye" or a young serious lady in her recent drama "Rishty Adhory se", she did exceptionally well in both of them as per the demands of the director. Even her critics have now become her appreciators.
All of us wish her a very best of luck and hope that things turn out spectacular for her in the coming future.
Don't forget to comment below, how did you find Sohai Ali Abro with her acting. If you have any suggestions for her you may drop in the comment box that as well
S. Rasool