Zubeda Tariq or Zubeda Aapa, is a household name. She belongs from a family where many of her brothers and sisters are quite famous in their respective fields, following their footsteps Aapa also chose a path and became as famous like her other siblings. Despite so much fame, Aapa is a humble person which is also evident from this interview. It is taken from Sunday magazine of daily dunya and done by Ms. Yasmeen Taha.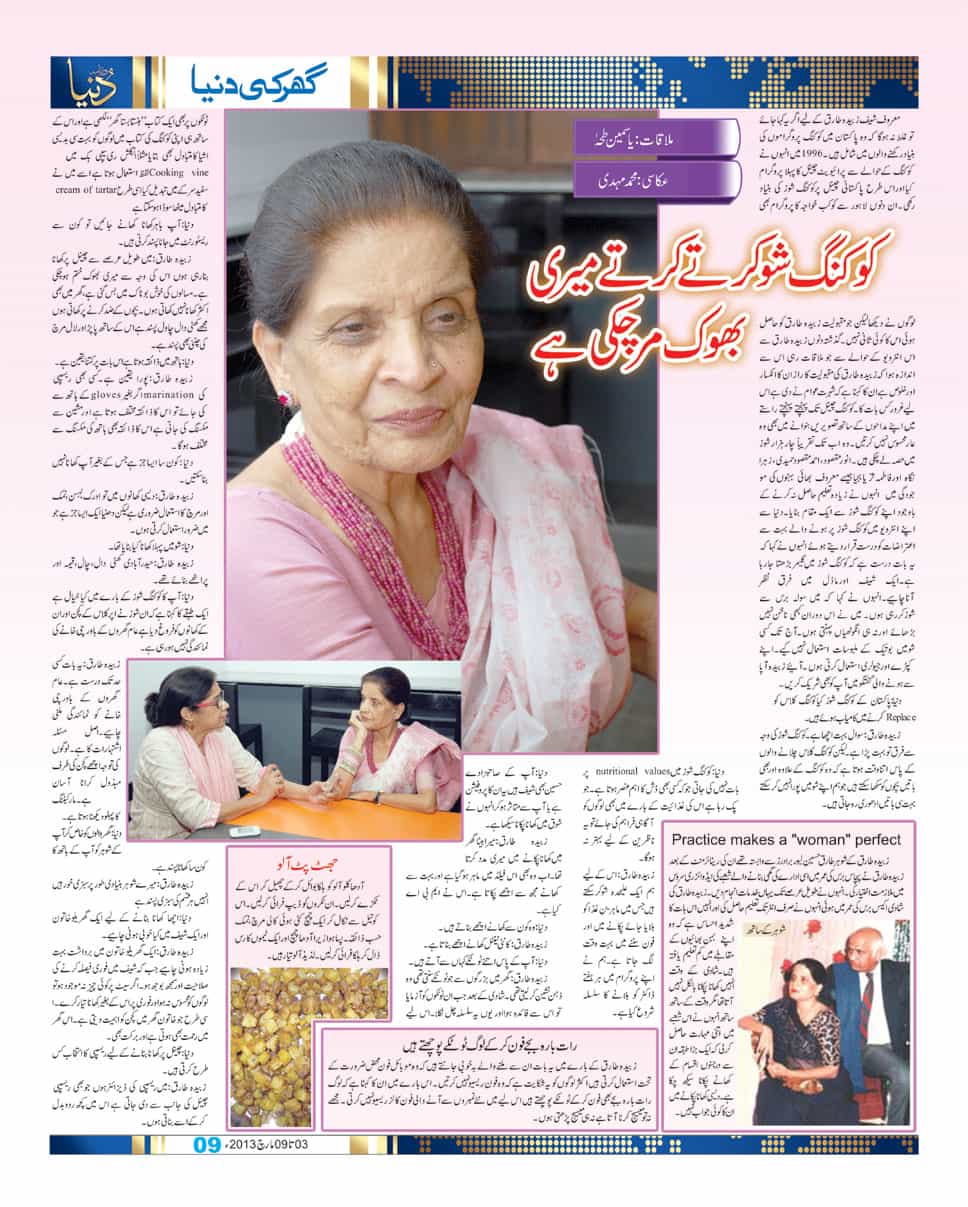 Content in roman urdu
Cooking shows kartay kartay meri bhook mar chuki hai
Maaroof chef zubeda tariq kay liye agar yeh kara jaaye to ghalat na ho ga kay who Pakistan mein cooking programonki bunyad rakhnay waalon mien shaamil hain. 1996 mein unhonnay cookig kay hawalay say private channel ka pehla program kiya aur issi tarah Pakistani channels per cooking shows ki bunad rakhi. Un dinonlahore say kokab khawajah ka prgrambhi logon nay dekha lekin jo maqbooliyat zubeda taariq ko haasil huwi us kaa koi saani nahin.
Guzishta dinon zubeda tariq say is interview kay hawaalay say jo mulaqat rahi us say andaaza huwa kay zubeda tariq ki maqbooliyat ka raaz unka inkisaar aur khaloos hai un ka kehna hai shohrat awam nay di hai isliye gharoor kis baat kaa, cooking channels tak phanchtay pohanchtay raastay mein apna mdahon kay saath tasveerain banwanay mein bhi who aar mehsoos nahin karteen. Who abtak taqreeban char hazaar shows mein hisa lay chuki hain. Anwar maqsood, ahmed maqsood hameedi, zohra nigah aur Fatima suraiya bajiya jesay maaroof bhayee behnon ki mojoodgi mein unhonn nay zyada taaleem haasil na karnay kay bawjood apnay cooking shows say apik muqaam banaya.
Dunya say apnay cooking shows per honay walay bohat say aitrazaat ko darust qarar detay huway unhonnay kaha kay yeh baat darust hai key cooking shows mein glamour barhta jaa raha hai aik chef aur model meinfarq nazar aana chahiye. Unhon nay kahankay mein sola baras say cooking shows kar rahi hoon. Meinnay iss doraan kabhi nakhun nahin barhaye ayr na hi angoothiyan pehanti hoon. Aaj tak kissi show mein boutique kay malboosat istimaal nahin kiye. Apnay kapray aur jewllery istimaal karti hoon. Aaye zubed aapa say honay waali guftugu mein aap ko bhi shareek kiya karain
Q: Pakistan kay cooking shows kiya cooking classes ko replace karnay mein kamyab ho gaye
ZQ: sawal bohat achha hai cooking shows ki wajah say farq to bohat para hai. Lekin cooking class chalanay waalon kay paas itna waqt hota hai kay who cooking kay ilaawa aur bhi batain bachon ko sikha saktay hain jo hum apnay shows meinpoora nahin kar saktay bohat si baatain adhoori reh jaati hain
Q: cooking shows mein nutritional values per baat nahin ki jaati j okay kissi bhi dish ka aham unsar hota hai . jo pak raha hai uski ghizayat kay baaray mein bhi logon ko aagahi farahm ki jaaye to yeh naazreen kay lye behtar na ho gaa
ZT: iskay liye hum aik alehda show kar saktay hain jis mein mahireen ghizza ko bulaya jaaye pakanay mein aur phone sun-nay mein bohat waqt lag jaata hai. Hum nay apnay program mein har haftay doctor ko bulanay ka silsila shru kiya
Q: aapkay sahibzaday hussain bhi chef hain yeh unka profession ja yaa aap say mutaasir ho kar unhon nay shoq mein khana pakana seekha hai
ZT: mera beta ghar mein khana pakanay mein meri madad karta tha. Ab who bhi is field mein maahir ho gaya hai aur bohat say khanay mujh say achhay pakata hai. Us nay mba kiya hai
Q: who konsay khanay achhay banatay hain
ZQ: continental khanay achhay banata hai
Q: aapkay paas itnay totkay kahan say aatay hain
ZT: ghar mein bazurgun say jo totkay sunti thi who zehan nasheen kar leti thi. Shaadi ka baad jab un totkon ko aazmaya to us say fayed huwa aur yoon yeh silsila chal nikla isliye totkon per aik kitaab hansta basta ghar likhi hai aur uskay saaath hi apni cooking ki kitaab mein logon ko bohat si bidesi ashya kaa mutbaadil  bhi bataya maslan English recipe book mein cooking vine lafaz isimaal hota hai ussay mein nay sufaid sirkay mein tabdeel kar diya issi tarah cream of tartar ka mutbaadil meeta soda ho sakta hai
Q: aap baahir khana khanay jayen to konsay resuarant jaana pasand karti hain
ZT: mein taweel arsa say channel per khana bana rahi hoon uski wajah say meri bhook khatam ho chuki hai. Masalon ki khushbu naak mein bas gayee hain. Ghar mein bhi aksar khana nahin khaati hoon. Bachon kay zid karnay per khaati hoon mujhay khatti daal chaawal pasand hain uskay saath papar aur laal mirch ki chatni pasand hai
Q: haath mein zayeqa hota hai iss baat per kitna yaqeen hai
ZT: poora yaqeen hai. Kissi bhi recipe ki marinating agar baghair gloves kay haath say ki jaye to uska zayqa mukhtalif hota hai aur machine say mixing ki jaati hai uska zayeqa bhi haath ki mixing say mukhtalif ho gaa
Q: kon say aisa juz hai jiskay baghair aap khana nahin bana sakti
ZT: desi khanon mein to adrak, lehsan , namak mirch ka istial zaroori hai lekin dhanya aik aisa juzz hai jo mein zaroor istimal karti hon
Q: show mein pehla khana kiya banaya tha
ZT: hyderabadi khatti daal, chaal, qeema aur parathay banaye thay
Q: aapka cooking shows kay baaray mein kiya khayal hai aik tabqay ka kehna hai kay in shows nay upper class kay kitchen aur unkay khanon ko farogh diya hai aam gharon kay bawarchi khanay ki numayendgi nahin ho rahi hai
ZT: yeh baat isi had tak darust hai. Aam gharon kay bawarchi khanay ko numayendgi milni chahiye. Asal masla ishtiharaat ka hai. Logon ki tawajah achhay kitchen ki taraf mabzool karana aasan hai marketing ka pehlu dekhhna hota hai
Q: ghar walon ko khaas kar aapkay shohar ko aapkay haath ka konsa khhana pasand hai
ZT: meray shohar bunyadi tor per sabzi khor hain unhain har qisam ki sabzi pasand hai
Q: achha khana banaya kay liye aik gharelo khatoon aur aik chef mein kiya khoobi honi chahiye
ZT:aik gharelo khatton mein bardasht bohat honi chahiye jabke chef mein fori faisla karnay ki silayehat aur samajh boojh ho . agar set per koi cheez na mojood ho to logon ko mehsoos na ho aur fori taur per uskay baghair khana tyaar karay issi tarah jo khatoon ghar mein kitchen ko ahmiyat deti hai us ghar mein rehmat bhi hoti hai aur barkat bhi
Q: channel per khana banany kay liye recipe ka intikhab kss tarah karti hai
ZT: mein recipe ki designer hoon job hi recipe channel ki jaanib say di jaat hai uss mein kucch rado badal kar kay ussay banati hoon
Practice makes a man perfect
Zubeda tariq kay shorar tariq hussain lever brothers say wabasta thay , unki retirement kay baad zubeda tariq nay pachaas baras ki umar mein usi kidaray ki ghee banana walay shobay ki advisory service mein mulazmat ikhtiyar ki. Unhon nay taveel arsay tak yahan khidmaat anjam deen. Zubed tariq ki shaadi ikees baras ki umar mein huwi unhonnay sirf inter tak taleem haasil ki aur unhain is baat ka shaded ehsas hai ky woh apnay behan bhaiyon kay muqablay mein kam taaleem yaafta hain . shadi kay waqt unhain khana pakana bilkul bhi nahin aata tha magar waqt kay saath saath unhonnay iss shobay mein itni maharat haasil kar li aik bara tabqa say darjanon iqsaam kay khanay pakana seekh chukka hai. Desi khana pakanay mein unka koi jawab nahin.
Rashid Nazir Ali