Iqra Aziz needs no introduction, anyone who watches Pakistani drama is fully acquainted with her. She is an actress and a  model who made her presence felt in a short span of time due to her overflowing confidence and great acting skills. She has been part of some of the biggest projects. Iqra Aziz is also known for her outspoken personality. Iqra Aziz wanted to be part of the entertainment industry from her teenage years. She managed to give an audition for a commercial with the help of her elder sister and was instantly picked up by Citrus Talent.
Iqra Aziz is also one of those few Pakistani actresses who got the right projects due to which they gained a great deal of popularity. There have been many times when Iqra Aziz was also under severe criticism due to her personal life. Even with all the criticism she faced, she stood strong.
[lwptoc]
Iqra Aziz Age
Iqra Aziz is 23 years old. Iqra Aziz's real age became a mystery when she posted her picture after she got the HUM Style Award. The comments under this picture about Iqra Aziz's real age stirred an unnecessary controversy that took the limelight away from her actual achievement. People started questioning what Iqra Aziz's real age was and there were many people who said that Iqra Aziz's real age was a mystery since she always lied about her age. People have been quite inquisitive about Iqra's real age since then, even more than her career or anything else she has done so far.
While talking to Momin Munshi on his show One Take, the first thing Iqra did was to clear this confusion once and for all. She made it quite clear that her real age was 20 years in 2018. Iqra Aziz also cleared the confusion about her birthday, she said that her birthday on Wikipedia was wrong and that her birthday was 24th November 1997. She said that on Wikipedia her birth year is 1993- 1994 which is absolutely wrong.

At the same time, she said that Iqra Aziz also said that she was not going to show anyone who doubted her, her NIC, or her passport because such people are not going to get convinced any way! Iqra said that people who are going to doubt her, will say that she paid someone to change the year on her NIC and passport in order to fool them, therefore she thought there was no point proving things to such people. She also said that the actors have a life, they don't have enough time to worry about these things since they don't matter.
Iqra Aziz Height
Iqra Aziz's age is not the only thing which has been the subject of discussion on public forum both by herself and others. Her height has been something that has also been talked about and even mocked by many. Iqra Aziz is only 4 feet 7 inches tall. Even though she does not fit the 'general criteria' set for a model and actress in our industry, she has managed to make it to the top.
Iqra Aziz talked about her height and how it impacted her throughout life after she won her first award. When Saba Qamar was going to give her the award she made a comment which was the reason why Iqra Aziz decided to talk about her height. A general comment which most people did not even notice, made Iqra talk about the mocking she had faced because of her short height. She also had a hidden message for Saba Qamar in this post.
Through this post, Iqra Aziz asked the girls to stay positive about their body image irrespective of certain 'shortcomings' which were against the beauty standards set by society.
Iqra Aziz Height In Feet
Iqra Aziz is 4 feet 7 inches tall.
Iqra Aziz Pic
When Iqra Aziz says that she is comfortable in her own skin, she truly means it! Iqra Aziz is often seen posting pictures of herself without any make-up. She is really comfortable in her own skin. Iqra Aziz has a beautiful complexion which she embraces with the utmost confidence. Iqra Aziz is also one of those few celebrities who do not whitewash their faces with lighter shades of foundation to look fairer. Iqra Aziz gained a lot of popularity after two of her dramas were extremely popular among the masses.
Yasir Hussain in a post told his fans and followers that he was really proud of his fiancé Iqra who had refused to endorse a whitening cream brand. Even though this brand was more than willing to pay Iqra a hefty amount for the job but Iqra Aziz did not want to be part of any campaign which adds to the gora complex in society. Yasir Hussein said that this was a bold step in the right direction. Iqra Aziz was praised by people on social media for her decision.
Here is a beautiful pic of Iqra Aziz which signifies just how comfortable she is in her own skin.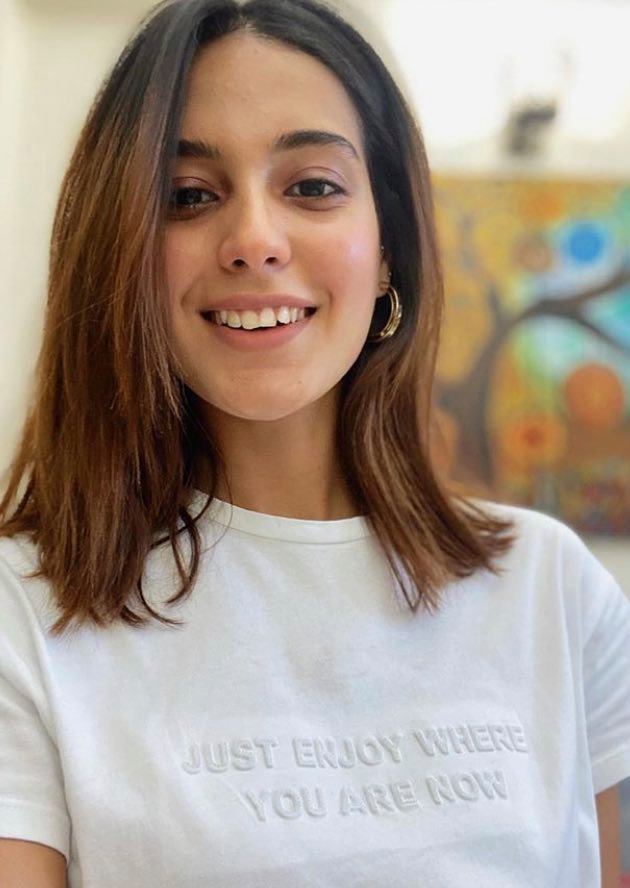 Iqra Aziz Family
Iqra Aziz was born in Karachi and she has lived in the Saddar area of Karachi all her life. Her family has been living in the house which even now is their abode for more than 30 years now. Iqra Aziz was born and brought up in a joint family. Iqra Aziz does not come from an affluent background and neither does she belong to a family that had many highly educated individuals. She has one sister who is 6 years older than her. Iqra Aziz's father passed away when she was only 12 years old and since then her mother has brought her sister and Iqra up all on her own.
Iqra Aziz has been quite upfront about her upbringing and her background. She is actually proud of the fact that even with this background she managed to make it big in the industry. Iqra Aziz shares a special bond with her mother and sister, without their support, she couldn't have come this far.
Iqra Aziz is married to Yasir Hussain, who is an actor, host, and scriptwriter.
Iqra Aziz Parents
Iqra Aziz's father's name is Abdul Aziz. Iqra saw her father for the first time when she was 3 years old since he used to work in Saudi Arabia and he couldn't come when she was born. Iqra Aziz always thought as a child that her mother, sister, taya, taye, and cousins were the only family she had. Iqra Aziz met her father late and got to spend only a few years of her life with him because he died of a heart attack when she was only 12 years old. Iqra Aziz's father started a business after coming back from Saudi Arabia. He was a really busy man, therefore, her mother was the one looking after them and the house most of the time.
Iqra Aziz and her sister have never shared a picture of their father but Iqra Aziz says that they shared a special bond with him. Iqra Aziz also shared in an interview that her father used to hit her every morning when she was being too naughty. She revealed in an interview that every day before leaving for the office he used to slap her because she used to an annoying kid.
Iqra Aziz's mother's name is Aasiya Aziz. She was the first female Careem driver. She raised her daughters by herself after their father passed away. Iqra Aziz has said in several interviews that her mother was a self-made independent woman, a fact she takes pride in. Iqra Aziz's mother has always supported her daughters in every way so that they can be the best versions of themselves.
Iqra Aziz Mother
Iqra Aziz mother is Aasiya Aziz. Iqra Aziz's mother was not really happy to know that she had given birth to a girl when Iqra was born. This was her second child after 6 years of having the first one therefore she wanted that it should be a son since she already had a daughter. Their bond however grew stronger with time and now Iqra Aziz is closer to her mother than her sister is to her.
Iqra Aziz's mother did not have a proper degree therefore she couldn't do work in offices etc. She decided she would learn to work in a parlor and that is how her journey started. She worked day and night for 2-3 years and after that she started work as a female cab driver, which was a first for the female population in the country. Iqra Aziz's mother made sure that her daughters get the best education.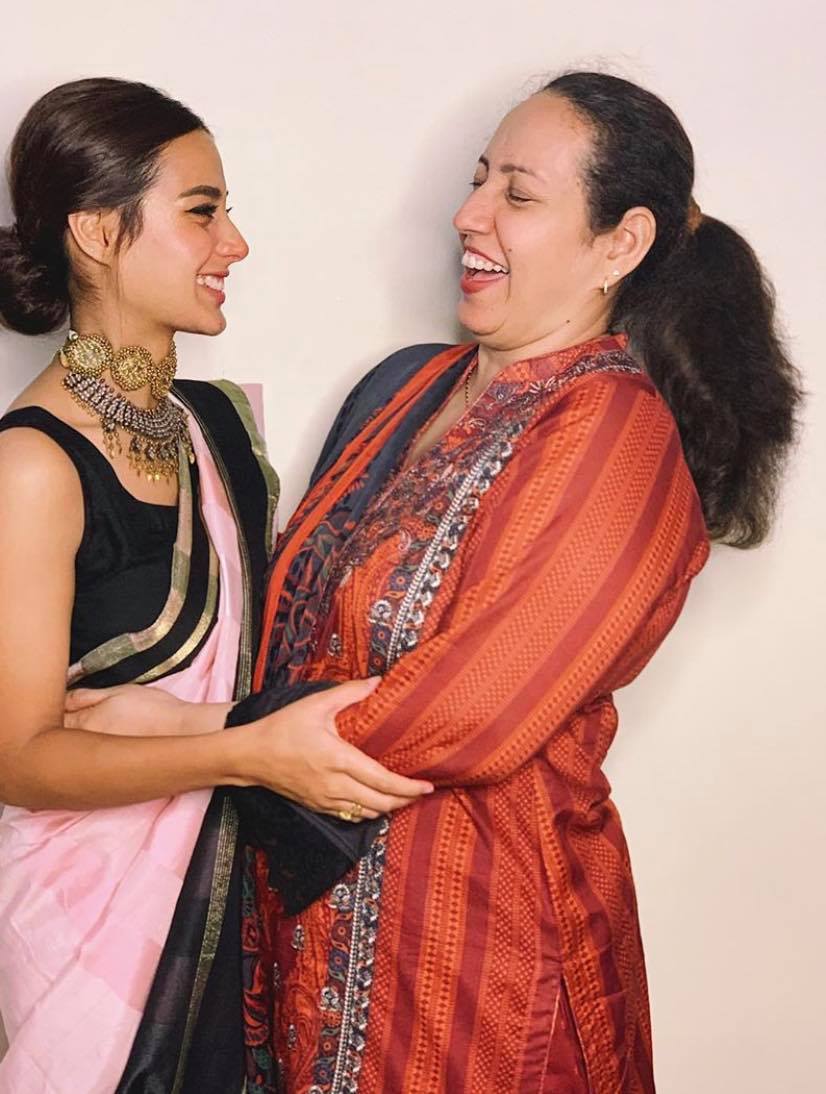 Iqra Aziz Sister
Iqra Aziz has one older sister named Sidra Aziz. She has lived in Malaysia for a really long time all on her own which made her more practical and smart in worldly ways. Sidra Aziz is doing her Masters from a German University. In 2017 she went through a bad break up and it took her an entire year to get her life back together.
Sidra Aziz is also a blogger who blogs with the name namkeenjalebi. She also runs a 'metooheal' program that follows the spirit of the #MeToo movement. Sidra Aziz along with another friend runs this program and has promised to keep the stories of the women who reach out to them for help private. Sometimes they share some stories without revealing the personal details of the individuals whose stories these are in order to inspire other women to come out of their ordeal or to help these victims heal by sharing their bad times with others.
Sidra Aziz is an outspoken woman who keeps on sharing her views openly on her blogs and even her Instagram posts. She admits that living without her mother and sister has not been easy but her job is such that she is constantly away from them. In an interview, Iqra Aziz also shared that living alone away from family has not been easy for her sister but it is definitely something that has given Sidra more confidence and helped shape up her strong personality.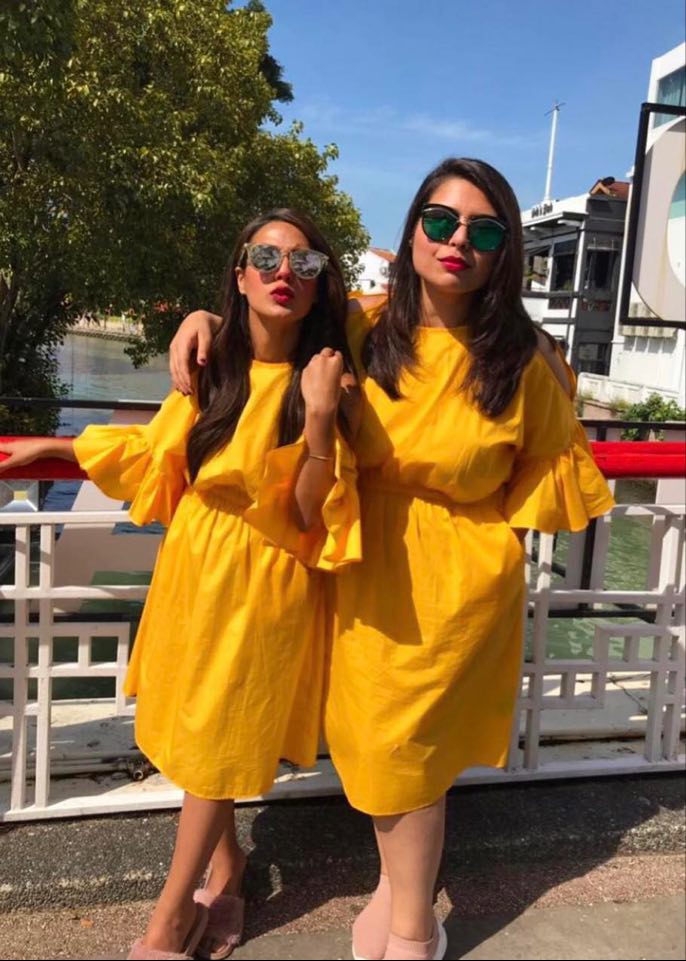 Iqra Aziz Wedding
Iqra Aziz got married on 28 December 2019 to Yasir Hussain. Iqra and Yasir's nikkah happened a few hours before the Barat ceremony started. Iqra Aziz and Yasir Hussain's Barat ceremony was a traditional affair. The entire set up and the looks of the bride and groom were traditional.
This barat ceremony was a star-studded affair. All the celebrities Iqra and Yasir are good friends with came to give the happy couple their blessings. Makeup artist Waqar Hussain gave Iqra a make-up look that looked great on her. Yasir Hussain And Iqra Aziz look perfect together, truly a match made in heaven. Iqra and Yasir decided to have a daytime wedding. Everything from the decor to the makeovers of the couple looked flawless.
Ever since Iqra and Yasir got engaged, everyone wanted to know when they were getting married. They spent a lot of time with each other before they got married, they even went on vacation together because of which they had to face a lot of criticism too. After they got married they continued to enjoy their lives together in the same candid manner they did before.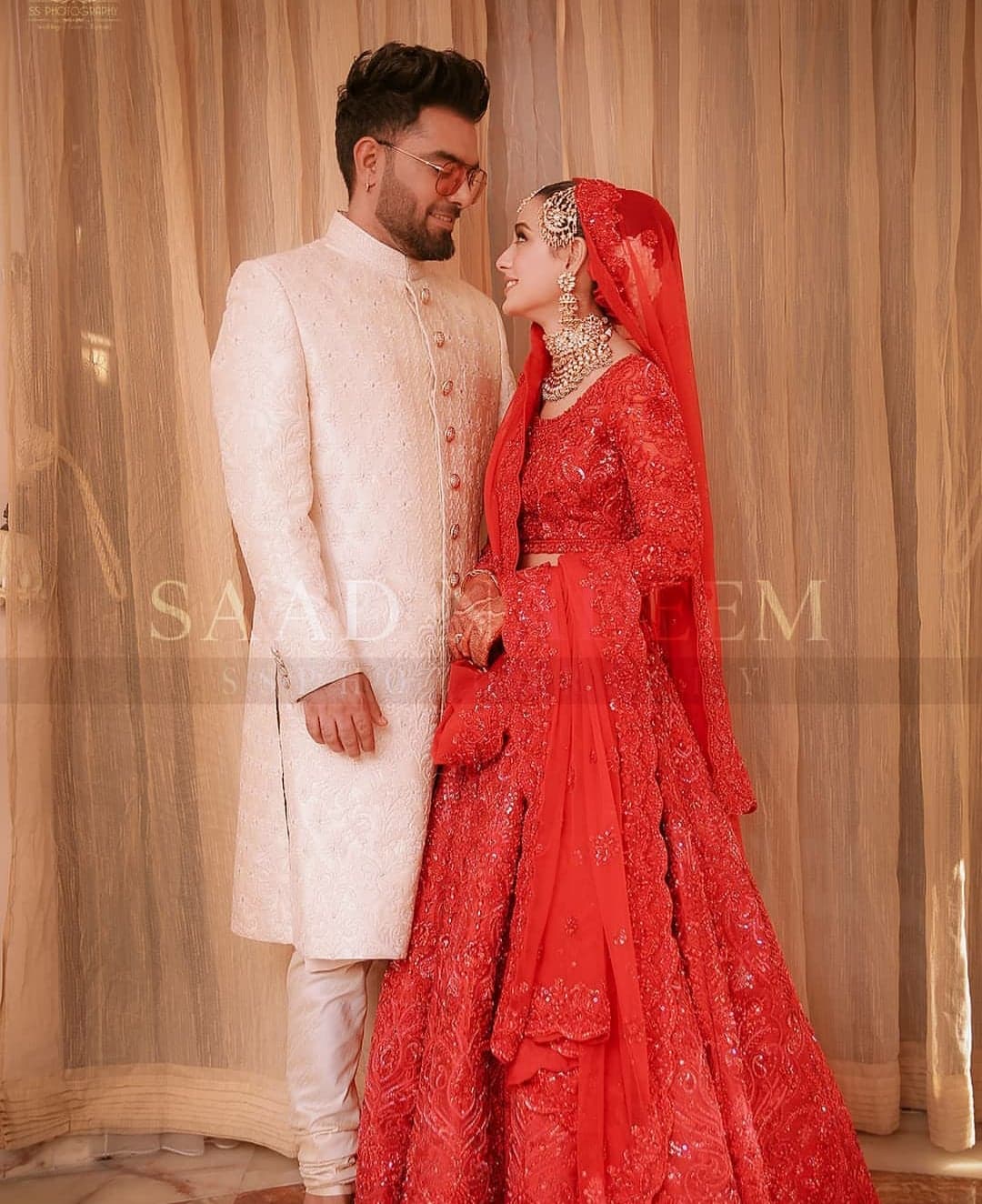 Iqra Aziz Wedding Dress
Iqra wore a beautiful red dress that was heavily embroidered. Iqra Aziz's dress was designed by Nomi Ansari who is known for his classy cuts and intricate embroidery. Many people thought that Iqra Aziz's entire look was inspired by that of Priyanka Chopra's look at her wedding. There were however many people who thought that Iqra looked like the perfect traditional bride in this beautiful red attire.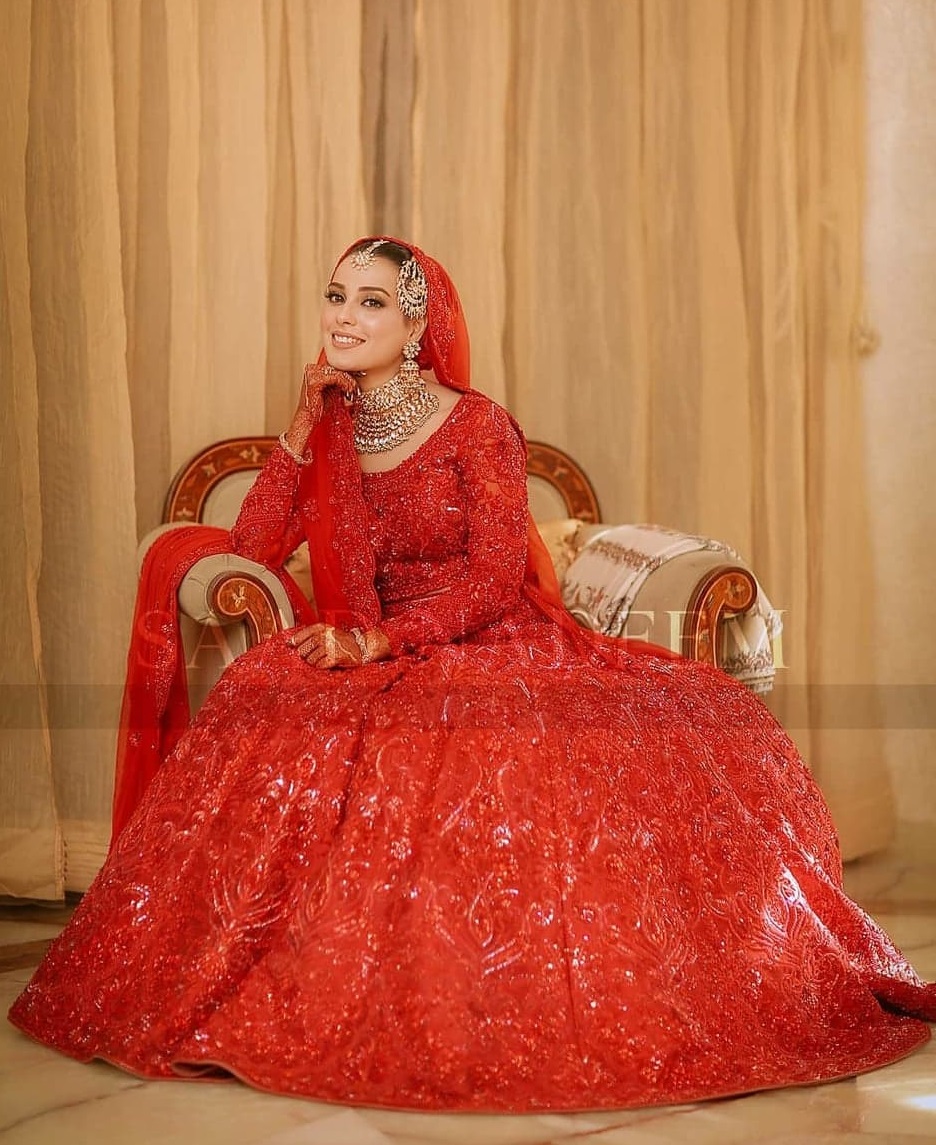 Iqra Aziz Walima
Iqra Aziz Walima was a day after her Barat function on 30 December 2019. This was the last function of a wedding which many people had been waiting for. Both the bride and groom looked stunning in pastel colors. This look was perfect for the Walima function. Many top celebrities were present on the occasion.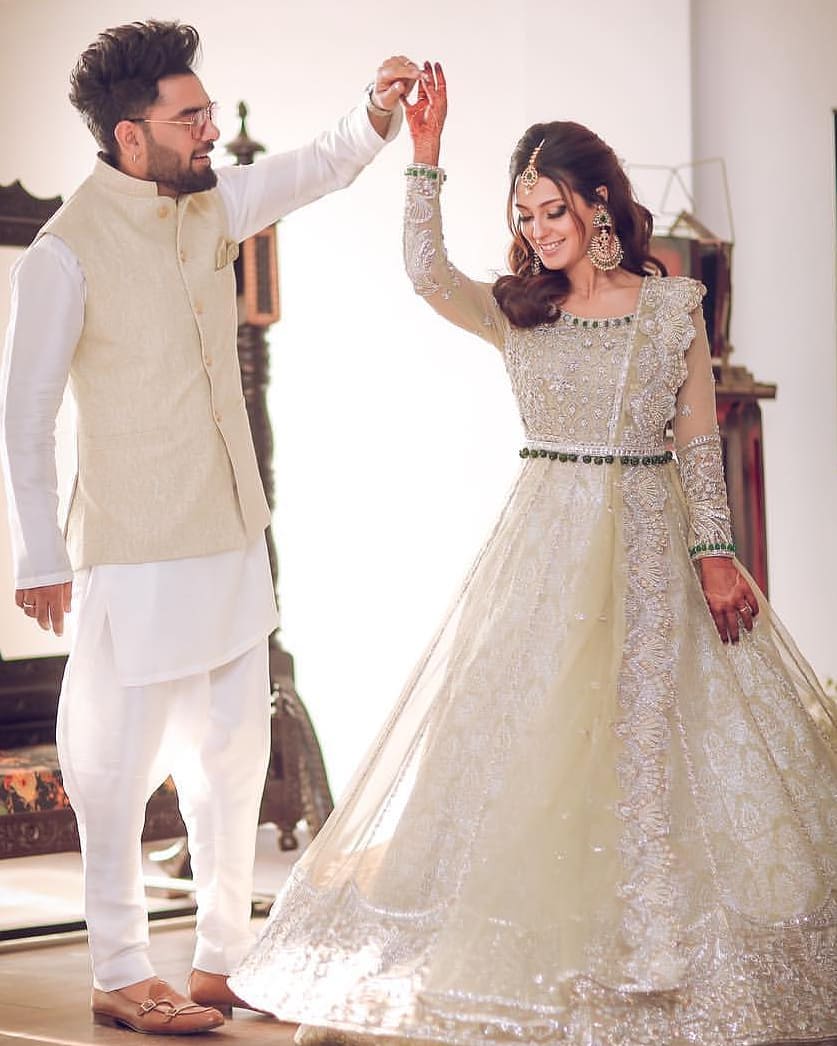 Iqra Aziz Husband
Iqra Aziz husband Yasir Hussain has been part of the entertainment industry for a long time. Just like Iqra, he also does not hold back when he has to share his views about different things. He is usually in the news for all the wrong reasons because most often while sharing his views, he goes overboard. Recently, he talked against the Turkish dramas being aired on Pakistani television and most people did not agree with him.
Iqra Aziz Yasir Hussain
Iqra Aziz and Yasir Hussain were really good friends before they got married. They met for the first time at an award function and they met the second time after a year at another award function. Once they got to know each other, they instantly became friends. Iqra and Yasir were good friends long before they decided to be more than that.
In an interview, Iqra Aziz shared that she really likes Yasir's candid and kind-hearted nature. Yasir loves the fact that Iqra gives everyone so much respect.
Iqra Aziz Twitter
Iqra Aziz used to be quite active on Twitter, sadly she also got bullied a lot on social media. In August after being sick of the constant cyberbullying, Iqra Aziz deactivated her Twitter account.  A month prior to that she posted on Instagram, It takes a few words to humiliate someone to the core, few words to fat shame someone, few words to thrust down their throat that they aren't good enough for the world, few words to spread negativity and insecurities."
She also wrote, "These are the most used apps, this is social media, it has so much POWER of its own and that means you have the power to make someone's day or make them forcefully admit by bullying them that it wouldn't make a difference if they weren't around."
Iqra Aziz also thinks that cyberbullying adds to the depression which many people face nowadays.
Iqra Aziz Instagram
Iqra Aziz has more than 5 million followers on Instagram. Before she got married she turned the comments section off on her Instagram page because she was constantly getting hate and being bullied. In an interview, she shared that it is understandable that some people will appreciate you and others will criticize you.

Iqra Aziz Dramas
Kissey Apna Kahein – 2014
Muqaddas – 2015
Ishq Mein Aisa Bhi Haal Hona Hai – 2015
Mol – 2015
Kisay Chahoon – 2016
Socha Na Tha – 2016
Deewana – 2016
Laaj – 2016
Choti Si Zindagi – 2016
Naatak – 2016
Ajnabi – 2016
Suno Chanda – 2018
Tabeer – 2018
Ranjha Ranjha Kardi – 2019
Suno Chanda 2 – 2019
Jhooti- 2020
Raqeeb Se – 2021
Iqra Aziz Suno Chanda 
Iqra Aziz played the leading role in the Ramazan special serial Suno Chanda. It was a comedy-drama which immediately got a lot of love and appreciation from the viewers. It was so popular that there was a sequel aired the next year.
Suno Chanda definitely added to Iqra Aziz's popularity. Her on-screen chemistry with Farhan Saeed was another reason why people loved the show.
Iqra Aziz Dresses
Iqra Aziz's style was more casual when she was not married. Ever since she got married, she wore some of the most beautiful formal outfits. Most of the time, her style is still as casual as it was before but for events, Iqra Aziz has been seen in stunning looks. Her make-up is always on point and her styling never ceases to impress.