This was another important and entertaining episode of Ishq-e-Laa. A few weeks back, I couldn't t have imagined being so involved in this drama. Gradually the characters are shaping up and some of the characters which we had a difficult time even liking, in the beginning, are turning out to be the most pivotal and interesting ones. Azlan definitely tops the list for me as a sensible young man who has so many pleasant surprises in store for the viewers. When the drama started his first impression was entirely different. These changes also make me wonder why he was introduced as a shallow spoiled brat!
I always felt that the drama might be about his transformation journey but as is evident, he has already changed a lot. This latest episode was also thrilling. It has been somewhat obvious that something terrible might happen to Shanaya or perhaps Azlan – it remains to be seen who the victim will be. Or does the writer have a surprise in store? If the story continues to move forward with this pace, I am certain we will find out soon! It won't be wrong to say that Shanaya and Azlan's marriage has turned out to be a real game-changer! The story has become interesting and enticing ever since these two tied the knot.
Drastic Changes
Things changed drastically in this episode as well when Kanwal decided to take the case back in order to save her daughter. Unfortunately, this particular development in the story hit home since very often we have witnessed high-profile cases involving the rich and influential being closed for such reasons in real life as well. Even when the loved ones of the victims are determined to get the perpetrators punished they are pushed to a point where they have to take such decisions. This entire development was covered well from Kanwal and other family members' perspectives. It remains to be seen if Azka made the right decision when she informed Shanaya about the kidnapping. I felt that the recklessness with which the child was handled while in custody by the kidnappers did not go well with the intention behind the kidnapping! They needed this girl to be well and alive but clearly, no one was trying hard enough to ensure that she was handed over to her family safe and sound.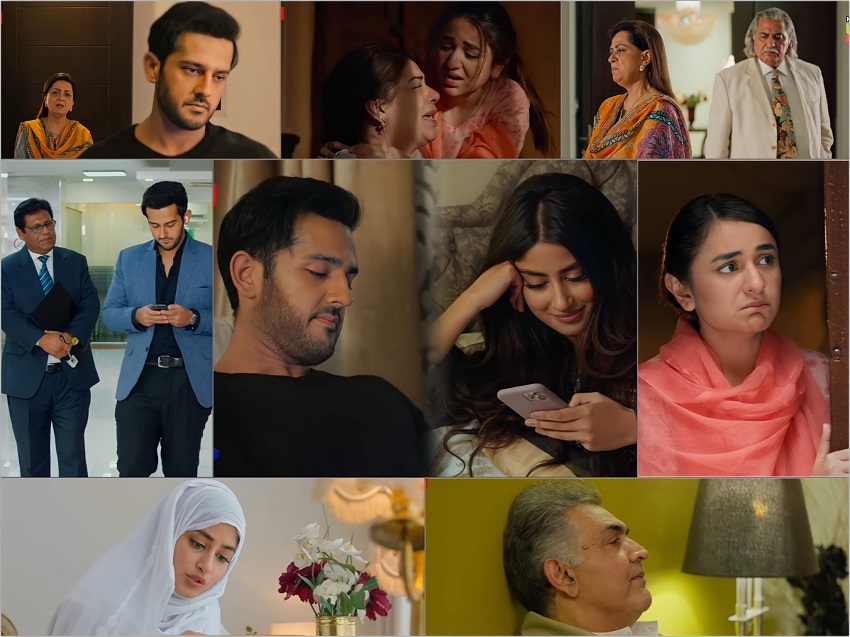 Shanaya's bravery was always her biggest strength as well as a weakness. More than once we saw her getting herself involved in situations that were extremely alarming. Many of us rightfully questioned these scenarios as well. After watching the preview, I am certain that these scenarios were shown in such a way for a good reason. This time around as well she will probably try to get a case filed against those responsible and she will get into even more trouble than she had ever imagined she would. Shanaya never asks for help but in the preview of the upcoming episode, she was shown asking for help desperately.
The best part of this episode had to be the way the relationship between Shanaya and Azlan was shown on screen. Their conversations were penned down beautifully and both the actors involved played their roles so well. It was especially refreshing watching Azlan questioning his egoistic attitude – I did not see that coming at all! He was also more than willing to extend his unconditional support to his wife, which was another pleasant surprise. He is more willing to listen to what his mother has to say as well. Azlan's mother is another refreshing element of the drama. For a change, she is more vocal which has definitely made a huge difference.
Final Remarks
Tonight's episode was well put together as a whole. The writer deserves special credit for showing the conversation about pregnancy between Shanaya and her mother in the most 'normal' way possible! Instead of jumping to conclusions or jumping with joy Shanaya's mother suggested that she should get the test done! Most often such news is confirmed by the mother herself when her daughter feels nauseous after marriage in Pakistani dramas! Such minor things make a huge difference and make it easier for the viewers to connect to the characters. However, the entire kidnapping scenario was shown rather recklessly! The conversations between Azlan and Shanaya were undoubtedly the highlight of this episode. Their relationship looks 'very real' on screen and their love for each other is extremely heartwarming. Also, although I absolutely love the changes in Azlan's behavior, sometimes these changes are a little difficult to relate to. Can marrying the right person changes a person so much? Overall, tonight's episode had a lot going for it. It was thrilling and fast-paced. I am eagerly looking forward to the next episode.
Did you watch this latest episode of Ishq-e-Laa? Do share your thoughts about it.