Tonight's episode of Ishq e Laa showed a major shift in Azlaan's character which was definitely debatable. The spiritual element of the drama is also reinforced in every episode. I must say that although I look forward to watching Ishq e Laa, the characterizations are not impressive enough. Even though the story moves forward with every episode, there are certain scenes that are often more or less the same. Also, the side tracks are not interesting enough. So far, Kanwal and Abid's track has to be my least favorite. Tonight's episode laid the foundations for some of the most important developments in the upcoming episode.
Important Developments
This episode opened with Azka's brother Sultan selling his bike and later on the viewers were shown how Kanwal continued to have issues with Azka and her mother. I hope there is a good reason why these scenes are being shown in such detail! The dynamics in Azka's house have been pretty much the same since the beginning, there is little to 'explore' there. I am glad Azka is finally over that incident with Azlaan. She is the kind of girl who can stand up for herself and will not allow anyone to humiliate her in any way. The scene we watched tonight, yet again, showed just that. Her character or her track, does not give you a lot to talk about though. Perhaps because the dialogues and situations are not impactful enough. In fact, her mother stands out more than any other character in that family. She is a wise and level-headed woman who always gives her bahu the benefit of the doubt even though she does not deserve it. I must say that Seemi Raheal always makes her scenes a treat to watch and I do feel that even some of the best actors in this drama do not appear as 'natural' on screen as they often do.
The most important development in this episode had to be Azlaan's change of mind mainly because of his mother! I am tired of watching these seemingly well-educated and open-minded mothers forcing their sons to marry girls they wish to see as bahus without thinking about the consequences. Even though Azlaan went out of his way to make Shanaya say yes to the marriage proposal, I do feel that he made this decision only because he did not want to take a chance! When his mother made him realize that Shanaya might not be a friend to him anymore and would certainly not be as available as she was right now, he decided to propose to her. This was his way of making sure that Shanaya was always there with him, for him. This entire situation was actually interesting because unexpectedly Azlaan was more than honest with Shanaya. He told her the actual reason why he was proposing and he was willing to go ahead with discovering Shanaya's world with her. Shanaya's response also came as a pleasant surprise even though it was quite apparent that she desperately wanted to get married to Azlaan but she did not say yes instantly. She also wanted to understand his reasons. Therefore, all of this made this proposal unlike any other. I must say that I felt for Fahad since he came across as such a likable person. These two also looked good together. Just like the mothers in the drama, I found myself rooting for them.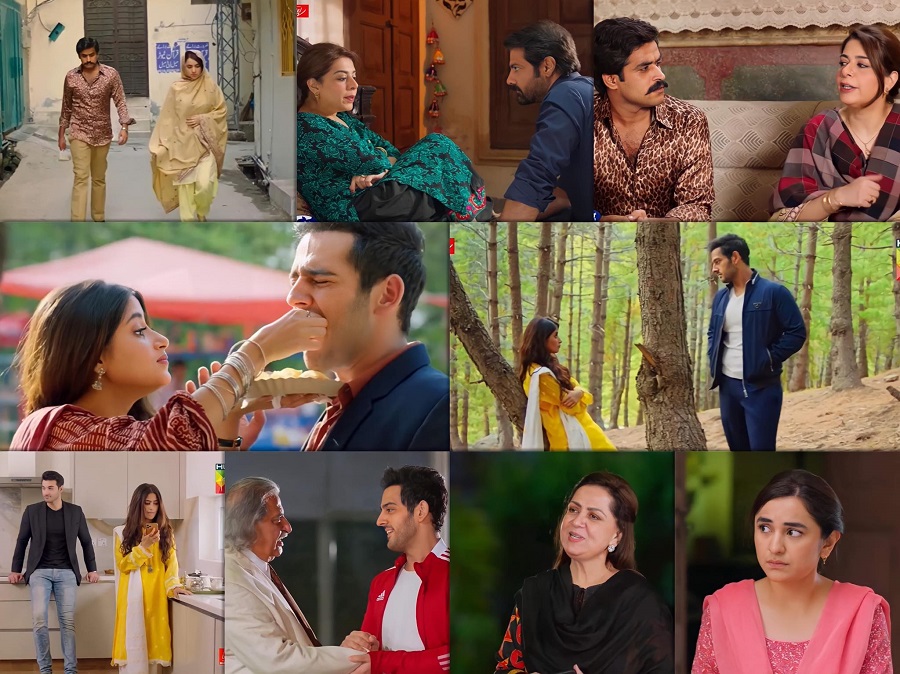 Although Shanaya's mother has always been supportive of her, tonight she proved that she was a really 'cool' mother who cared only for Shanaya's happiness. She was more than okay with Shanaya rejecting Fahad's proposal and was genuinely happy for her daughter. Even with all his problematic personality traits, Azlaan definitely does want Shanaya in his life and tonight Shanaya also proved that she is not going to be a doormat. Azlaan's conversation with his mother showed that he was still confused and scared. His feelings were easy to connect to and I am also waiting to see how their relationship goes forward. The scene at the gol gappa stand was cute! For a second I forgot just how controlling Azlaan was and that this wasn't the best decision for Shanaya because she deserves better!
The scene at the shrine, I am certain, is going to be one of those scenes which will perhaps come to haunt Azlaan in particular. Right now, he does not take any of what he heard or saw seriously but something tells me that he might end up being another Farhad from Khuda Aur Mohabbat, as the story progresses but I hope that this journey will be covered more convincingly. Even though Shanaya and Azlaan are all set to get married, I am still wondering if they will actually be getting married in the upcoming episode.
Final Remarks
I enjoyed watching Azlaan and Shanaya's scenes tonight, more than any other. The conversations were well written and executed. The preview of the next episode suggested that there will be two weddings next week. Kanwal will do the unthinkable to get Azka married to Abid. Will Shanaya and Azlaan get married next week? I am waiting to find out.
Did you watch tonight's episode of Ishq e Laa? Do share your thoughts about it.