These episodes of Ishq-e-Laa were entertaining and visually pleasing. The major tracks in the story changed considerably in more ways than one. Even though some of these changes were a little too extreme and sudden, it was definitely refreshing watching Azlaan and Kanwal changing to a great extent. The performances were on point and except for the unnecessary physical closeness between the main leads; their scenes were an absolute delight to watch. Azaan Sami Khan and Sajal Aly's on-screen chemistry reminded me of Mawra Hocane and Ameer Gillani in Sabaat. It is always good to see new pairings in dramas. I missed Shanaya's mother in these episodes, apart from that this track was covered flawlessly! These two episodes were shot beautifully with Shanaya and Azlaan stealing the limelight effortlessly. The spiritual element of the script was yet again reinforced in the previous episode through the 'miracle' that saved Azka and a happy start to Shanaya's married life. The dialogues have been somewhat simple right from the start, which sometimes takes away the impact of some of the scenes; however, Ishq e Laa continues to be intriguing in its own way. I do find myself wondering where these tracks are headed and the direction of the drama in particular never disappoints.
Regrets & Changed Behavior
Azka's track took a major turn for the better with Kanwal realizing how wrong she was and as a result, she mended her ways altogether. Her daughters' accident came as a reality check; it was easy to connect to her changed behavior because she was clearly responsible for whatever happened to Aliha. The fact that she immediately asked for forgiveness also changed her daughter's condition. This was another way of showing that changed behavior and forgiveness can also change the course of destiny. She had always taken Azka and her mother for granted but after everything that happened, she started valuing them more than ever. It was also good to see her taking a stand for Azka. This entire track in these two episodes was emotional and had a refreshing element to it.
There was no change in Abid's character; he is turning out to be a dark and evil person. He continued to be stubborn but this time around he did not have his aapi's support. Kanwal was always shown as a fearless woman; she used her strength to help Azka and her mother when it was needed the most. Now, for a change, I am waiting to see more of Kanwal and want to find out where this track is leading. This entire track just like the other one had so many positive changes in it. The life this family is living right now can easily be termed as perfect. Azka also has the support of her brother to pursue her dreams. It remains to be seen when Azka and Azlaan's paths cross once again.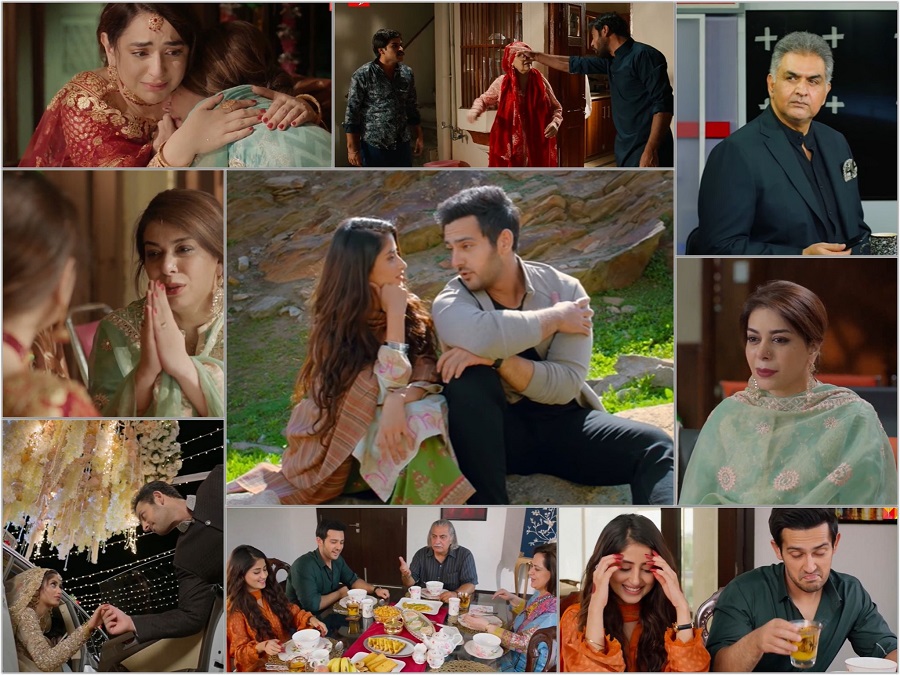 Azlaan & Shanaya
The way Azlaan and Shanaya's track was taken forward was just as much of a pleasant surprise as that of Azka's. Azlaan really did need Shanaya in his life after all and he never realized what she meant to him. His romantic side also came as a complete surprise. In the previous episode, in particular, he was more than willing to accept even those choices made by Shanaya which were not in line with his own personality. Who would have thought that someone like Azlaan would have such a compromising and loving side to his personality! Sajal Aly and Azaan Sami Khan did a remarkable job of convincing the viewers that these two were meant for each other. Their scenes were translated on screen beautifully. Azlaan's character always kept me wondering therefore seeing this side of his personality was believable; it was almost as if we did not know him well enough so far. He is not as strong spiritually as Shanaya is and he is definitely more demanding as well but overall he turned out to be a 'better' life partner than one would have imagined. However, the fact that his controlling nature continues to be a dominant personality trait is a big red flag.
Watching Shanaya spend so much time at Azka's home even with her tight schedule went to show where her priorities lied. It was also good to see this meeting between Shanaya and Azka was a pleasant one. The personality clashes were slightly more visible in tonight's episode. Professor Rehman made an 'off-screen' appearance tonight. I must say that adding his character was such a nice way of interpreting different turns in the lives of the main leads in a completely different manner. He is always the voice of reason but even someone like Shanaya finds it difficult to follow whatever he has to teach. It won't be wrong to say that sometimes Shanaya's actions are also dictated by her ego. After watching the previous episode, I felt as if Shanaya might not be around for too long but after watching this episode it seems as if the personality clashes might in some way create big issues between Azlaan and Shanaya. As I said, it is really difficult to predict what turn these tracks will take which makes this drama one which I look forward to watching.
Final Remarks
The director of photography captured the beautiful scenic views of Pakistan in an impressive manner in this episode. I absolutely loved the way Shanaya and Azlaan's honeymoon was covered – romantic, adventurous, fun, and 'real'! These two episodes were some of the best we have watched so far, I feel that the story has finally taken off. Arbab Haroon's track, it seems, will change Shanaya and Azlaan's happy marriage into a rocky one. The background score was also used intelligently; Azaan Sami Khan is blessed with a soulful voice which makes this background music a great addition to the drama. There are some clear and imminent dangers faced by both Azka and Shanaya, I am waiting to find out where the story goes from here.
Did you watch these recent episodes of Ishq-e-Laa? Do share your thoughts about it.