Director: Danish Nawaz
Writer: Misbah Nosheen
Cast: Junaid Khan, Aiman Khan, Faizan Khawaja, Kinza Hashmi, Saba Faisal and Furqan Qureshi.
Ishq Tamasha is directed by Danish Nawaz which attracted me to give it a try in the first place. His Sunn Yaara was very good and Ishq Tamasha has also started well. Ishq Tamasha is the story of two couples. The leading ladies belong to a middle-class family. Mirha (Aiman Khan) is an orphan and she lives with her Chachi who is Rushna's (Kinza Hashmi) mother. Rushna is a happy go lucky spirit. She seems a bit greedy and judgmental as well. She lies a lot too. All she cares about are good clothes, good food and anything with a tag of expensive. Mirha, on the other hand, is the hated orphan who has to do all chores and getting blamed for every wrong thing is also one of her many duties. Chachi hates her because her only abroad wala beta Wahaj wants to marry Mirha.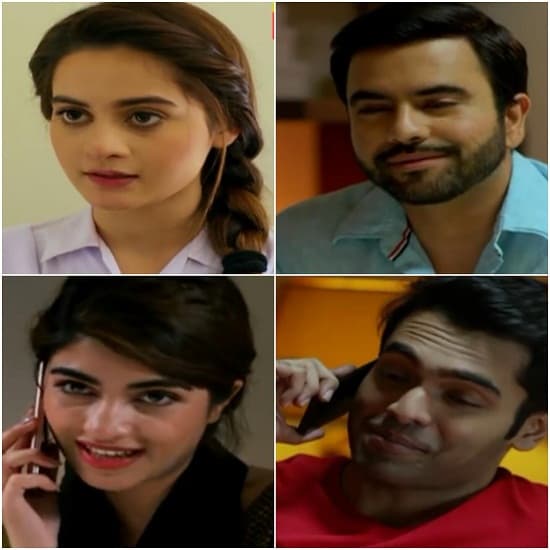 The other family is in total contrast to Mirha and Rushna's. Arham (Faizan Khawaja) and Mehrab (Junaid Khan) belong to a very rich family. Mehrab handles all the business while Arham only spends money on stupid things and getting the girl.
With four episodes down, the paths have crossed of the above four. Arham has fallen in love with Rushna at first sight. He is ending him ridiculously expensive gifts and is making Mehrab pay for them. Rushna is being her greedy self and when her mother gets to know about anything, she always easily blames it on Mirha thus making life more miserable for her. Mirha is shown as more of a realistic and less of a bechari. She knows there is no one to help her and therefore always tries to avoid problems. But Rushna is there to make her life hell which she is stupidly allowing. She met Mehrab two times and both very dramatically but from the last episode, it seems like Mehrab mistook Mirha for the girl Arham wants to marry.
One thing which I am kind of disliking up till now are the CHEESY phone conversations between Arham and Rushna. They are a bit much to tolerate but the overall story is good. Ishq Tamasha is off to a good start with nice characterization and a good pace. The story is edited well too with not many extra scenes. With a good start let's see how Ishq Tamasha moves forward and hope it does not become an extra stretchable chewing gum!
Are you guys watching Ishq Tamasha? What are your thoughts?