Introductory Details:
Ohkay so, writing of Hashim Nadeem, direction of Farooq Rind & production of Moomal Productions; one of the most highly anticipated drama Ishq Zahe Naseeb has finally commenced & the first episode was simple & introduced the characters in a very effortless manner. After watching the first episode of Ishq Zahe Naseeb, I am glad that they started off on a very simple & straight forward note because we all know that it deals with a very complex subject & character, so I liked this approach of the writer as well as director where they are taking it slow & not just giving too much away in the initial stages.
Cast & Characters:
So we have Gauhar (Sonya Hussyn), a hopeless romantic who lives in a bubble, just like every random girl belonging to a humble family background. Gauhar does not have any big dreams as such but yes, she just wants to get married to Kashif (Sami Khan) & lead a happy life. Gauhar's plans are simple & sweet but she definitely has no idea what life has in store for her. Gauhar believes in horoscopes, palm reading, fortune telling & all those things that help her live in a bubble of her own & deviate her focus from the actual & bitter world that she is a part of. Kashif doesn't take her obsession with all of this seriously but yes, he just accepts Gauhar the way she is; silly & sweet. We didn't get much insight into Kashif's character but for starters, it was shown that he loves Gauhar a lot & can not imagine his life without her.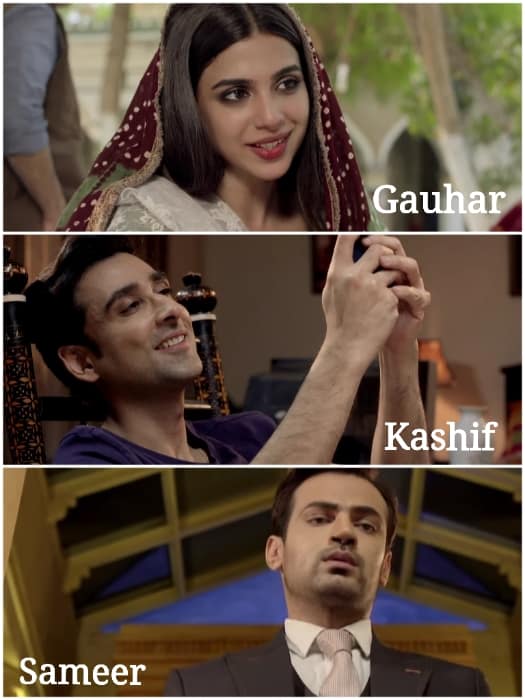 Gauhar has not let her surroundings & her family dynamics affect her personality, but that doesn't mean she is not considerate or aware of what happens around her. Gauhar's father is unwell, her brother Saleem & sister Bushra (Jinaan Hussain) support the family. Bushra is practical & straight forward, she is someone who believes in finding solutions to the problems that she & her family are faced with. Bushra wants to help her family but because her fiancé doesn't want her to continue with her job, she finds herself in a bit of a fix. Bushra wants to do everything to make her marriage work but she also wants to help her family. I liked how just a few basic conversations were used to show the mindsets & personalities of all the characters in the drama. Saleem also does a lot for his family but then his wife Zakia has her own goals & she makes sure that her husband obliges.
Gauhar's paternal cousin Jahangir (Khalid Malik) seems to be an intense & interesting character. He has a different personality & he obviously wants to get married to Gauhar. It seems Jahangir's father Qayyum is a low-scale loan shark & even Gauhar's father is indebted to him.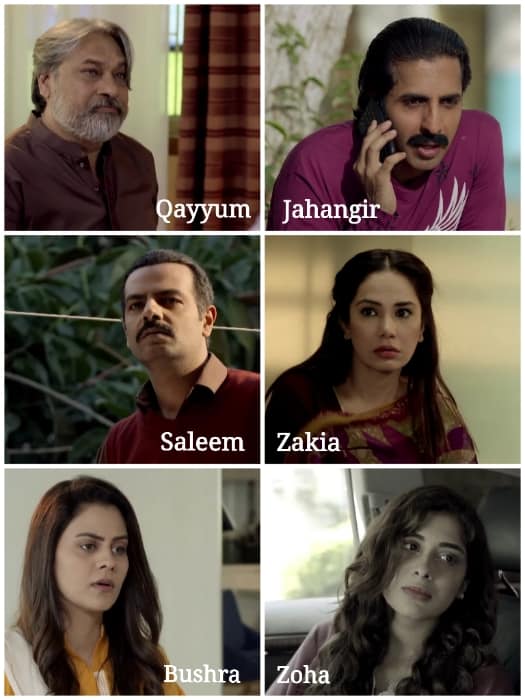 Then comes Sameer (Zahid Ahmed), the central character of this drama. I liked that the writer didn't give away much about Sameer but just shared a bit of information for the viewers to help them understand his backstory. So far we can not really form an opinion about him but I am sure it is going to be interesting exploring this character. Sameer has probably had a traumatic childhood & it might be linked to his mother (Ismat Zaidi) who even now is probably a very rigid woman. Sameer's childhood experiences have affected him on a mental & personal level because of which he now suffers from some personality issues. I so want to learn more about Sameer.
Bushra works for Sameer & it seems he has had quite a few experiences in the past. Sameer was engaged to be married to Zoha (Azekah Daniel) & then she passed away. Some people believe she committed suicide while others claim that Sameer killed her. A mystery which will be unveiled later.
Gauhar & Kashif share a dream of living their life together but Gauhar's told that fate has something different in store for her. She will come across two men in her life & both Gauhar & Kashif will have similar experiences. The first episode basically teased about all of those scenarios which will later give the direction to the story & I am looking forward to finding out more.
Closing Thoughts – Simple For A Reason:
Overall, the first episode of Ishq Zahe Naseeb was mysterious, it had a lot going on but still, they kept it very simple & didn't complicate it right from the beginning. Sonya Hussyn & Sami Khan were impressive & Zahid Ahmed did the best he could given the limited screen time & almost no dialogues in the first episode. We all know there's so much more to Sameer's character & seeing this performance of Zahid Ahmed will be a remarkable experience. I will say that if you're going to watch the very first episode with super high expectations then please don't because they have kept it subtle & simple for a very good reason as later it is going to get very complicated & intense. I found myself enjoying the first episode & when it ended, I so wanted to see more. Definitely looking forward to what is yet to come. The OST seems nice & the direction was perfect too. Please share your thoughts about this very first episode of Ishq Zahe Naseeb.
Keep Supporting,
Cheers,
Zahra Mirza.