Even though I did not have any expectations from this play but after watching the first episode, I was expecting it to be fast paced. Unfortunately, the story is moving forward slowly and some of the minor details leave me baffled every single time. Apart from that, there are some glaring flaws in the screenplay as well. The way Hamza and his friends 'manhandle' the ladies is not okay or cool!! Although the overall feel and theme of the play is filmy but showing these boys grab the girls and drag them wherever they want is completely uncalled for. Apart from this, Roomi's complete aloofness when it comes to her sister's frame of mind makes her come across as insensitive and dumb – which she is definitely not! Whatever happened to Siddiqui sahab's illness? His illness has been used as an excuse, a majboori because of which Hamnah went ahead with the nikkah but after that no one even talked about his medical condition. Azeem's character is still a mystery and at this point, I am feeling for him more than anyone else.
Hamza and Hamnah
Hamza and Hamnah's sweet romance and love has not been given enough screen time. There are times when you feel that Hamnah is more scared of Hamza than she is in love with him. This mad love and ishq could have been translated on screen in a less aggressive manner. The way Hamza confronts or even interacts with Hamnah at the university campus is simply unrealistic. Hamza comes from an affluent family therefore this must be a well-reputed university with proper rules in place, watching Hamza getting away with bullying everyone and not being held accountable for it, makes no sense! The way he tore that page out of the register was simply unacceptable and watching him walk out and creating a scene after that was just plain ridiculous. Hamnah has wronged Hamza but there are times when you understand why Hamnah is scared of him and did not have the courage to share what was going on in her life.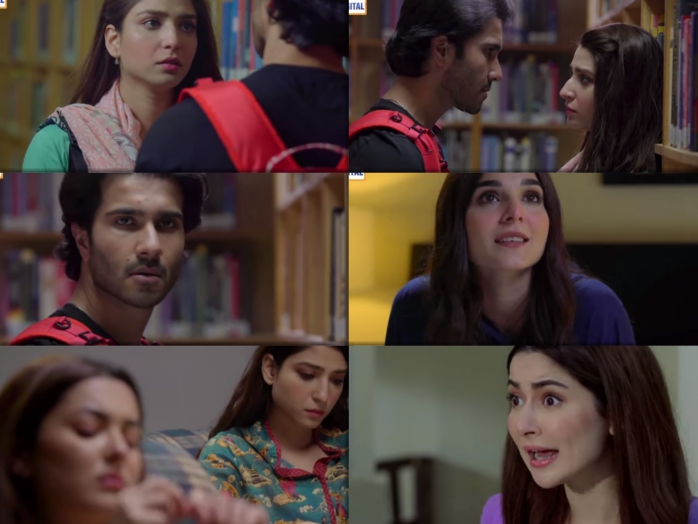 In the beginning Hamza came across as the cool kid who took his love for Hamnah really seriously but after watching this episode it seems like he is just plain mad! Feroze Khan is definitely being typecast – Gul-e-Rana, Khaani and now this drama – all the characters he played were more or less the same. I would love to see him in a role which is more balanced. In Dil Kya Kare, he was another extreme. Hamnah has hardly any dialogues and her expressions remain the same in every situation since she is going through hell and that's it! Ramsha Khan is a solid performer but so far the character she is playing hasn't given her the opportunity to showcase her acting skills.
Roomi and Rest of The Characters
Roomi's character is fun and cool but when she simply fails to acknowledge her sister's feelings, she comes across as insensitive. Not once have we seen Roomi trying to figure out exactly what is wrong with Hamnah. Although she is a happy-go-lucky person who does not believe in falling in love but there is definitely a caring side to her personality as well. These sisters are close to one another, they share a room and they did share some jokes and emotional moments as well. The way these characters were introduced suggested that this was a close-knit family but apart from Hamnah's mother, no one is bothered about Hamnah's sudden silence and her passive mood. Azeem is another extreme who I hope would start noticing that his wife is not happy with the marriage! The scene covering Azeem's meeting with Hamnah in the university was strange! Last time I checked, there was no such waiting area or 'visiting facilities' for students who were not living in the hostel. This scene did not work for me at all.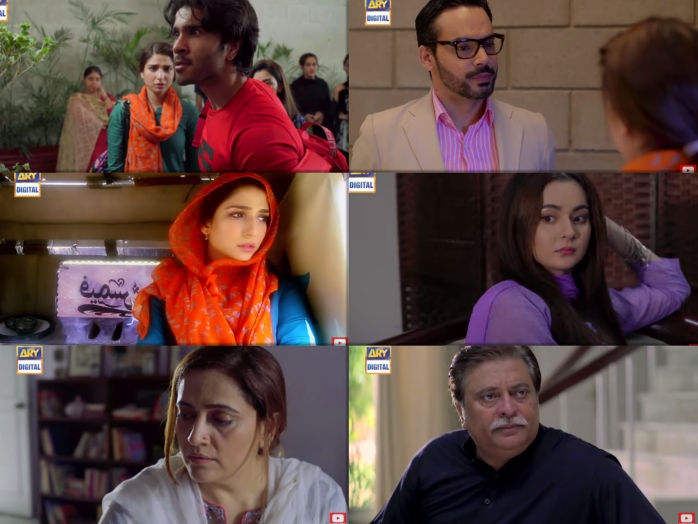 Alishba's character and this track has done-to-death written all over it. In every other drama we have a good looking, educated girl from an affluent background who is so desperate to marry the hero that even after he gets married, she would gladly wait for the divorce so that they can finally be together!
Final Remarks
Tonight's episode had some really important developments to its credit but they were not handled well at all. The characters have not been fleshed out properly. The background score at times can be excessive but there were some scenes tonight when the background score helped me understand what Hamnah was going through. The flashback scenes are not enough to make the viewers understand what Hamnah is thinking. It seems like Hamza will turn in to Mir Hadi after all! I am waiting to find out more about Azeem since so far he has been quite 'patient'!
Did you watch tonight's episode of Ishqiya? Share your thoughts about it.