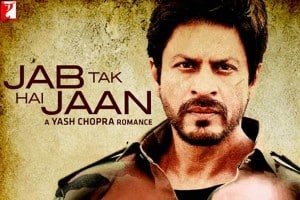 Jab Tak Hai Jaan to Release in Pakistan-Smashing the Box office!
Subsequent to all the gossips and drones, finally, the release of the wholly expected Katrina Kaif, Anushka Sharma and Shahrukh Khan Starrer 'Jab Tak Hai Jaan' may well churn out to be one of the most baffling far-off releases in the record of Pakistani movies.
Previously, it was reported that the film would not be released in Pakistan since it shows Shahrukh playing an army officer in Kashmir, and it was supposed that the plan may expose Pakistan in a negative and harmful beam. The current ban on Bollywood movies Agent Vinod and Ek Tha Tiger for being "against national foundations" lead many to think that Jab Tak Hai Jaan's probability in Pakistan are depressing and unwelcoming. But things turn out to be different now and owing to the local distributor of the film, IMGC Global Entertainment and assurance from Yash Raj Films (YRF) that the plot will not harm emotions of Pakistani people, Yash Chopra's final project will be displayed in Pakistan soon.
Chairman of IMGC Global Entertainment Amjad Rasheed informed, "The film is coming to Pakistan and is in the process of being imported," Source paper.
Rasheed further said, "The film has received one NOC [No Objection Certificate] from the ministry of regulations and services and is now awaiting another from the ministry of commerce."
"After this it will be all set to arrive in Pakistan. Upon its arrival, which would be sometime next week, the film will be submitted to the censor board for reviewing," he added elatedly.
On visiting the Yash Chopra's funeral by Rasheed, things really worked out in the favor of Pakistan where Aditya Chopra, daughter of Yash Jee, guaranteed that the film is not going to insult Pakistanis.
Vice President of International Operations at YRF Avtar Panesar rectified this, by saying, "I can confirm that the film has nothing that may be construed as anti-Pakistan; [it] is a simple love story. The film will be submitted to the censor board and only once they clear [it] will we release it."
Despite being Yash Chopra's final venture, it is also the only Shahrukh Khan film to emerge this year and his first film with Katrina Kaif, which makes celebrities and viewers equally thrilled about its screening. This prime Bollywood flick of 2012 "Jab Tak Hai Jaan" is likely to release in major cinemas in Pakistan on November 15!
So get your popcorns ready, the thrilling movie is about to screen!
Nida Zaidi