Jannat Se Aagay Last Episode – Review
Pakistani dramas often fail to hold viewers' interest until the end. There are only a few dramas that manage to captivate audiences throughout their run, leaving a lasting impression. Jannat Se Aagay was definitely one such drama. Jannat Se Aagay not only succeeded in keeping my interest alive but also left a lasting impact with its compelling storyline, well-developed characters, and exceptional performances, especially by Ramsha Khan and Kubra Khan. Although this last episode of Jannat Se Aagay was not as wholesome as I was expecting it to be, the drama delivered as a whole.
The drama skillfully navigated through multiple themes, touching upon issues that are extremely relevant in a world overpowered by 'influencers'. This narrative encouraged viewers to critically examine the impact of influencers on societal values, individual aspirations, and the blurred lines between reality and the carefully 'edited' images presented online and on media.
Although the main protagonist was a Morning Show host, the story definitely transcended the conventional boundaries of its setting. Umera Ahmed utilized the backdrop of electronic media as a platform to delve into deeper societal issues, moral dilemmas, or the intricate interplay between influencers and those they are influencing. As the story progressed, it unfolded as a canvas with a larger, more meaningful agenda. Not to mention the fact that different Morning Shows on Pakistani channels failed us time and again by promoting regressive themes as well as materialism.
Whether it was the exploration of exceeding materialism in society at large or the struggles of individuals trying to carve their paths in the world, Jannat Se Aagay approached these subjects with depth and authenticity.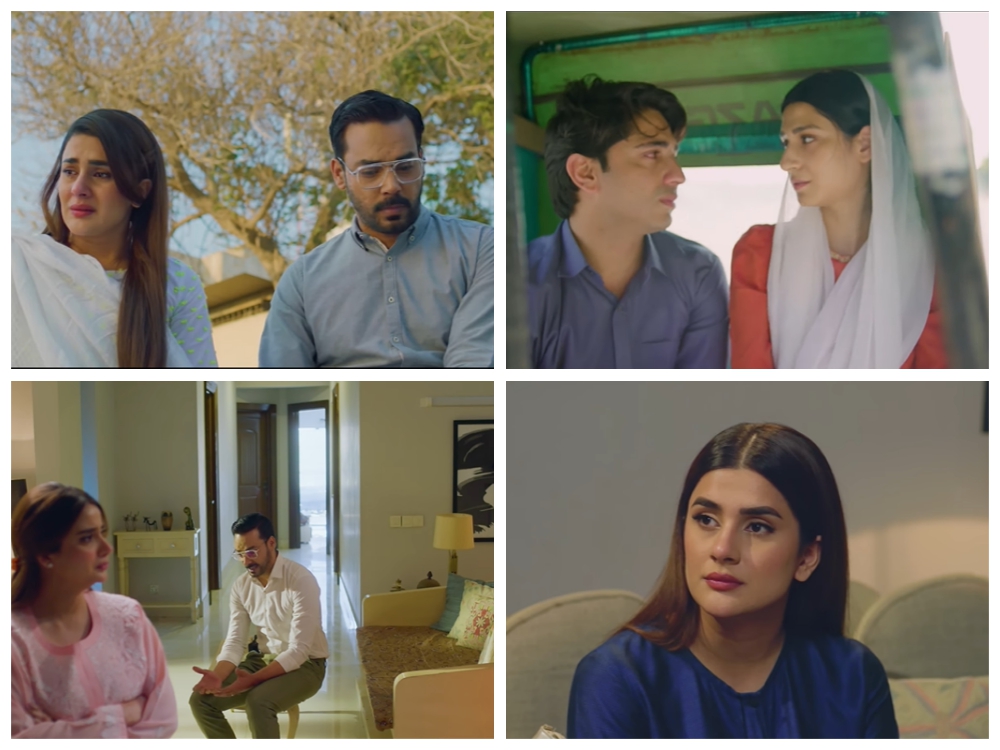 Apologies and Realizations
The last two episodes of Jannat Se Aagay focused entirely on apologies and realizations. Jannat's realization was shown gradually. Even with all the abundance and wealth, she always felt empty inside and was losing everything she treasured once. The flashback scenes in the last few episodes were much-needed since I always wondered how Nauman and Jannat's relationship was before she became rich and famous.
Jannat's character was beautifully etched out. Away from the demands and responsibilities of her professional life, her character consistently revealed a gentle and kind side. This subtle but impactful shift in demeanor, from work to personal life, served as an appealing element in the narrative, offering a glimpse into the private, more vulnerable aspects of her character. Kubra Khan's nuanced performance breathed life into Jannat's character. However, I felt as if Jannat was also 'punished' in a way at the end since the viewers were not shown her 'happy ending' or her new beginning.
Tabbasum's journey was equally wholesome and definitely surprising as well. Her journey had a more gratifying ending than that of Jannat. I am certain the majority of the viewers were expecting her to be a Morning Show host but I am glad that the writer kept her track concise and meaningful. Had the preview of the next episodes not been so elaborate, many of us would also have anticipated her to speak against Jannat just as requested by Ayla. Ramsha Khan nailed her role from the beginning till the end. The highlight of the final episode was Tabbasum and Jannat forming a strong bond in the end.
Farooq's mother was completely absent in the last 2 episodes. I missed her presence since Tabbasum owed her an apology as well and she was one of the most likable supporting characters. Tabbasum's parents and siblings were to be partially blamed as well for burdening her with their demands; it would have been good if their perspective was shown in these last 2 episodes as well. Also, it would have been better if Jannat was the one who made the final decision instead of Nauman handing over the ring to her. Nauman's character and his track were a weak link in an otherwise strong plot. He was nothing more than a greedy, good-for-nothing loser who did not entirely take responsibility for his actions right till the end.
Zara's actions made little sense as well since she was not in a position to judge Noman for sinning differently! She was equally involved in this affair and seemed okay with Noman minting money from his wife for making the restaurant before leaving her for good. It would have been so much better if she left Noman out of fear or perhaps greed. I found it really difficult to relate to her actions in this last episode and whatever she did, did not redeem her character. Did this track even need so much attention? Noman being a greedy thief could have been bad enough.
Final Remarks
Jannat and Tabbasum's journey was like a mirror reflecting the natural human tendency to yearn for more, often at the expense of losing sight of the blessings already present. This story served as a compelling reminder of the importance of limiting one's ambitions and establishing personal boundaries.
It highlighted the potential consequences of unchecked desires aptly.
Jannat Se Aagay also shed light on the far-reaching impact of media on the collective mindset of society. It showed how the information spread through various media channels could shape opinions, influence attitudes, and contribute considerably to the collective consciousness. At the same time, it conveyed that the choices made by individuals in selecting and engaging with media content significantly contribute to the overall impact and influence of media narratives.
Umera Ahmed's signature style was easily detectable in Jannat Se Aagay, spiritualism is one of her favorite themes which she adds to most of her scripts. Gratitude constitutes an important part of religion and Tabbasum's ending in particular highlighted its importance. With the exception of Farooq and his mother, every other character in the drama was more or less drawn to materialism, desiring more than what they possessed.
Jannat Se Aagay had a slow start but it turned out to be an exceptional drama with great entertainment value. It will also be remembered as one of the few dramas on Geo which did not overstay their welcome. The narrative was unpredictable throughout and the human-like characters made it relatable. Had the writer and producers used the enticing formulas in the first few episodes, this drama would have been more well-received by the audience. The focus on Jannat's character and show made perfect sense but it was unfamiliar territory and these episodes were slow-paced therefore even I had a difficult time warming up to Jannat Se Aagay in the beginning. Once it took off, there was no looking back!
The fact that Jannat Se Aagay picked up pace later on impacted its ratings. It is also highly unfortunate that such quality content did not get the attention it deserved from the viewers. All those viewers who gave up on this drama after watching the first few episodes should definitely give it another shot.
Jannat Se Aagay may not have been picture-perfect, but it undeniably offered an entertaining and meaningful experience, delivering a well-rounded package to its audience.
Please feel free to share your thoughts and insights about the drama and its last episode.