Writer: Awais Ahmed
Director: Kashif Nisar
Producer: Q & K Productions/Multiverse Entertainment
Schedule: Every Monday at 9 pm on Green Entertainment
Green Entertainment has introduced a new era of Pakistani dramas offering quality content and variety. I have managed to watch all the dramas that are airing on Green Entertainment with the exception of one or two which I did not find engaging enough, all these dramas do offer something for everyone. While, it is very difficult to pick a favorite, so far, Jeevan Nagar is a strong contender. There are few dramas which truly manage to transport you to another world and Jeevan Nagar has done just that for me. Every week, I look forward to meeting the characters who bring with them diversity and guarantee entertainment. Jeevan Nagar's well-put-together screenplay, faultless direction, and amazing performances make it a must-watch.
What Makes Jeevan Nagar My Favorite
The fact that Jeevan Nagar is a nagri which is purely an outcome of the writer's imagination makes it easier for me as a viewer to watch it with an open mind. There are no preconceived notions about how things ought to be or must be in 'real life' and how they are compared to what is being shown on-screen. I think this was a really intelligent move because it enables the viewers to discover Jeevan Nagar one episode at a time.
Watching this drama is like reading a novel. I love the pace with which the story is going forward and the manner in which there is a hint of comedy in every episode. Needless to say that Sohail Ahmed and Rabia Butt continue to impress with every episode. Like every other drama directed by the maestro Kashif Nisar, this one also has the perfect casting. Kashif Nisar believes in experimenting and therefore he always casts actors in roles in which they have not been shown before. Also, he knows how to extract the best performances from each actor. The writer has etched out every character brilliantly. The screenplay is engaging with the screen time divided wisely among all the characters.
Babbar Shah – An Unconventional yet Appealing Protagonist
There are few dramas in which every single character stands out. Jeevan Nagar is one of those dramas in which even the side characters have a presence and a personality. Just a few weeks back, an unusual protagonist was a treat enough but now we have so many of them thanks to Green Entertainment. Babbar Shah truly stands out among the crowd. Played brilliantly by the uber-talented Sohail Ahmed, Babbar Shah's on-screen persona, the double life he lives and his personality traits make him one of those heroes who are unconventional and unforgettable.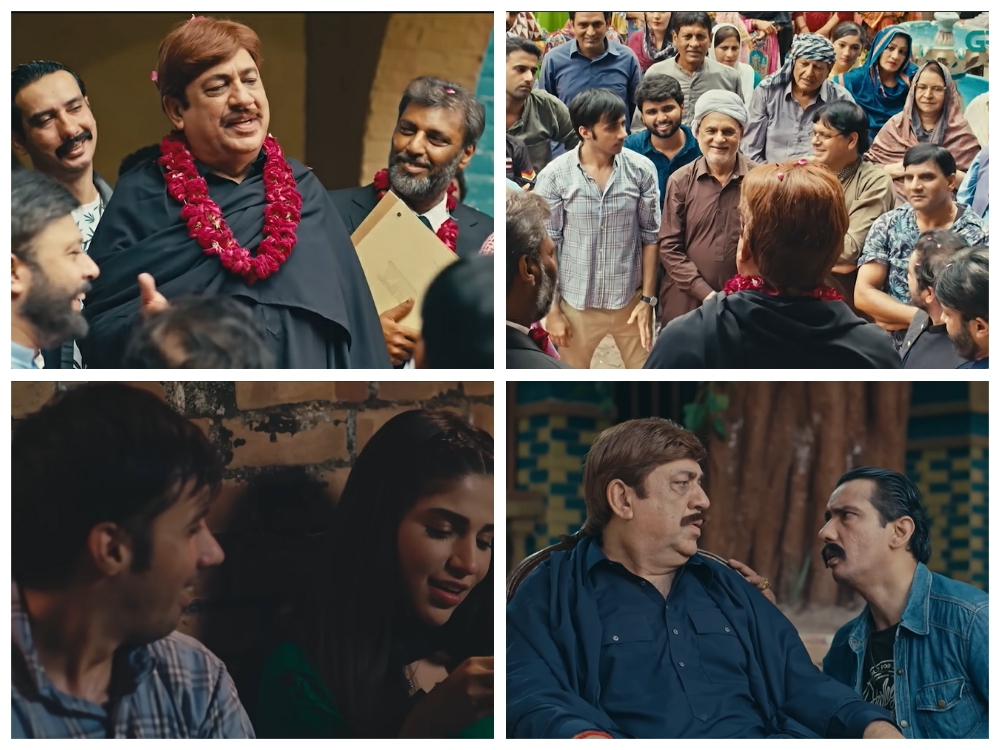 I must confess that I was not blown away completely by this character after watching the first episode because Babbar Shah's character has so many layers, it took me 3 weeks to know him better and after these 3 weeks, I must say that every angle of this character has been written logically and is unlike any other we have seen before. Babbar is a badmash but he is also a guardian angel, he has a strong feminine side but can easily 'fake' masculinity in order to be accepted by the masses. He does not spare his enemies but will do whatever it takes to protect those who trust him.
For me, so far, the most impressive side of Babbar's personality is his ability to hear the truth and make fair judgments. When Hanif's daughter questioned his ability to protect his people, he did not tell her off but he let her stay and asked his men to protect her. He is an honorable man who understands his responsibilities and does not mind being questioned. He is equally fair and focused as Laali Guru. It is interesting how he manages to live two completely opposite lives yet he is equally convincing in both these identities.
Munni – The Perfect Leading Lady
Rabia Butt has been choosing her characters in dramas really wisely. Each one of the characters, she has played so far is different and unique in its own way. Just like Babbar Shah, Munni is an unconventional 'heroine', redefining the concept for sure! Munni/Sitara made an appearance after Jeevan Nagar won its autonomous status and her confidence was her first introduction. Even though she was in an area where she knew she will be judged because of her personality and attire, she did not hold back or think about it for a minute. Munni's exceptional confidence is not the only thing going for this character; she has physical strength, an attribute that is often associated with male characters only. She is also highly intelligent and street-smart. Not to mention the fact that she is a businesswoman who will leave no stone unturned to keep her business going.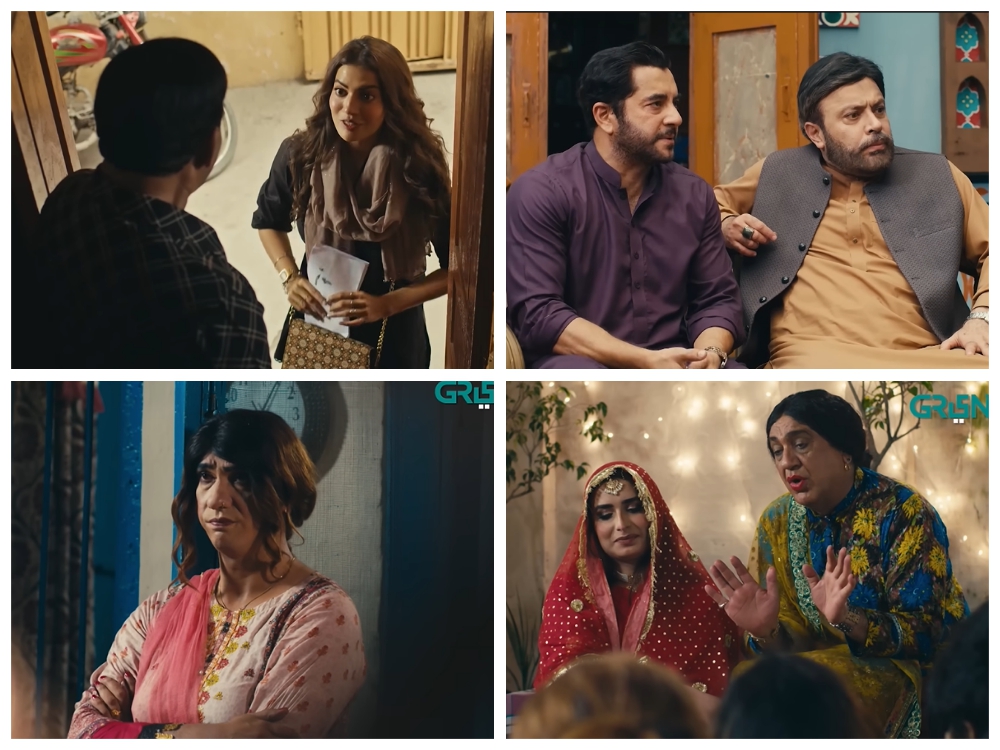 Interestingly enough, Munni also knows how to use her femininity to her advantage to seek favors from men and boys but at the same time keeps a distance by making sure that they know their limits! Munni is one of a kind and each one of her scenes is an absolute delight to watch. She is the embodiment of Women Empowerment in an area where there aren't a lot of empowered women. Rabia Butt has translated every single shade of this character flawlessly on screen. You can tell that she actually enjoyed playing this character on screen. I am looking forward to Munni and Babbar's meeting.
Other Characters that Stand out
Billa, Babbar's right-hand man deserves a special mention because Saqib Sameer is exceptional both as Billa and Neelo. Right from the start, this character had a screen presence and you knew he had a special role to play in the story. Billa's loyalty and jealousy both have been translated on screen superbly. Just like the leading characters, Billa also has so many shades to his personality which is always a plus. Raja Plaster is an unusual protagonist who did not get the same screen time as the characters in Jeevan Nagar so far but his background and track are interesting. Iftikhar Ahmad was the perfect choice for playing the role. I am waiting to find out more about this character and really interested in this war that has just started. Even the other characters such as the 'accountant' have a screen presence. Each one of these characters interests me even though they are Babbar's assistants more than anything else but their loyalty to Babbar makes them stand out.
Even though everything that happens in the 'karobari' household is somewhat 'typical' I find Tahira Malik and Kinza Malik really likable in their respective roles. Zulekha and Bilquees' nok jhok and everything else that goes on in that household have been penned down in such a manner that it is interesting to watch. Nida's 'love story' and her personality both make me look forward to her scenes. Although Amna Malick has played such characters before as well each time she makes sure that she does justice to them. I find this love story really cute and find Nida's character to be another strong female character in the drama. She speaks her mind and knows exactly what she wants from her life. This is also the perfect embodiment of mohallay ka romance on-screen.
Hanif's older daughter's character is another one that stands out because even though this girl is constantly reminded of her 'gender' in order to limit her existence but she continuously questions the idea in more ways than one. This young girl does not only give the boys in her mohalla a tough time but also steps up whenever her father needs her. This is another likable and refreshing female character in the drama which gives hope that we won't be seeing bechari aurtein in Green Entertainment dramas. Even though Rafique could have easily passed as an annoying character but his dialogues have been written in such a way and the performance is such that his scenes are always amusing. Hanif and Munni's interactions always add a comical element to the drama.
Final Remarks
Jeevan Nagar continues to progress on a high note with every episode offering substantial development. With the exception of Babbar Shah and his gang's secret life, everything else is crystal clear and this clarity along with a brilliant screenplay makes Jeevan Nagar a drama that never fails to entertain and surprise. The dialogues and the scenes have a newness about them; there is no repetition. Each scene adds something to the story or reveals something new about the characters. In these 3 weeks, we have seen so many layers of all the characters.
There are no heroes and villains in this drama; just really well-written, multi-layered characters who have the most interesting stories to tell. The performances definitely elevate the quality of the drama because there are some other really well-written dramas on Green Entertainment right now but some of the performances are seriously disappointing which affects the overall impact these dramas have. I am glad there are 2 great dramas directed by Kashif Nisar on air right now and both of them have their own appeal.
Are you watching Jeevan Nagar? Please share your thoughts.